Investors Shun Deliveroo in Wake of Mounting Protests and Lawsuits Over Working Conditions
Image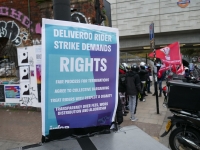 Six major investment firms announced that they will not buy shares of Deliveroo – a UK online food delivery company that operates in 12 countries around the world – in a major victory for employee rights activists who have campaigned against the company's poor working conditions.
In offering its shares to the public, Deliveroo was hoping to be able to cash in on the fact that its business has boomedever since customers were banned from eating indoors in 2020 as a result of the COVID-19 pandemic. Demand spiked when small, local independent restaurants were forced to use the services of Deliveroo, and other services like Uber Eats, in order to keep their businesses afloat during the pandemic.
But a number of financial analysts are concerned about growing protests and a slew of successful lawsuits against the company in multiple countries for its failure to guarantee minimum wages to delivery workers and the denial of basic rights such as holiday pay.
"We will not be taking part in the Deliveroo IPO as we are concerned about the sustainability of the business model, including but not limited to its employment practices, and also the broader governance of the business," Andrew Millington, head of UK equities at Aberdeen Standard, told CNBC. "Our clients' expectations of how we incorporate ESG (environmental, social and corporate governance) into our decision making have changed hugely over the last decade and so we feel our clients are supportive of our approach."
Aberdeen Standard was joined by Aviva Investors, BMO Global, CCLA, LGIM and M&G who collectively manage over £2.5 trillion in assets.
These lawsuits and protests – together with a key ruling from the UK supreme court in March 2021 that ordered rival Uber, which operates a ride hailing business, to treat car drivers as company workers – have spooked investors.
Although the UK supreme court ruling only applied to the 25 individuals who sued Uber – none of whom were food delivery workers – the door has been opened for similar lawsuits. "It is clear the challenge to Deliveroo's contractor model is likely to continue," Susannah Streeters, a senior investment and market analyst at Hargreaves Lansdown, toldthe Guardian newspaper. "If it is forced to change the way it classifies its riders in the future, it is likely to puncture its profits prospects and could even derail the delivery giant."
Indeed, three weeks before the company went public, Deliveroo announced that it had set aside £112 million to cover potential legal costs relating to the employment status of its delivery workers.
At exactly the same time, the company also attempted to divert attention from this news by publicizing a "Thank You" tip fund that would supposedly pay out £200 or more to loyal and regular workers.

Deliveroo's move was quickly condemned by the Independent Workers' Union of Great Britain (IWGB). "This does not come close to compensating riders for a lifetime of precarity and poverty pay. They should call it their apology fund," Alex Marshall, the president of the IWGB told the Guardian. "If they wanted to thank these key workers, how about they guarantee minimum wage, a fair terminations process and basic workers' rights?"
A recent survey of 300 UK Deliveroo couriers by the Bureau of Investigative Journalism, in partnership with the IWGB, found that over half received less than the legal minimum hourly wage of £8.72 for over-25 year olds.
The company denies this figure. "Riders in the U.K. are paid for each delivery they choose to complete and earn £13 per hour on average at our busiest times," a Deliveroo spokesperson told the media. "We communicate with thousands of riders every week and satisfaction is currently at an all-time high."
That claim is contradicted by the fact that Deliveroo has been sued successfully by its own workers in multiple countries, and has also been subject to major investigations.
For instance, in January 2019, an Amsterdam court ruled in favor of the Netherlands Trade Union Confederation that Deliveroo food delivery workers should be given the same pay and benefits as regular employees.
In June and July 2019, two Spanish courts – one in Madrid and another in Valencia - agreed with the Ministry of Labor which argued that Deliveroo couriers were employees not freelance workers.

In February 2020, a Paris labour court judge ordered Deliveroo to pay the sum of €30,000 in back pay to a regular food delivery worker in France who was paid by the job. Kevin Mention, the courier's lawyer, told the media that he had another 50 such lawsuits pending against the company."
In January 2021, a Bologna court ruled in favor of three Italian unions who sued the company over Deliveroo's algorithm that ranked couriers based on their 'reputations' (ie performance) that did take into account when workers were sick or if they exercised their protected right to go on strike. The court ordered the company to pay a fine of €50,000 for breaching local laws.
In Australia, the Transport Workers Union has backed two former Deliveroo delivery workers: Jeremy Rhind who suedthe company after he allegedly made as little as AU$10.50 an hour, just over half of the Australian minimum wage and Diego Franco who was fired for not cycling fast enough.
And in Belgium Deliveroo is being sued by the national labor authority after an 18 month investigation into working conditions for their delivery workers.
In the UK, workers have been delivered a setback by the High Court which ruled that Deliveroo riders and couriers do not have the right to form a union as they are not considered workers, but self-employed. The case was appealed by the IWGB to the Court of Appeal in London only to be rejected in February of this year.
Still the lawsuits has kept the issue in the headlines. "Despite a slick PR campaign claiming to support riders and endless spin for MPs about how happy we are with the current model, Deliveroo has racked up huge costs on this case to silence us," Greg Howard, a Deliveroo rider and IWGB Couriers & Logistics Branch chair, said in a press statement.

And these lawsuits and protests appear to have had an impact on investors.
On March 31st, Deliveroo offered shares on the London stock market which it priced at between 390 pence and 460 pence a share. At that share price the company would have been worth between £7.6 billion and £8.8 billion. At the top valuation, Will Shu, the company CEO, would have been worth over £500 million.
However, Deliveroo's share price plunged immediately after it began trading, just as hundreds of Deliveroo riders went on strike across the UK, fighting for basic workers' rights and a change in their employment status.
One month later, the companies share price continues to hover around the 250 pence mark - it has been labeled the worst share offering in UK history by none other than the Financial Times.