Workers Can Sue UberEats Despite Signing Contract Forcing Them to Use Arbitration, Rules California Supreme Court
Image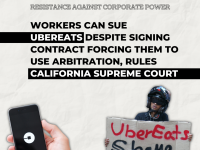 Erik Adolph, an UberEats food delivery driver in California, sued Uber in 2019 for failing to pay work-related expenses. The company argued that drivers aren't employees and so they aren't eligible for expenses. Uber also argued that the drivers signed contracts agreeing not to sue. The California Supreme Court ruled that such contracts violated the worker's legal rights.
"This is a huge victory for the millions of California workers covered by forced arbitration agreements. The decision ensures that PAGA (Private Attorney General Act) will remain a vital tool to achieve workplace justice and full compliance with the workers' Labor Code rights." - Press release from Altshuler Berzon LLP law firm that represented Adolph.
UberEats
Uber, based in San Francisco, California, is an online transportation company worth over US$95 billion, predominantly known for its taxi services as well as UberEats, a food delivery service. Couriers and drivers who work for Uber are required to sign contracts that make them independent contractors, not employees of Uber.
Gig Workers
Under California law, independent contractors do not qualify for traditional employment rights because they sign contracts to use their own equipment and to be paid by the "gig" at a time of their own choosing. Many employers (like Uber) also force workers to sign contracts to take disputes to arbitration rather than courts, and not to take part in class (group) lawsuits.
Arbitration
Employers favor arbitration ostensibly because it is a cheaper and faster way of solving a dispute than going to a public court. However, arbitration is typically conducted by private entities in secret and critics argue that arbitrators aren't always objective, often favoring employers over employees.
In the Public Interest
Erik Adolph, an UberEats driver, sued the company in 2019 under the Private Attorney General Act (PAGA), a law in California that allows workers to act in the public interest - as if they were the state government - and sue employers on behalf of other workers for violations of state law. Adolph argued that his contract was a violation of his rights guaranteed under PAGA.
"An order compelling arbitration of the individual claims does not strip the plaintiff of standing as an aggrieved employee to litigate claims." - Justice Goodwin H. Liu, California State Supreme Court.
Labor Victory
On July 17, 2023, California's Supreme Court unanimously ruled that rights guaranteed under PAGA remain valid even under contracts that require all workplace disputes to be settled using arbitration. This is despite a U.S. Supreme Court 2022 decision on Viking River Cruises that allow employers to force workers to use arbitration even for PAGA claims. 
Company Response 
"The California Supreme Court's decision contravenes the U.S. Supreme Court's holding in Viking River, violates the Federal Arbitration Act, and undermines the legislature's intent in enacting PAGA. We are considering our appellate options." - Theane Evangelis of Gibson, Dunn & Crutcher, lawyer for Uber
This is #53 in our series of Instagram infographics on resistance against corporate power.
Click here to see the full post on Instagram.
📸 UberEats couriers strike, London, 2016 - Steve Eason
Uber Driver protesting 30% pay reduction in California, 2016 - Wayne S. Grazio