Deliveroo Workers in the Emirates Defeat Wage Cut, Spark Strike at Talabat
Image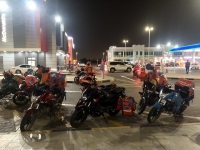 On May Day, food delivery couriers at Deliveroo in the United Arab Emirates, went on a rare strike against pay cuts. A short video of hundreds of workers milling around in their turquoise-colored work uniforms went viral, encouraging workers at Talabat, a rival food delivery platform, to follow suit.
Deliveroo, a UK-based company, that operates in a dozen countries around the world, has come under fire for employing gig workers who are paid by the delivery and denied basic worker rights.
The Dubai work stoppage was sparked by a message from Deliveroo on April 28 that informed the couriers that their wages would be cut from 10.25 dirhams (US$2.79) per delivery to 8.75 dirhams (US$2.38). The company also announced that shifts would increase from nine hours a day to twelve.
Arriving on the evening before the weekend leading up to May 1, which is a holiday in most countries to honor workers, the message stirred widespread anger among the couriers who pay for their own fuel and health care costs out of their wages. (Fuel prices in the Emirates have risen approximately 30 percent in the last 12 months.)
"We are human[s] not donkey[s]," wrote Naeem Iqbal, a Deliveroo courier, on Twitter.
The idea of a strike on May Day spread quickly. "Many riders usually gather around cloud kitchens because a lot of deliveries are from them. We started talking there and then communicated it with other riders we know personally who were not around," a Deliveroo courier named Riaz told Migrant Rights website. "This is how the news spread, and even those who hadn't heard of the strike for some reason before realised it was happening when we started posting about it."
DubaiNameShame, a popular social media influencer on Twitter with over 67,000 followers, took up the cause, with a tweet: "Support your rider and your local restaurant by ordering direct."
The action quickly drew attention because strikes are illegal under Article 40 of the labor law and can result in harsh punishments in a country where the vast majority of workers are from poor countries in Asia like Bangladesh, India, Nepal, Pakistan, Sri Lanka and the Philippines. Under the "kafala" system of local sponsorship, they can easily detained and deported.
Within 24 hours, Deliveroo had backed down. "Rest assured our team is working closely to resolve this issue as quickly as possible while continuing to protect Deliveroo rider earnings," the company said in an email to couriers late on Sunday night.
Deliveroo attempted to put a positive spin on the protests to the media."We have always ensured that Deliveroo riders are competitively compensated and Deliveroo is proud to continue to be among the highest paying aggregators in the marketplace," Deliveroo told Al Jazeera. "Our initial intention with the announcement was to propose a more well-rounded structure for rider earnings in addition to other incentives. It is clear that some of our original intentions have not been clear and we are listening to our riders."
Just over a week later, workers at Talabat, the biggest online food delivery company in the country, went on strike to demand a wage increase from 7.5 dirhams (US$2.05) to 9.5 dirhams. (US$2.05)
Talabat, a company that was started in Kuwait in 2004, was bought up by an e-commerce company Rocket Internet in Berlin in 2015, and merged into Delivery Hero, also based in Berlin. Now the biggest online food delivery platform in the Emirates, it boasts Cristiano Ronaldo, the Portuguese soccer star, as a brand ambassador.
"If Deliveroo gives this price … why are we not getting [it]?" a Talabat courier from Pakistan, told Reuters news service.
DubaiNameShame tweeted: "If you understood the economic challenges you would not make work 14 hour shifts for 7aed a delivery. And you would not charge us restaurants 28% on all gross sales to deliver our food… Your lies are shameful."
"Don't fall for scare tactics of your greedy employers, you are worth more if not for the money for the respect. Do not lower standards, do not let them devalue you," DubaiNameShame tweeted the following day. "There are better safer jobs for you. And I, and we, stand with you."
"We understand economic and political realities are changing constantly, and we will always continue to listen to what riders have to say," a Talabat spokesperson told Agence France Presse.