Facebook Sued Over Mental Health Trauma to Content Moderators in Kenya
Image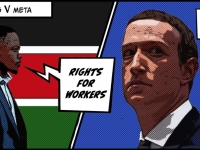 Facebook's parent company has been sued in Kenya over mental health trauma suffered by Daniel Motaung, a former content moderator who worked for Sama, a contractor hired to remove graphic and violent content on the social media site. Moutang is seeking compensation for all others who faced similar problems.
The lawsuit was filed by Mercy Mutemi of Nzili & Sumbi Advocates in Nairobi, and Foxglove, a legal non-profit based in in London. Motaung alleges that Facebook, Meta and Sama trafficked workers from around Africa to do dangerous work for minimal wages, failed to provide promised mental health counseling and refused to allow them to set up a union.
"Inadequate and inconsistent pay, unlawful deductions, undue work pressure caused by impossible performance quotas and surveillance by @Meta system and a toxic working environment created by @SamaAI where you can't dare voice your concerns," wrote Mutemi on Twitter. "Daniel Motaung has sued @Meta and @SamaAI on his own behalf and on behalf of all CURRENT and FORMER content moderators. Whatever happened to him must never happen to any other person. He asks that ALL moderators be compensated for these violations."
"We can't have safe social media if the workers who protect us toil in a digital sweatshop," said Cori Crider, director of Foxglove, in a statement. "We're hoping this case will send ripples across the continent—and the world. The Sama Nairobi office is Facebook's moderation hub for much of East and South Africa. Reforming Facebook's factory floor here won't just affect these workers, but should improve the experience of Facebook users in Kenya, South Africa, Ethiopia, and other African countries."
Motaung, who is from South Africa, says that he took the job at Sama under the impression that he was going to work at a call center because he could speak Zulu. "I went to Kenya because I wanted to change my life. I wanted to change the life of my family," Motaung said in a statement. "Six months later, my physical and mental health had been destroyed."
One of his first tasks Motaung says he was asked to do was to review a video of a person's head being cut off. "It was one of the most graphic things I have seen in my life," Motaung told Africa Report. "When it boils down to it you will see beheadings, people raping children."
This kind of work lies at the heart of Facebook's social media model, says Crider. "If you're going to run a massive platform for one plus billion people, then content moderation is your business. They are absolutely essential to Facebook's work, but because the work is so difficult, so dangerous," Cori Crider, director of Foxglove, told Africa Report. "Facebook doesn't want to admit that that's what the core of its business model really requires, and it doesn't want to be liable for them or responsible for them. So it outsources the work everywhere so that it can hold these people to whom it has a moral and ultimately, legal responsibility, at arm's length."
In summer 2019, Motaung attempted to set up a union named The Alliance and threatened to call for a strike. Shortly afterwards, he was fired.
Sama says that Motaung was not fired for organizing a union. "Your client's employment was terminated because of unacceptable actions taken against fellow employees that jeopardized their safety," Bowmans, a law firm hired by Sama, wrote in a letter to Mutemi, according to a copy of the letter viewed by TechCruch, an online news site. "The process leading to the termination of your client was fair, clear and well documented; there is absolutely no basis for the allegation that your client was unfairly dismissed from employment. Similarly, there is no basis for the allegation that your client is entitled to compensation."
Motaung brought his lawsuit just months after Billy Perrigo, a reporter at Time magazine, exposed the working conditions at Sama. His research showed that workers were paid just 170 Kenyan shillings an hour (US$1.50) to watch images and videos of rape, sexual abuse and even murder.
"The work that we do is a kind of mental torture. Whatever I am living on is hand-to-mouth. I want to resign. But then I ask myself: what will my baby eat?" one content moderator, who asked to remain anonymous, told Perrigo.
Sama has previously been very open about the fact that it does not pay high wages. "One thing that's critical in our line of work is to not pay wages that would distort local labour markets. If we were to pay people substantially more than that, we would throw everything off. That would have a potentially negative impact on the cost of housing, the cost of food in the communities in which our workers thrive," Leila Janah, the founder of Sama, told the BBC in 2018.

But the company denied the allegations of abuse in the Time report. "The article contains false and misleading characterizations of our company and team, and we would like to set the record straight," Sama wrote in a public statement posted on its website. "Sama is a longstanding and trusted employer in East Africa. To date, Sama's work has helped lift more than 59,000 individuals out of poverty."

Weeks after the Time magazine article was published, Sama announced that it was increasing base pay for workers to 50,000 Kenyan shillings a month, which works out at approximately US$2.20 an hour for the average nine hour work day.
Motaung is holding out for higher compensation – given that Facebook has paid other moderators for mental health trauma suffered on the job. In May 2020, Facebook paid $52 million to 11,250 moderators from Cognizant Technology Solutions, a company in Tampa, Florida, after a worker sued the company for post-traumatic stress disorder from moderating graphic and violent images. The social media site also agreed to changing the way workers viewed videos, such as turning off audio and decolorizing the images to reduce trauma.
* Cori Crider is a former advisory board member of CorpWatch.