Amazon Challenged in India and Europe Over Discounting and Copycat Practices
Image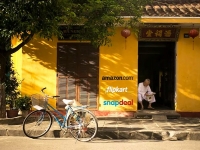 Amazon's relentless expansion around the world has met with serious headwinds in India and in Europe where the company's aggressive online sales practices are being met with court challenges and government investigations.
"They are the second version of the East India Company. They just want to wipe out the competition and later on dictate their own terms," Praveen Khandelwal, the national secretary general of the Confederation of All Indian Traders (CAIT), who claim to represent some 60 million Indian merchants, told Deutsche Welle, the German news agency. The trade group organized protests in over 300 cities across the country when CEO Jezz Bezos' came to visit India, this past January, at which hundreds of local shop owners shouted "Jeff Bezos - Go Back!"
The Seattle-based retail behemoth has developed a business playbook that has allowed it to capture markets around the world from Japan to Germany to the U.S., by offering the biggest inventory at the cheapest prices combined with easy purchasing and rapid delivery. Amazon also competes by first demanding steep volume discounts from manufacturers lured by the website's global reach and then undercutting them by selling knock-off products at even lower prices to force the original manufacturers out of business.
KIRANAS
Amazon also faces steep challenges from the owners of the country's neighborhood stores, known as "kiranas" that are typically owned and operated by local families with long-standing low rents.
Found in both the poorest and wealthiest of neighborhoods, with as many as 12 million countrywide, kiranas are usually small shops in which every inch, floor to ceiling, is used to showcase and shelve products ranging from bags of rice or chilli peppers to cooking supplies and household cleaning goods. Offering both lines of credit as well as door to door delivery services, the kirana has become integral to the way people purchase goods in India.
"We have a personal relationship with our kirana man, the owner even knows my name," Saravjeet Singh, a customer in New Dehli, told the Business Standard newspaper. "We can call and ask for just one box of matches or four eggs and they come running."
Because of their low operational costs and the ease of access to goods from these kirana stores, there is less incentive for Indians to shop through e-commerce companies. "The kirana store has better economics than a supermarket," Rajiv Lal, a professor of retailing at Harvard University, told the newspaper. "There is no way to beat them."
Amazon and Flipkart are aware of how integral the kirana is to the Indian market place and have designed models to work with them, using their space to store and deliver goods. "It's good for customers, and it helps the shop owners earn additional income," Bezos tweeted in January. Amazon says that it has partnered with over 20,000 stores while Flipkart has invested $30 million into Indian start-up, ShadowFax, which works with kiranas in over 300 cities.
That same month Amazon said it would invest additional $1 billion into India's retail and e-commerce markets "to digitize micro and small businesses in cities, towns, and villages across India, helping them reach more customers than ever before."
But Khandelwal, of the Confederation of All Indian Traders, dismissed the announcement as a public relations ploy. "Bezos and Amazon have already destroyed many small businesses and are now trying to build a false narrative of empowering small retailers," he told Bloomberg.
This has been harder in India where Amazon is getting a major push back from the government which is increasingly open to complaints from local merchants.
The Competition Commission of India (CCI) has taken pro-active measures over the last few years to prevent online retail platforms, like Amazon India and Flipkart (owned by Walmart) from competing with third party sellers by banning it from selling products that they make under their own name (like Amazon Basics and Amazon Essentials goods), or any other company in which it has at least 25 percent ownership.
Last February, Amazon had to pull 400,000 products off its online store to comply with the new rules because it had major stakes in two of the biggest sellers – namely Appario Retail Private Ltd and Cloudtail India. However, after Amazon changed their ownership stake in Appario and Cloudtail, the products went back online.
This year K.G.Raghavan, a lawyer representing Delhi Vyapar Mahasangh (DVM), a trade group representing small and medium businesses, filed a new challenge against Appario and Cloudtail, which he alleged were still connected to the retail behemoth like the "tentacles of an octopus." News reports also suggested that Appario and Cloudtail were trying to force manufacturers – notably in the electronics sector - to give them bigger discounts in order to be included in the Amazon marketplace.
In January CCI agreed to investigate four business practices of both Amazon and Flipkart: deep discounts, preferred listings, promotion of private labels and exclusive partnerships with phone brands.
Amazon fired back in February, asking the High Court in Karnataka state to stop the investigation, because the company claimed it was "perverse, arbitrary, untenable in law." Days later, Flipkart filed a similar petition with the same court. The Karnataka court agreed with Amazon and Flipkart and put a hold on the investigation.
DVM has appealed this decision. "The present case before the CCI is one which involves matters of grave public interest and economic interest, and no stay should have been granted," the trade group argued in its filing, noting that small businesses did not have the resources to fight a lengthy court battle.
The traders have the government of India's implicit backing. "Unfair competition should not be created for the small stores," Piyush Goyal, India's Commerce Commissioner, told the media. "They don't get loans in zero interest rate, they don't have millions of rupees, they do their business with small investments," he told the media.
Meanwhile, in Europe, Amazon is also starting to get pushback on one of its most aggressive, yet least discussed, tactics. Allegedly with the help of the data that it amasses. Amazon identifies successful products offered by third party sellers on its site, and then manufacture generic knock-offs (known as private label products) that it sells at lower prices.
"If you -- as Amazon get … data from the smaller merchants that you host -- which can be of course completely legitimate because you can improve your service to these smaller merchants -- well, do you then also use this data to do your own calculations? What is the new big thing, what is it that people want, what kind of offers do they like to receive, what makes them buy things?" says Margrethe Vestager, the European Union's competition commissioner.
For example, in the U.S. Rain Design found that its long time best selling laptop stand, at $43, was slipping in sales in 2016, after Amazon began offering a near identical product that barely avoided patent infringement, for $20. "We don't feel good about it," Harvey Tai, Rain Design's general manager, told Bloomberg news. "But there's nothing we can do because they didn't violate the patent."
Similar charges have been made by Allbirds shoes. And a recent Wall Street Journal investigation uncovered several other examples of copycat products on Amazon such as a car-trunk organizer and an office-chair seat cushion, allegedly copied from Fortem and Upper Echelon Products.
Indian merchants are also starting to complain about copycat products that Amazon has started selling under private labels such as Arthur Harvey, House & Shields, Myx, Presto, Solimo, Symbol, and Vedaka.
Arpit Gupta, co-founder of a slimming tea company named myDaily, said he was concerned about sales of Vedaka Green Tea that competes with his products on the Amazon website. "They can gather that initial momentum much more than us or any other seller. They have that advantage, specifically in pricing; they know when exactly to show discounts etc., and not every seller on the platform has access to deals," Gupta told the YourStory website.
Last July, the European Union opened a formal inquiry into the matter to see if Amazon was engaging in anti-competitive behavior.
And in India, the Department for Promotion of Industry and Internal Trade has asked Amazon to submit details of private labels together with the percentage of sales that these products comprise.