Image

Image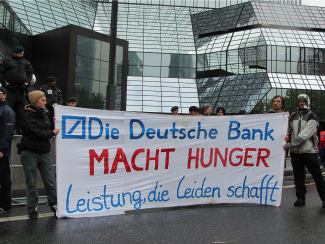 Summary
Deutsche Bank was founded in 1870. It has paid out $7.2 billion in fines for its role in the U.S. subprime mortgage crisis and $2.5 billion in fines for its role in the global interest rate fixing scandal. It has also paid out $125 million to the U.S. to drop investigations into bribes paid out to officials in China, Italy, Russia, Saudi Arabia and the United Arab Emirates, as well as manipulating prices of precious metals. The Banking on Climate Chaos report estimates that Deutsche Bank provided over $74 billion in fossil fuel loans between 2016 and 2021 for projects such as Energy Transfer Partners' Dakota Access Pipeline and Exxon's ultra-deepwater drilling project off the coast of Guyana.
Products
Financial Services, Investment Banking, Corporate Banking, Asset Management, Commercial Banking, Private Banking
| Top 5 Offense Groups (Groups Defined) | Penalty Total | Number of Records |
| --- | --- | --- |
| financial offenses | $15,136,029,778 | 45 |
| competition-related offenses | $3,124,540,274 | 12 |
| employment-related offenses | $21,900,000 | 1 |
| miscellaneous offenses | $4,150,000 | 2 |
| safety-related offenses | $5,250 | 1 |
(May 8, 2021) 
Total Penalties
$18,286,625,302 (May 8, 2021)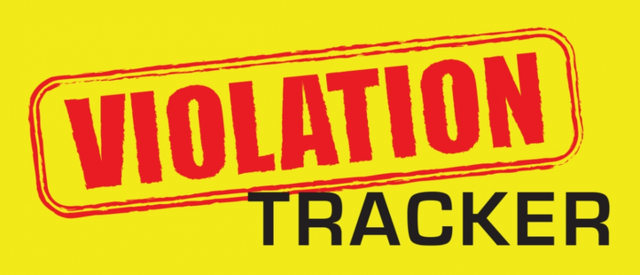 violationtracker.goodjobsfirst.org
Videos & Podcasts
Books
A Big Deal? Corporate Social Responsibility and the Finance Sector in Europe (CORE Coalition, December 2005).

Abuse of Structured Financial Products (Senate Permanent Subcommittee on Investigations,July 2014).

Dark Towers: Deutsche Bank, Donald Trump, and an Epic Trail of Destruction by David Enrich (Custom House, 2020).

Dirty Profits 2: Report on Companies and Financial Institutions Benefiting from Violations of Human Rights (Facing Finance, 2013).

Dividend Tax Abuse: How Offshore Entities Dodge Taxes on U.S. Stock Dividends (Senate Permanent Subcommittee on Investigations, September 2008).

Farming Money: How European Banks and Private Finance Profit from Food Speculation and Land Grabs (Friends of the Earth Europe, January 2012).

Financing Food: Financialisation and Financial Actors in Agriculture Commodity Markets (SOMO, April 2010). Investing Responsibly: A Financial Puzzle (SOMO, September 2010).

Undue Diligence: How Banks Do Business with Corrupt Regimes (Global Witness, March 2009).

Bad Bank: Aufstieg und Fall der Deutschen Bank by Dirk Laabs (Deutsche Verlags-Anstalt, 2017)

Die Akte Deutsche Bank: Geschichte, Skandale, Zukunft by Ulrich Novak et al. (Herbig, 2016)

The Downfall of Deutsche Bank - Symbol of the Decline of the Monetary System: The Rise of the New Monetary System by Rafael D. Kasischke (Books on Demand, 2020)
Corporate Headquarters
Taunusanlage 12 60325 Frankfurt am Main Germany
Most Recent Gross Revenue
$19.449 billion (2019) |
source
Most Recent Net Revenue
$ -4.094 billion |
source
Stock Exchange Tickers
FWB: DBK, NSYE: DBK
Subsidiaries
Note: Most recent list is not always the most complete list.
roctail Subsidiary Tool using the CorpWatch API - This API uses automated parsers to extract the subsidiary relationship information from Exhibit 21 of companies' 10-K filings with the SEC.
Major Shareholders
Click here for the latest list.
Political Influence
OpenSecrets.org Profile of Deutsche Bank AG
Image

Tax Havens
& Evasion
Chloe Taylor | CNBC | September 6, 2021
Europe's biggest banks are booking an average of 20 billion euros ($23.7 billion) in tax havens every year, according to a new report.
FCCED | March 23, 2020
Deutsche Bank AG said five former management board members are under investigation for tax evasion, days after the first two bankers were convicted in Germany's long-running Cum-Ex scandal.
Nate Raymond, Jonathan Stempel | Reuters | January 4, 2017
Deutsche Bank AG DBKGn.DE agreed to pay $95 million to resolve a U.S. government lawsuit accusing the German bank of tax fraud for using "insolvent" shell companies to hide significant tax liabilities from the Internal Revenue Service in 2000.
CorpWatch is still working on gathering procurement data for Deutsche Bank at this time.