Workers Win Unprecedented Four Days Annual Paid Sick Leave From U.S. Rail Giant CSX
Image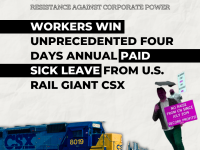 The United States is the only wealthy country that does not guarantee paid sick leave. By contrast France offers 21 days a year and Germany offers up to 84 weeks of paid sick leave at 70 percent of salary. So, when 5,000 workers at the U.S. rail giant CSX negotiated a guarantee for four paid days of sick leave a year, the unions rejoiced at the 'significant accomplishment.'
"This agreement is a significant accomplishment and provides a very important benefit for our members. Other carriers should take note and come to the bargaining table in a similar manner." – Don Grissom, president of Brotherhood of Railway Carmen union (BRC)
CSX Corporation
CSX corporation, based in Jacksonville, Florida is the third largest railway companies in the U.S., operating over 32,000 kilometres of track. Like all the other companies in the industry, CSX uses a system called "precision-scheduled railroading" that depends on workers being available all the time. To ensure this, the companies refuse to pay for employee sick leave.
"There is a personal toll when you spend most of your life away from home. All of it on-call, 24 hours a day. I don't think we mind what is asked of us, as long as we are treated with the dignity and respect." - CSX locomotive engineer
Strike Threat
The U.S. is very dependent on freight trains to deliver goods. Some 75 percent of new automobiles, 70 percent of coal and 30 percent of packaged food are delivered by train across the country. So, when a dozen unions announced plans to strike for higher wages and better working conditions late last year, the U.S. Congress quickly passed a law making the strike illegal.
Stalled Negotiations 
Over 100,000 railway workers have been negotiating with CSX and other companies like BNSF and Union Pacific for over two years to get pay raises, more days off and paid sick leave. In September 2022, the railway companies agreed to giving workers a 24 percent pay raise but refused to budge on paid sick leave, insisting that workers could apply for pre-approved paid vacation time instead.
New CEO Cuts Deal
In September 2022, CSX hired a new CEO named Joe Hinrichs who previously worked at Ford Motor company and had built strong relationships with the United Auto Workers Union. This was the break that the Brotherhood of Maintenance of Way Employees Division union, representing 5,000 CSX workers, was looking for and they seized the opportunity to cut a deal.
Workers Win
On February 8, CSX announced it would offer four days paid sick leave plus the option to convert three days of paid vacation into sick leave for the members of two unions. Over the next week, CSX signed agreements with four more unions, and extended offers to another eight unions.
Company Response 
"It's really difficult, of course, to pre-approve sickness when you don't know you're going to be sick. If we want to change, if we're going to make a difference, we have to try new things." – Joe Hinrich, President of CSX
This is #37 in our series of Instagram infographics on resistance against corporate power.
Click here to see the full post on Instagram.