Ukraine Egg King Global Plans Fail North Carolina Farmers
Image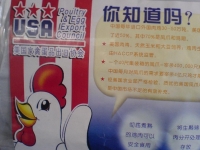 Farmers in North Carolina are regretting the day that they put their trust in the Egg King - Oleg Bakhmatyuk - a billionaire agricultural investor from the Ukraine. Over 100 farmers are suing a subsidiary of his global empire for almost $10 million for reneging on chicken sales contracts.

Bakhmatyuk used Omtron USA, a Delaware company, to buy the 120 year old Townsends poultry processing business in North Carolina in June 2011 when it went into bankruptcy. He offered to ship cheap corn from the former Soviet Union country to feed local chickens and signed three year contracts to buy the birds from the farmers and which he planned to sell in China, the Middle East as well as Russia.

His ambitious global business plan collapsed when Ukraine taxed the export feed; the U.S. wanted to inspect the grain; and both the Chinese and the Russians restricted imports.

"He was filthy rich and had no idea what he was getting into; that's exactly what it sounded like," said Mickey Bowman, a third-generation chicken farmer told the News & Observer in Raleigh, North Carolina. "He didn't care who he hurt along the way over here. It was nothing to him to close this down."

Building an Egg Empire

Bakhmatyuk, aged 38, made Forbes magazine's list of "World's 20 Youngest Billionaires" in 2011. Like many of the new billionaires from the former Soviet Union, he started working in a state-owned oil and gas company and rose through the ranks, to become deputy CEO of Naftogaz Ukraine

In 2003 he set up Avangard Agroholding - an egg production company - to take advantage of the fact that the Ukraine boasts rich, black soil, ideal for growing crops. The country, which was formerly the "breadbasket" of the Soviet Union, has arable farmland equivalent to a third of the entire European Union's agricultural areas.

Avangard has since expanded to become the world's second-largest egg producer and egg products distributor. In 2010, Bakhmatyuk sold shares of the Ukrainian company on the London Stock Exchange for $200 million, and then merged Avangard with his agro-industrial company, UkrLandFarming, making it Ukraine's largest vertically integrated agro-industrial producer.

Now Bakhmatyuk's company, which is registered in Cyprus, controls 2,054 square miles (over 500,000 hectares) - almost one percent of Ukraine's landmass. UrkLandFarming grows corn, breeds cattle for beef, leather and milk, and produces sugar. It owns meat processing factories, grain elevators, warehouses and storage units. Most of what it produces is for export.

"I am building a global player: a public resource company," Bakhmatyuk told Ukrainian agricultural news site, Latifundist.com. "Eggs and corn are two key products that will drive the company's growth and demand for its products on foreign markets. The company will focus on markets in the Middle East, North Africa and Asia, primarily China."

Land Grabbing in the Ukraine

Oleg Bakhmatyuk - and other agricultural barons from the Ukraine - became global players first by taking advantage of cheap land in the Ukraine as well as the fact that ownership is complicated, especially for foreign corporations and investors.

State law regulates land leasing rates, which are as low as $16 an acre - a steal for most international agribusiness companies. (In comparison, in Illinois, where soil conditions are similar, the going price is $256 an acre.)  In 2001, the government issued a moratorium on the selling of land but allowed corporations like UrkLandFarming to purchase leases that last up to 49 years.

Today 10 large agro-holdings control almost 5 percent of the country's land. Agricultural commodities have become more profitable than the country's oil and natural gas industry, according to the Institute for International Research - USA, a company that organizes events for international investors.

These companies then attracted global investment when global food prices surged in 2007 and investors sought to make money by grabbing control of food production in Europe, according to "Land concentration, land grabbing and people's struggles in Europe," a new report by the international farmer's organization, Via Campesina.

Indeed, the report found that land ownership in some European countries has now reached unequal proportions "similar to Brazil, Colombia and the Philippines."

The trend toward consolidation also accelerated in recent years, the report states, due to public policies promoted by international financial institutions that favor larger companies over small, family farms. For example, the European Bank for Reconstruction and Development provided almost $240 million in loans to Ukrainian and international agricultural export companies in 2011. Small farmers who sell locally were not among the recipients, said Via Campesina.

"Two factors account for the high returns on investment. The inexpensive land (five to ten times lower than in the Paris basin area)... and low wages," said Hubert Cochet and Michel Merlet, an academic and NGO director who presented a paper in April 2011 at the International Academic Conference on Global Land Grabbing, held in the UK. They found that rates of return on agribusiness investments in Ukraine were highly profitable, ranging between 10 and 20 percent.

"A tractor driver/mechanic costs his employer as little as €200-300 ($260-393) per month-five to six times cheaper than farm labourers in the cereal areas of Western Europe," Cochet and Merlet wrote.

(Another reason for the shrinking land ownership is that many small farmers in Eastern Europe went bankrupt when their governments first joined the European Union and local markets became flooded with subsidized products, according to the Via Campesina report.

Many of those farmers were not eligible to apply for EU subsidies themselves for six years, the report noted. Even now, the East European farmers also lack access to loans or subsidies, and younger farmers new to the scene are often not able to compete with agro-industrial companies backed by foreign money.)

North Carolina Failure

But as Bakhmatyuk expanded his international horizons, he ran into roadblocks that he never expected, as the farmers in North Caronia can attest. In early 2011, Bakhmatyuk paid $25 million to buy Townsends poultry factories and spent an additional $7 million on renovations.

Unfortunately for him, doing business in the U.S. and the global market was much harder than grabbing land in the Ukraine by taking advantage of local land laws. Bakhmatyuk was unable to persuade the Ukrainian government to let him export corn at the preferential local price or get around North Carolina import regulations, so the venture started to lose money at the rate of $7 million a month and more.

Five months after the purchase, Bakhmatyuk announced that Omtron would shut down all its North Carolina operations. Last November the company declared bankruptcy and Omtron's managers vanished, leaving leases and other debts unpaid and 130 angry chicken farmers who are still trying to collect their money.

AMP Section Name:
Food and Agriculture