UK Pathology Labs Suffer In Quality Under Serco Management
Image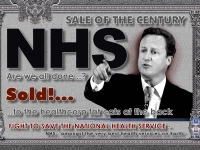 Privatization of major medical laboratories from the National Hospital Service (NHS) in Britain has led to a dramatic decline in service quality, according to "Transforming Pathology, the Serco way," a recent report from UK-based researchers Corporate Watch.*
A 2006 UK government report, authored by Lord Patrick Carter, urged that pathology labs - which conduct the study and diagnosis of disease that determine 70 to 80 percent of clinical treatments - be run as "managed pathology networks" to cut costs by as much as 30 percent - or $1.2 billion a year across the nation.
In 2009 and 2010, a joint venture named GSTS won bids to take over pathology services for two major London hospitals - King's College and St. Thomas' Hospital. GSTS is a joint venture between the two trusts that manage King's and St. Thomas with Serco, a UK contractor that has over 750 contracts in 37 countries to run prisons, immigrant detention centers, military operations, nuclear weapons facilities, schools and transit systems. The deals are worth £800 million ($1.28 billion) over the next decade.
But instead of saving money and improving services, the GSTS joint venture lost money and suffered 400 clinical "incidents" at St. Thomas' labs during 2011, including misplacing and mislabeling blood and tissue samples, according to documents obtained by Corporate Watch using Freedom of Information Act requests.
"There appeared to be an increase in the number of these incidents since GSTS took over," Corporate Watch stated in a September 30 report.
Performance reviews of St. Thomas' hospital show that under GSTS management pathology lab "turnaround times" did not meet expectations 46 different times in 2011 and exceeded "critical risk levels" 14 times. During that same period computer failures led to inaccurate kidney damage readings and a patient receiving "inappropriate blood."
One reason maybe that the "reform of the workforce" has led to losing experienced scientists who are not being replaced, suggest union activists. Unite, the union which represents NHS hospital workers, says that new recruits are given less training and fixed term contracts, as opposed to the pay packages enjoyed by NHS workers.
"Pathology staff take years to train and need constant development and training to keep pace with rapid scientific changes," said Frank Wood, a biomedical scientist at King's hospital and a member of the national executive of Unite. "The private sector has made frequent attempts to run [National Health Services] NHS pathology services and has failed due to its inability to retain and attract these type of staff."
"A report by the Care Quality Commission from June this year said GSTS was 'not compliant' with the regulation to ensure staff were 'properly trained and supervised, and have the chance to develop their skills,'" the Corporate Watch report added.
Financially Serco also appears to have benefited unduly from the GSTS joint venture. Documents show that Serco did not contribute capital into the equally split three-way partnership, yet the hospital trusts provided labs, staff, equipment and nearly $5 million.
In its first six months of operation GSTS lost almost $350,000. Yet in 2010 GSTS paid Serco consultants $16 million to implement a "transformation program" and in bidding fees. By the end of 2011 GSTS went over its budget by $8.1 million, forcing Serco's partnering hospital trusts to subsidize the venture again. In 2011 King's Hospital trust lost over $1 million, and Guy and St. Thomas' trust went into the red as well, Corporate Watch reported.
While GSTS lost money, Serco as a whole continued to profit. The company made $163 million during the first half of 2012. By May, a senior leadership strategy document declared that GSTS had "no future if it cannot be commercially viable."
But GSTS rejects claims that it is failing and announced in an official statement that it is "on track to break even this financial year." Responding to the Guardian article, GSTS said, "The pathology service provided by GSTS compares favourably with any pathology service in the NHS and patient safety and the quality of our service are our foremost priorities. There is no evidence to support the Guardian's claim that the creation of GSTS ... led to any of these incidents happening. The incidents listed in the article are the sort that happen in all pathology services and which GSTS has a good record of reducing year on year."
More dramatic changes are under way at the two hospitals. Before the end of 2012 GSTS intends to consolidate many of the pathology services at the two hospitals: Immunology and blood testing currently done at St. Thomas' Hospital will be moved to King's College Hospital to reduce duplication, GSTS said. The bulk of St. Thomas' toxicology department will be sold or closed. "Staff worry this will overload the service at King's, causing severe delays and risk the quality of tests provided," Corporate Watch wrote.
The pathology lab problems are not the first time that Serco (dubbed "the company that runs Britain" by the Daily Telegraph) has come under fire for its health care service and provision in England.
For example Ethan Kerrigan, a six-year-old boy, died in 2010 from a burst appendix in Cornwall, the westernmost region of Britain, after Serco staff at a medical clinic advised putting him to bed rather than sending a doctor to examine him. That incident and other complaints of long lines and chronic understaffing have led to an investigation by the Care Quality Commission, the UK public regulator that oversees healthcare.
Last month, a Serco worker leaked to the press that Serco had falsified its records 252 times, according to an audit demanded by the National Health Service.
Yet despite the controversies, Serco has continued to win contracts to run medical care facilities.
* Corporate Watch is a UK non-profit which is not affiliated with CorpWatch. The two organizations share similar objectives and missions.
 
AMP Section Name:
Pharmaceuticals