UK Court Agrees to Hear a £5 Billion Lawsuit By Victims of 2015 BHP Dam Collapse in Brazil
Image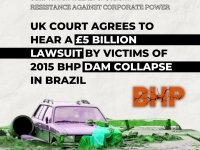 The Court of Appeal, the second highest in the UK, has ruled that it will hear a lawsuit, filed on behalf of 200,000 victims, against Broken Hill Proprietary (BHP) for the collapse of the Fundão tailings dam in Mariana city, Minas Gerais state in southeastern Brazil.
"This is a huge step forward in not only securing justice for our clients but also sending a wider message to large multinational businesses that they cannot run major operations in countries around the world – and then hide behind their subsidiaries when things go wrong." – Tom Goodhead, managing partner of PGMBM law, who represents the victims.
Mariana dam collapse 
Samarco is an iron ore mining company in Minas Gerais that is jointly owned by BHP and Vale. 
On November 5th, 2015, Samarco's Fundão tailings dam collapsed releasing over 40 million cubic meters of toxic waste, killing 19 people and destroying the lives of thousands of local people and wiping out two villages: Bento Rodrigues and Paracaty de Baixo. The toxic waste spilled into River Doce that flows 670 kilometers to the Atlantic Ocean. 
"The water was brown like thick, chocolate soup; a mud avalanche. It came like tidal waves. As the days progressed, the whole surface as far as you could see became a blanket of dead fish. Cows and horses floated lifeless on their backs, only their legs visible above the water," - Jonathan Knowles, a local residents who had to flee his home.
Renova Foundation 
In 2016, Samarco together with the government of Brazil, set up the Renova Foundation to pay compensation to the victims but local communities were not consulted on this matter. BHP claims that the foundation has spent £2.6 billion on economic and environmental reparations, yet victims claim they still haven't been able to return to their homes or villages. 
Legal battle
Meanwhile an investigation into the matter, commissioned by BHP, Samarco and Vale, revealed that construction and design flaws were the cause of the collapse. In 2018, the victims filed a £5 billion lawsuit against BHP in the UK, arguing that UK courts had jurisdiction over BHP, which was headquartered in the UK at the time. (The company has since moved its headquarters to Melbourne, Australia.) 
In November 2020, the High Court in Manchester ruled that UK courts did not have jurisdiction over the matter, so the villagers lodged an appeal. 
"Alas, I understand that no matter how hard we fight, much of what the companies have taken from our people is irrecoverable. For it to have been suggested by the defendants that my community is receiving full redress in Brazil makes me even angrier." - Representative of the Krenak Indigenous communities in London.
"The vast majority of claimants who have recovered damages have only received very modest sums in respect of moral damages for interruption to their water supply … The claimants should be permitted now to proceed with the claims in the action," - Court of Appeal ruling on July 8, 2022.
Company response 
"We will continue to defend the action, which we believe remains unnecessary as it duplicates matters already covered by the existing and ongoing work of the Renova Foundation under the supervision of the Brazilian courts and legal proceedings in Brazil." – BHP spokesperson
This is #15 in our series of Instagram infographics on resistance against corporate power.
Click here to see the full post on Instagram.