Uber Used Clandestine Technology Tool To Thwart Police Raids
Image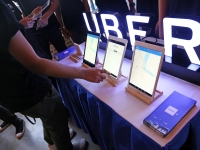 Uber, the global taxi technology company, has been using a clandestine tool named "Ripley" to thwart government oversight of the ride-sharing company by restricting access to company computers. The tool is named after Ellen Ripley, the heroine of Alien, the science fiction movie series.
"Imagine that you're in an Uber office abroad, and you see the authorities, the tax authorities, coming, and they're about to raid your office," Olivia Zaleski of Bloomberg news who first revealed Ripley to the public, told Marketplace radio. "You press a button on your phone and it routes to Uber's headquarters in San Francisco. And there, a member of the security team initiates a program ... that will shut down all the computers in your office abroad."
Uber, which was founded in 2009, distributes a smart phone software application that allows users to connect to nearby car drivers based on their physical location for taxi services. The company, which now operates in over 600 cities around the world, has become a lightning rod for controversy. For example, Uber has been accused of putting taxi drivers out of business; failing to provide drivers with basic labor rights; and several Uber drivers have been accused of sexual assault of customers.
The company has been banned - sometimes temporarily and sometimes permanently - in a number of places ranging from Bulgaria to Taiwan. In cities like Montreal, the company's local offices have been raided for tax evasion, in Brussels, Uber has been raided for operating without a permit, and the city has also been subject to surprise government visits in other cities like Amsterdam, Hong Kong, and Paris.
Uber spokeswoman Melanie Ensign confirmed that Ripley existed. "Like every company with offices around the world, we have security procedures in place to protect corporate and customer data," the company said in a statement. "When it comes to government investigations, it's our policy to cooperate with all valid searches and requests for data."
The disclosure of Ripley's existence is likely to increase scrutiny of the company by government authorities given the company's questionable use of several other high-tech tools.
For example:
* "Greyball," revealed by the New York Times last March, was a secret Uber program used to spot government officials that might be tracking the company. One method included looking for phones that were used inside a virtual perimeter that was drawn around government offices, while another method was to check the credit cards and social media profiles of users suspected to be following the company. Uber would then send the individual to a fake version of the software to mislead them.
Uber claimed that the program was used to keep their drivers safe. "This program denies ride requests to users who are violating our terms of service — whether that's people aiming to physically harm drivers, competitors looking to disrupt our operations, or opponents who collude with officials on secret 'stings' meant to entrap drivers," the company said in a statement.
But four company officials told the newspaper that the company had used Greyball to defeat government investigations in cities like Portland, Oregon, prompting outrage on part of city officials. "I am very concerned that Uber may have purposefully worked to thwart the city's job to protect the public," Ted Wheeler, mayor of Portland, said in a statement.
* "Hell" was revealed by Michael Gonzales, a Lyft driver in San Francisco, when he sued Uber last year. "Using Hell, Uber employees, contractors, and/or agents were able to access the location of up to eight Lyft drivers at one time and obtain their unique Lyft ID," Gonzales' complaint states. "Each Lyft ID is unique, akin to a social security number, which allowed Uber to track Lyft drivers' locations over time."
* "God's View," which was revealed by BuzzFeed News in 2014, allowed anyone at the company to track users movements in real time. Uber made the mistake of bragging about the tool at a launch party in Chicago in 2014 by projecting the movements of a venture capitalist Peter Sims.
After Sims was tipped off by an attendee at the Chicago event, he has continued to criticize the company and its business practices. "Uber is a poster child of this Silicon Valley era: As long as the business is growing, companies can be amoral at best, immoral at worst. Until companies like Uber move in the direction of a stronger corporate governance, that is unlikely to change," he wrote in an op-ed last year.