Turmoil at South Africa's Platinum Mines
Image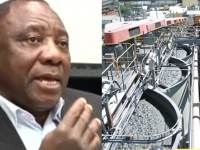 A third wildcat strike this year has closed yet another South African platinum mine less than a week after the police opened fire and killed 34 miners at the Lonmin mine north of Johannesburg. The latest to lay down tools are a thousand workers at the Royal Bafokeng Platinum Mine at Rasimone this Wednesday.

The strikes have hit the global supply of platinum, which is mostly used by the car manufacturing industry to make catalytic converters. Some 80 percent of the world's supply of the precious metal is mined in South Africa.

Clashes between South Africa's powerful mining companies and the government are only part of the story. A battle to win membership between two rival unions - the older establishment affiliated National Union of Mineworkers (NUM) and the newer more radical Association of Mineworkers and Construction Union (AMCU) - is also reported to be a major factor in the violence.

NUM - which was founded by Cyril Ramaphosa in 1982 - was deeply involved in rallying black mine workers against apartheid. AMCU was created in 1998 by Joseph Mathunjwa who left the NUM after he fell out with Gwede Mantashe, then general secretary of the older union.

Today Mantashe has become the right hand man of Jacob Zuma, the president of South Africa and Ramaphosa has become a powerful and wealthy businessman. Last year Ramaphosa took over the franchise for McDonald's in South Africa. He also serves on the board of Lonmin, the UK-based platinum mining company where workers were killed last week.

But while the NUM's former leaders have become powerful actors in post-apartheid South Africa, the union has started to lose members. "The National Union of Mineworkers doesn't care about the workers," Thabo Moerane, a Lonmin supervisor told Bloomberg. "It is eating with management. We've been trying to get a decent salary increase since 2007. That is why we wanted to join AMCU."

AMCU, which has grown to about a tenth of the size of NUM with 30,000 members nationally, has also attracted its own share of controversy. "Its leaders call themselves devout Christians and say life is sacred," wrote Reuters recently. "But its supporters march with spears, machetes and clubs and anoint themselves with magic potions to ward off police bullets."

Meanwhile, local anger at the mining companies has been brewing for a while. "Lonmin has done nothing for the local community. They take our platinum and enrich themselves but where is our royalty money going? We don't have tar roads and our youth are unemployed," a woman worker told the BBC. "They cut off our water supply every day during the day. The water comes back only late at night. The water stinks and we have to buy purified water."

The first strike, early this year, was in Rustenberg at the world's largest platinum mine run by Impala Platinum Holdings. Three workers were killed in clashes between the unions. Then on August 10, some 3,000 Lonmin rock drill operators went on strike at the Marikana mining complex to ask for a pay raise to 12,500 rand ($1,500) a month. AMCU, which represents 5,000 workers out of a total workforce of 28,000 was in favor of the strike. NUM which represents some 12,000 workers at Lonmin did not back the strike. (Frans Baleni, NUM's new general secretary, is paid 105,000 rand or $12,600 a month)

Over the next week, violent attacks and clashes resulted in ten deaths, including two police officers and at least one worker who was hacked to death on his way to work.

Then on August 16, the police claim they came under attack from workers armed with guns, spears and machetes. "Police had no option but to open fire," police commissioner Riah Phiyega said. "This is a dark moment for the country."

The police killed 34 people and injured another 78. The deaths caused shockwaves to roll through South Africa, where it brought back memories of the apartheid era shootings of protestors. Lonmin said it would not insist that workers return to work this week and Zuma came to meet with the workers Wednesday.

"Workers feel that (violence) adds both positive and negative value," Crispen Chinguno, a sociologist at the University of Witwaterstrand who conducted research among the platinum workers, told the Mail & Guardian newspaper. "At Implats, where workers were also demanding a salary adjustment (of 9,000 rand) outside of a bargaining agreement, they ended up getting more than 8,000 rand. The strike was illegal, some were dismissed, but most of them got their jobs back. From that perspective, the workers feel the use of violence is working for them. The negative aspects are some job losses, injuries and death."

Others say the killings reflect the reality of the new South Africa. "The story of the Marikana mine shootings is that of a trade union that cosied up to big business; of an upstart and populist new union that exploited real frustration to establish itself; and of police failure," writes Justice Malala, founding editor of South Africa's ThisDay newspaper, in the Guardian. "It is a story which exposes South Africa's structural weaknesses too: we are one of the world's top two most unequal societies (with Brazil). Poverty, inequality and unemployment lie at the heart of the shootings this week."