The True Cost of Chevron: An Alternative Annual Report
Image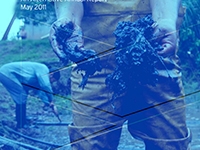 In April 2010 Chevron released its 2009 Annual Report. It would not take long for the cover design - Chevron's Gulf of Mexico ultra-deepwater drillship, the Discoverer Clear Leader - to seem a terribly poor choice.
Just days prior to publication, 18,000 gallons of crude oil spilled from a Chevron operated pipeline in the Delta National Wildlife Refuge in southeastern Louisiana.
A far worse disaster struck less than two weeks later. The largest blowout of an oil and gas well in the Gulf of Mexico in 30 years killed eleven people and saturated the surrounding areas in a blanket of oily destruction. The rig was owned and operated by Transocean, the same company with which Chevron has a five-year contract to operate the Discoverer Clear Leader, among other Chevron offshore rigs.
While the cover image of Chevron's Annual Report shows a pristine rig, perhaps the more appropriate photo for Chevron will prove to be the image on page two: the sun setting on Chevron's Way.
Chevron's 2009 Annual Report celebrates 130 years of Chevron operations. In it, the company declares that the "values of The Chevron Way" include operating "with the highest standards of integrity and respect for human rights," a deep commitment "to safe and efficient operations and to conducting our business in an environmentally sound manner," and the building of "strong partnerships to produce energy and support communities."
We, the communities and our allies who bear the consequences of Chevron's offshore drilling rigs, oil and natural gas production, coal fields, refineries, depots, pipelines, exploration, chemical plants, political control, consumer abuse, false promises, and much more, have a very different account to offer. Thus, we have once again prepared an Alternative Annual Report for Chevron.
Written by dozens of community leaders from sixteen countries and ten states across the United States where Chevron operates, the 60-page report encompasses the full range of Chevron's activities, from coal to chemicals, offshore to onshore production, pipelines to refineries, natural gas to toxic waste, and lobbying and campaign contributions to greenwashing. CorpWatch is proud to be a contributor to this important collaborative report.
On May 25, forty report authors will appear in Houston at a press conference to address the true cost of Chevron's operations in their communities. On May 26, they will deliver the report directly to Chevron inside the company's Annual General Meeting (AGM) while supporters rally outside.
For further information and much more, visit the True Cost of Chevron web site.