Tribal Female Farmers and Their Fight to Save their Livelihoods
Image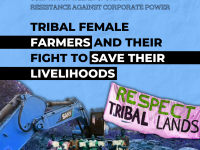 Tribal women from Andhra Pradesh, India, are standing up against a mining company, Sri Lakshmi Narasimha Granites, aiming to destroy their only livelihood: cashew trees which they have been cultivating for years. To save the trees from destruction, the women staged a symbolic protest in which they tied one end of a cloth to their neck and the other to the tree branches to imitate the act of suicide by hanging.
"What do we do? If our lands are gone, then death is the only option for us." — Thokkala Lakshmi, one of the protesting women
"Disputed land"?
The female farmers claim that the land on the hill on which they have been cultivating cashews for decades is theirs. However, the local authorities, who have leased the land to Sri Lakshmi Narasimha Granites claim that their land is elsewhere on the hill. 
Broader context
Through 2012 and 2013, the families from Komira village were assigned land (444.26 acres) on the hill. They were issued D-Pattas (under which landless people are given government land for "cultivation only"), which stated that the land was theirs. Because the D-Pattas didn't state a specific area of the hill, a government inspector claims that the land given to the families does not include the area (44 acres) leased to the mining company. 
"These trees are like our children, we nurture them with such care. One of the trees is more than 22 years old and I consider it as one of my own children." — Singeri Rajulamma, oldest tribal farmer
"We did not ask for more money. All we want is our land. They cannot think of suppress-ing us and taking away our land. Let them give us other land — where we can live and earn. For generations, we have lived like this and we need to give our children a secure future." — Thokkala Lakshmi, tribal farmer
Denial of land rights
The authorities continue to claim that the disputed land does not belong to the protesting farmers. 
"Definitely these protesting tribal farmers don't have their lands here. They have it elsewhere on the hill ... There are cultivators on other parts of the land on the hill and these people, too, have been given lands on the other side of the hill. The area which has been allotted on lease to the mining company is not part of any assigned land." — P.V. Ratnam, Mandal revenue officer
This is #5 in our series of Instagram infographics on resistance against corporate power.
Click here to see the full post on Instagram.