Toyota May Pay $1 Billion To Settle Unintentional Accelerations Claims
Image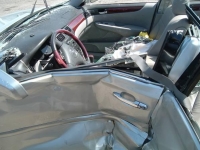 Toyota is expected to announce a billion dollar settlement with the U.S. government for failing to disclose complaints by drivers that its cars were accelerating unintentionally. News of the negotiations were reported by the Wall Street Journal.
The issue first hit the deadlines when Mark Saylor, an off duty police officer, was killed together with his family when his car failed to slow down on a highway in San Diego in 2009. The details of his final moments were captured in a phone call that he made to emergency services.
Auto-safety advocates called for criminal charges against Toyota after 34 deaths and hundreds of injuries were documented from sudden acceleration. The U.S. Securities and Exchange Commission and federal prosecutors in the New York district attorney's office began investigating the company in 2010.
"If Toyota had been an honorable company and recalled the defective vehicles when it first learned of the problems in 2003/2004, or perhaps even earlier, and taken steps to redesign subsequent production, many of the resulting deaths and injuries would not have occurred," Joan Claybrook, the former head of the National Highway Traffic Safety Administration (NHTSA) told a hearing in the U.S. Congress in 2010.
"Now the only remedy for the families of these Toyota victims is a product liability lawsuit and payment by Toyota for the death - a few dollars for each precious life," she added.
An NHTSA investigation published in 2011 has failed to determine the cause of the unintentional acceleration.
The company continues to deny that its products are at fault. "In the nearly four years since this inquiry began, we've made fundamental changes to become more responsive and customer focused, and we're committed to continue to improve," Julie Hamp, a Toyota spokeswoman, told reporters in an emailed statement. "Toyota continues to cooperate with the U.S. attorney's office in this matter."
Just last week Toyota recalled 1.9 million Prius vehicles after discovering a programming error that could cause their gas-electric hybrid systems to shut down. The company has recalled five million cars a year for the last two years to fix problems.
Critics of the agreement say that the federal government is allowing companies to buy their way out of criminal prosecution, noting that multi-billion dollar settlements have become the normal way to deal with criminal charges.
"Regulators, prosecutors and attorneys general have learned a valuable lesson from their private counterparts, class-action attorneys. Build a big enough case, and the target company will settle," writes Daniel Fisher at Forbes, noting that company's cannot afford to take the risk of being judged by a jury. "There's a problem when government officials adopt this sort of regulation, however. It invites corruption of its own."
Fisher points to the complex $246 billion settlement that the major tobacco companies negotiated to pay over a 25 year period with the attorney generals of over 40 U.S. states in 1997, following which the companies made a $100 million donation to the National Association of Attorney Generals.
Economists also calculated at the time that the settlement also virtually guaranteed that the tobacco industry would actually increase their profits.
Over a dozen years later, a study by the Campaign for Tobacco Free Kids showed that the money paid out by the tobacco companies - $25.7 billion in 2013 - was hardly making a major dent in the finanical cost of cigarette smoking in the U.S. which were estimated at $193 billion a year, including $96 billion in health care costs.
Global profits for the industry in 2012 were estimated at some $35.1 billion on sales of close to $500 billion for the year.
AMP Section Name:
Transportation