Taiwanese Display Manufacturer Fined $500 Million for Price-Fixing
Image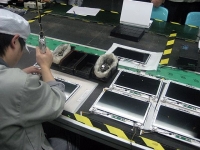 Taiwanese company AU Optronics and its U.S. subsidiary were fined $500 million by a U.S. judge for conspiring to artificially inflate the prices of liquid crystal display (LCD) screens in a verdict handed down last month. Two former AU Optronics executives were also given three-year prison sentences.

AU Optronics is the fourth-largest LCD producer in the world, supplying computer, phone and TV screens to many major electronic manufacturers. Between 2001 and 2006, the company held 60 secret meetings with LG, Samsung, Sharp, Hitachi, Toshiba, Epson and several other electronics producers in luxury hotels, tearooms and karaoke bars, according to detailed notes and legal documents from AU Optronics executives.

High-ranking executives made deals on production levels and set prices of LCD screens used in "almost every laptop computer and computer monitor sold in the U.S.," smart phones and other electronic devices, according to a statement issued by the U.S. Department of Justice. A third of the $74 billion made by the cartel's LCD sales came from U.S. companies like Apple, Dell, HP and other electronics and television manufacturers, the New York Times reported.

"This long-running price-fixing conspiracy resulted in every family, school, business, charity and government agency who bought notebook computers, computer monitors and LCD televisions during the conspiracy to pay more for these products," said Scott Hammond, deputy assistant attorney general for the Department of Justice's antitrust division's criminal enforcement program.

In early 2006 the group meetings stopped due to fear of detection, according to legal documents filed by the Department of Justice. But AU Optronics continued to meet one-on-one with its supposed competitors in karaoke bars around Taipei to coordinate production and set prices.

"Only when the FBI raided AUOA's [AU Optronic's U.S. subsidiary] offices in Houston in December 2006 did AUO and AUOA cease their participation in the cartel," an earlier statement filed by the Department of Justice on September 11 stated.

"The defendants, unlike their coconspirators, are remorseless, having refused to accept responsibility or provide any assistance that would justify a reduction in their sentence," the government lawyers said.

Several other LCD producers charged with price-fixing by the U.S. have previously pled guilty. In 2008 LG Electronics agreed to pay a $400 million fine to avoid trial. Hitachi, Sharp and Samsung, agreed in December to pay a total of $538 million in settlement fees. Only AU Optronics denied the allegations and took their case to a jury trial.

After AU Optronics and its executives were found guilty this past March, the Department of Justice petitioned Judge Ilston to impose maximum penalties upon the company.

"A $500 million fine would be a cost-of-doing-business fine for a large-scale, highly successful cartel like the one proven in this case," the Department of Justice statement said. "It is possible that even a $1 billion fine will not deter the type of pernicious conduct before the court, but it is the maximum deterrent message that can be sent in the most serious price-fixing cartel ever prosecuted by the government."

Wall Street law firm Skadden, Arps law issued a warning to clients that the size of the fine should serve as a warning to collaborate with the goverment: "(T)he case leaves room for companies to continue to negotiate resolutions based on the many factors that bear on a final penalty - from the level of affected commerce to mitigating circumstances and proportionality in sentencing."

Had the judge imposed a $1 billion penalty and ten-year prison sentences, as requested by the government lawyers, the fine would have set a record and could have represented a "watershed moment in antitrust law," the Wall Street Journal reported.

AU Optronics issued a statement on September 21, saying it "regrets" the judgment and intends to appeal the decision. The company added that there were "important, yet unresolved, legal questions surrounding this matter." In a previous statement it said that the U.S. government wanted "to punish AUO for its temerity in electing to subject the validity of the government's charge to the test of a jury trial."

AU Optronics and other coconspirators in the LCD cartel have also been sued by retailers and consumers in class-action lawsuits. All together, eight companies have paid $1.39 billion in criminal fines, and twelve executives have been convicted and sentenced to a total of 4,871 days in prison.

AMP Section Name:
Technology & Telecommunications