Swedish Companies Accused Of Profiting Off Refugee Housing
Image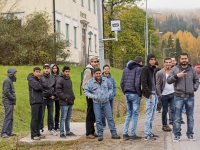 Swedish companies have been accused of profiting excessively from the recent influx of refugees to Europe, taking advantage of the government expenditures of some $7 billion to house and support over 150,000 new immigrants this year.
"I'm not asking anyone to give away housing for free. But it can't be the other extreme either," Swedish Prime Minister Stefan Löfven told Dagens Nyheter newspaper recently. Morgan Johansson, the Swedish justice and migration minister, accused the companies of "lining their pockets" and called on the owners to start lowering their prices.
Sweden has taken in an average of 109,000 refugees a year since 2011, which is a little over one percent of the national population of 9.8 million per year. The government expects an even greater number to be accepted on an annual basis in the immediate future.
"I think it's quite impressive that we are able to do (give) people a roof over their head and food, from the first day," Johansson told the Washington Post. "(But) we are having trouble finding housing for all these people."
In the first eight months of 2015, the government paid out 894 million Swedish kroner ($105 million) to 50 different companies for housing like Attendo, Aleris, Individia, Jokarjo, Positivum, Steget Vidare and Vardaga. A number of these companies are owned by private equity firms that have branched out after two decades of profiting from Sweden's privatized elder care and health care market that are financed from tax revenue.
With demand running high this summer as the number of refugees fleeing wars in countries from Afghhanistan to Syria, the housing companies have now started to raise their prices. Some charge as much as $13,000 per month to house and care for unaccompanied children, for example.
"The government is highly critical of some reported prices in the private sector, but deems that the short-term need of finding accommodation must take precedent over regulation looking at prices or profits at the moment," a Swedish government spokesman told the Guardian newspaper.
The largest sum to date has gone to Jokarjo, owned by Bert Karlsson, a Swedish pop music tycoon and the founder of anti-immigration New Democracy party, who was paid 170 million Swedish kroner ($38.8 million) in the first six months of the year to house 5,000 refugees at 30 different sites.
"I'm the best in Sweden at entrepreneurship," Karlsson boasted to Reuters on a visit to Stora Ekeberg, the first housing scheme that Jokarjo set up at a former sanatorium in the town of Skara. "Our prices are the lowest, which is why we're growing the fastest," Karlsson added to Dagens Industri, a Swedish financial newspaper. "Sales and profit will continue upwards."
Another major provider is Aleris, a healthcare provider owned by the powerful Wallenberg family, which operates six homes for unaccompanied children. One of these centers is Mölndal in the southern city of Gothenburg which charges 60,000 Swedish kroner ($7,000) per head per month.
"It is not reasonable that it costs 60,000 kronor if the rent on the apartment is 5,000," Veronica Tindvall, head of the unit for unaccompanied minors in Gothenburg tols Svenska Dagbladet. "You wonder what is costing so much."
The company says the costs are not excessive. "All expenses are included, such as accommodation, food, clothing, leisure activities, finding an internship for those who don't go to school as well as the coaches work time with the minors," Isabel Andersson of Aleris told the newspaper. "It also includes an around-the-clock telephone service."
Meanwhile plans to further expand refugee housing is also apparently attracting the attention of far right extremists. Over a dozen prospective sites have been set on fire this year in suspicious circumstances.