Sweatships at Sea: Carnival Cruises Pay Below International Standards
Image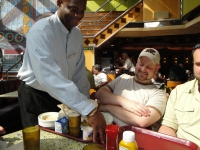 Carnival Cruise staff on UK ships are paid $1.20 (75p) an hour or $400 a month in basic wages, according to new documents seen by the Guardian newspaper. These workers lose their tips, which work out to roughly 15 percent of wages, unless they get at least a 92 percent favorable rating from customers.

These wages are below the minimum level recommended by the Joint Maritime Commission of the International Labour Organization which was set at US$555 a month for salaries paid out after January 1, 2012.

"Unfortunately, because the shipping industry is largely unregulated, (workers) wages will normally depend on the kind of contract (they) have signed," notes the International Transport Workers' Federation (ITF) web page for seafarers.

The $1.20 an hour wages are for staff on P&O Cruises sailing out of Southampton in the UK. The tour operator began life as Peninsular & Oriental Steam Navigation Company which operated the world's first passenger ships starting in 1822 with trips to Iberian Peninsula, and tours in 1844. The UK company merged with Carnival Corporation of Florida in 2003 to create the world's largest cruise ship operator with annual revenues of $15.8 billion in 2011 and profits of $2.2 billion.

Today most of the workers aboard P&O are from India and the Philippines. Tours in July advertised on the site for the Carnival Legend range between $2,798 and $6,458 per passenger for a 12 day trip around northern Europe. A quick calculation suggests that P&O workers would need to work for almost 500 days to pay for a cruise themselves, assuming that they did not spend a single penny of their wages.

David Dingle, CEO of Carnival UK, told the Guardian that staff were "much happier" and many of them earned over £1,000 a month ($1,600). Some passengers were skeptical. One - Rob Bygrave of Sherborne, Dorset - told the newspaper that "grown men were in tears" after hearing about the new pay scheme.

"It's high time the disgraceful practice of allowing the shipping industry to pay poverty wages to workers who don't live in the UK was stopped," Brendan Barber, general secretary of the Trade Union Congress told the Guardian. "Exploitative rates of pay for those working on British ships have no place in a modern society."

An estimated 1.2 million people work at sea. For them working onboard a ship has never been an idyllic operation. Over 200 years after the men of the HMS Bounty rebelled against their captain for mistreatment (commemorated in a number of books and films like Mutiny on the Bounty) activists say that the ship workers are still exploited routinely.

"It's a sweatshop at sea," says Paul Chapman, former port chaplain, founder of the Center for Seafarers' Rights, and author of "Trouble on Board: The Plight of International Seafarers." "A ship owner can go any place in the world, pick up anybody he wants, on almost any terms. If the owner wants to maximize profit at the expense of people, it's a piece of cake."

"Cruise ships maintain a degree of glamour and opulence. Advertising projects images of fun and carefree times. Those of us living in port cities see impressively clean, bright and huge ships glide into our harbours, offloading passengers anxious to spend money at stores, restaurants, and with tour operators," writes Professor Ross A. Klein of Memorial University of Newfoundland in Canada who runs CruiseJunkie.com.

In an article titled "High Seas, Low Pay," http://www.cruisejunkie.com/ot.html Klein adds: "The reality for many cruise-ship workers, however, is certainly not carefree, nor fun. While the working conditions for officers, cruise staff, and those working in the shops and casinos are adequate, if not good, the experience of those working in the dining room, cleaning rooms, in the galley, and below deck is quite different. These workers are often paid substandard wages, have marginal accommodations, survive on inadequate food, and live under a system that is rife with abuse and uncertainty."

The ITF has been fighting to get European countries to adopt the Maritime Labour Convention that would require ships to maintain minimum labor standards on board ships.  The UK is yet to ratify the convention.


AMP Section Name:
Tourism & Real Estate