The Struggle to Unionize Starbucks
Image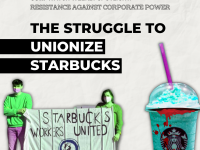 A Starbucks store in Buffalo, NY successfully voted to unionize at the end of 2021, becoming the first coffee shop in the chain to become part of a union. This created an unprecedented wave of unionizing efforts among Starbucks workers across the US. 
Empowered, workers from over 100 locations began pushing to unionize.
"It feels surreal and incredibly exciting… I'm so excited to see other baristas at Starbucks and across the service industry say 'if they can do it, we can do it here too.' We can change the service industry." - Casey Moore, barista at one of the unionizing Starbucks
"One of the main motivating factors for the partners at this [Cleveland] store to try and unionize was our partners in Buffalo… What they've done out there, I think it really lit a fire under us to start the process of filing for an election and trying to become a unionized Starbucks." – Nappi, Starbucks worker and organizer
Broader context
Starbucks opened in 1971 in Seattle, Washington, as a retailer of whole bean ground coffee, tea and spices. What started as a single store at a market turned into what is now the largest coffeehouse company in the world with over 30,000 stores worldwide. 
A group of 120 Starbucks employees successfully organized a union in 1985. This union was decertified in 1992, and other efforts to organize a union were unsuccessful until now. Starbucks workers are overworked, understaffed and underpaid. These conditions only worsened during the pandemic.
Newfound hope
Workers are increasingly trying to join unions with the hope of finally having their demands met and having a 'seat at the table' so as to have a say in the workplace.
"We as partners are demanding a seat at the table and a say in our working conditions. For too long, Starbucks hasn't lived up to their mission and values and we are holding them accountable." — Michelle Hejduk, worker at a Mesa, AZ store
Union-busting
The movement to unionize has been met with aggressive union-busting tactics e.g. mandatory weekly anti-union meetings, temporarily closing stores that try to unionize, intimidation and offering small pay raises. Despite this, Starbucks workers seem more determined than ever.
"The scale, the energy, the pace… There's nothing like it in labor history." — Richard Minter, Vice President of Workers United union
Company response
"We do not believe unions are necessary at Starbucks because we know that the real issues are solved through our direct partnership with one another." — We Are One Starbucks, Starbucks website encouraging workers to vote against the union
This is #3 in our series of Instagram infographics on resistance against corporate power.
Click here to see the full post on Instagram.