South African Gold Miners Sue Over Deadly Lung Disease
Image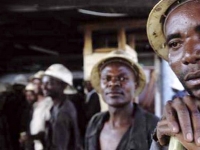 Thousands of gold miners have asked permission from South African courts to sue some 30 mining companies over negligence in health and safety that the miners allege has caused them to contract silicosis, a debilitating and potentially fatal lung disease.

Just before Christmas, Richard Spoor, a South African lawyer, filed papers with the South Gauteng High Court in Johannesburg requesting permission to conduct a class action lawsuit on behalf of 17,000 former miners. Hundreds more are signing up with Spoor every month.

Anglo American, AngloGold Ashanti, Gold Fields and Harmony Gold are four of the 30 major companies named in the legal papers that operated 78 different mines from 1965 to the present. Lead plaintiffs include Bongani Nkala, a 59-year-old former mine worker from Mthatha, among 30 other former mine workers.

"I could see, taste and smell dust while I worked underground, particularly after blasting took place during a shift and we were not evacuated from the mine . . . I cough heavily all the time and I have constant chest pains," Mokholofu Boxwell, one of the petitioners declared in an affidavit submitted by Spoor. "Apart from no longer being able to provide for my family, I am no longer able to partake in community activities. I feel depressed and alone," added the former gold mine worker who now lives in Butha-Buthe, Lesotho.

"We seek no more than the application of the 'polluter pays' principle to be applied to an industry that generates sick men as surely as it produces great wealth for its shareholders," Spoor said in a press release. "When mine owners skimp on the cost of providing proper ventilation, workers get sick. These men have become ill through no fault of their own, yet, when they do, they are simply dismissed, and they and their families are left to languish in poverty and disease."

Spoor has a track record in such lawsuits. He won a $154 million out-of-court settlement on behalf of thousands of asbestos miners who had contracted asbestosis with the legal and financial backing of Motley Rice, a major U.S. laws firm.

He is the second lawyer to files such charges. In August 2012, Charles Abrahams, who is backed by the law firm of Hausfeld LLP in the U.S. took action against AngloGold Ashanti  Limited (formerly Anglo American), Harmony Gold Mining Company Limited, and Goldfields Limited.

Silicosis is caused by the regular inhalation of microscopic particles of silica which leads to permanent scarring of the lungs. The disease often takes more than a decade to display severe symptoms like coughing, fever, shortness of breath and bluish skin. Victims often contract tuberculosis also. While the latter can be treated, silicosis cannot be reversed.

Few of the estimated 500,000 miners who worked in South Africa's deep underground gold mines in the latter part of the 20th century were given adequate protection against breathing in silica dust. The most vulnerable were black workers who were given the most dangerous jobs, especially low wage migrant workers from the neighboring countries of Botswana, Lesotho, Malawi, Mozambique and Swaziland.

Research into the health impacts of the gold mining industry conducted by Jill Murray and Tony Davies of the School of Public Health at the University of the Witwatersrand showed that almost one in three black miners suffered from silicosis based on data from autopsies. The South African mining community was also found to have the highest rate of tuberculosis in the world.

Some of the mining companies provided limited health facilities to miners but rarely did they extend to the villages where most of the retired workers returned to. And what most of the miners did not know was that they had legal recourse under the 1973 Occupational Diseases in Mines and Works Act which allows miners (regardless of skin color) with lung damage of over 40 percent to be paid "trivial" damages upto 90,000 rand ($10,500) which is roughly three years salary for a miner.

It takes years even to obtain this money which is insufficient to support the injured miners who suffer for the rest of their lives, as Al Jazeera discovered when they interviewed Maliso Mahlozini a former Harmony Gold employee of 29 years, who lives in a tin shack in the gold-mining town of Virginia, three hours from Johannesburg. Mahlozini spent ten years trying to get the money which has now run out. "The mines make us sick and then they drop us like a used condom," he told the TV channel.

A test case filed by Thembekile Mankayi against his former employer, AngloGold Ashanti was given permission to proceed last year. Unfortunately Manyaki died of lung disease less than a week before the courts ruled in his favor awarding him damages of 2.6 million rand ($304,000).

By contrast, Nick Holland, Mark Cutifani and Graham Briggs, the CEOs of Goldfield, AngloGold and Harmony respectively, were paid of 33 million rand ($3.8 million), of 33 million rand ($3.4 million) and10 million rand ($1.15 million) in salaries last year.

A similar lawsuit has been filed in the UK by Leigh Day & Co. against Anglo American. "The South African gold mining industry was focused on production and profit and displayed a flagrant disregard for the health of its black workers," Richard Meeran, the lawyer representing the miners, told Global Post. AngloAmerican is disputing the jurisdiction of UK courts over this matter.

AMP Section Name:
Natural Resources