South Africa Cracks Down on Corrupt Contractors at Kusile Power Station
Image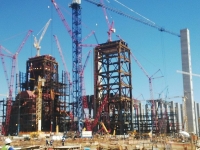 South African prosecutors seized luxury property and vehicles worth some 1.4 billion South African rand ($96.8 million) in early May from contractors and former officials at Eskom, South Africa's state-owned power utility, as they ramped up criminal proceedings over alleged corruption in construction orders for the Kusile Power Station.
Some observers say that these numbers are just the tip of the iceberg at Eskom. "I'm sitting on information that indicates there is another R800 billion of corruption that still needs to be brought to the surface and investigated," Ted Blom, an energy expert and a former consultant to Eskom, told the Classic Business 1027 podcast.
Kusile is located in Emalahleni, Mpumalanga province, about 110 kilometers from South Africa's national executive capital of Pretoria. It has a planned capacity of 4,800 megawatts from six coal-fired generating units of which only three have been completed so far, 14 years after the project was first approved. The World Bank provided a massive $3.75 billion loan for the project while the U.S. Export-Import Bank made a loan of $805.6 million.
Costs have spiraled over the years by at least 79 billion rand ($5.5 billion), contributing to Eskom's debts that have now reached almost 500 billion rand ($34.6 billion).
South Africa is expecting to face major power shortages over the next few years partly because of the failure to complete the power plants. "There will be a shortfall in the supply of electricity of approximately 4,000MW over the next five years," Andre de Ruyter, Eskom's CEO, told the media at a briefing in March.
Ironically, both the corruption and the power shortages in South Africa might have been averted had the government taken the advice of environmental groups a decade ago, when they urged the government to abandon the Kusile plant and invest in green energy sources and jobs instead.
"Building colossal new coal-fired power stations like Kusile, and its sibling Medupi, is not only absurd in the face of catastrophic climate change, but will over-burden South Africans, many of whom have neither adequate shelter nor job security," Melita Steele, a Greenpeace Africa climate campaigner said in October 2011 at the launch of a report titled 'The True Cost of Coal' authored by the University of Pretoria's Business Enterprises unit. "The true cost of building this power station is much more than South Africans can afford to pay."
At least four companies - Esor Construction, Stefanutti Stocks, Tenova Mining & Minerals and Tubular Construction, who collectively hold construction contracts worth over 10 billion rand ($691.6 million) - are alleged to have paid millions to a company named Babinatlou Business Services over a period of three years beginning in November 2014.
To date Abram Masango and France Hlakudi, Eskom's former group executive and senior contracts manager; Maphoko Hudson Kgomoeswana, the director of Babinatlou; together with Antonio Trindade and Michael Lomas, Tubular Holdings CEO and his senior advisor, have been charged over the payments.
"Investigations began when suspicions were raised into the construction of two large projects at Medupi and Kusile power stations,"  Hangwani Mulaudzi, spokesperson for the Hawks (South Africa's Directorate for Priority Crime Investigation), told the media. "This revealed that there was apparent gross manipulation of contractual agreements between contractors, Eskom employees and third parties at Kusile power station."
Masango and Hlakudi have both been called to testify before the Zondo Commission, a massive ongoing trial into corruption at the highest levels of South African government. Kgomoeswana has refused to talk to the media. "We do not wish to comment on any of your enquiries," Kgomoeswana told the Daily Maverick news site.
Other contractors who worked on the Kusile project have agreed to repay South Africa over bribery charges. Last December, ABB agreed to pay 1.56 billion rand ($104 million) to Eskom to drop an investigation into possible bribery charges.
Meanwhile General Electric is also under investigation for allegedly agreeing to pay 30 million rand to the DD Mabuza Foundation, that was set up by David Mabuza, then the premier of Mpumalanga province, and now the deputy president of the country. General Electric denies having promised or made any payments to the foundations