Soco International Says It Will Cancel Oil Exploration in Congo's Virunga Park
Image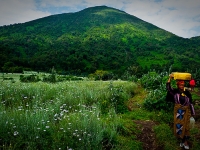 Soco International PLC, a UK oil company, has claimed that it will halt oil exploration in Virunga National Park in the Democratic Republic of the Congo (DRC), following complaints by local communities and the World Wide Fund for Nature (WWF) about the potential environmental impact.

Virunga, which lies in eastern Congo on the border of Uganda, is Africa's oldest national park. The park was first established in 1925 and designated a World Heritage Site in 1979 by the United Nations Educational, Scientific and Cultural Organization (UNESCO). More than 3,000 rare species including the endangered mountain gorilla live within Virunga's 790,000 hectares.

Despite Virunga's status as a UNESCO world heritage site and Congolese law that prohibits oil development in the region, the DRC government granted oil concessions worth 85 percent of the park to Soco in December 2010. Other companies like Total of France and SacOil of South Africa have also been awarded concessions.

International environmental experts and local communities argued that pollution from oil drilling would impact Virunga's biodiversity as well as the lives of 50,000 people who depend on Lake Edwards and surrounding lands.

"I do not know of any benefit we can expect from oil exploitation," a farmer in North Kivu told the Dutch branch of the International Union for Conservation of Nature. "Lets say that oil is discovered here. Crops from fields farmed by people living around here will never grow. It will be the end of the poorest people."

Activists also strongly objected. "The Virunga National Park is our heritage. Our mission is to enforce the laws. Ensure that all activity is in compliance with Congolese law," Comas Wilungula, director general of Congolese Institute for the Conservation of Nature, told Congolese blogger Chantal Faida. "Clean air you breathe has no price. You have to protect lives, protecting the park."

In June 2013, UNESCO's World Heritage Commission issued a call for the immediate cancellation of all Virunga oil permits. Two months later WWF published a report conducted by Dalberg Development Advisors titled "The Economic Value of Virunga National Park." "The most critical risks associated with oil development include: large scale clearance of vegetation, introduction of invasive species, fragmentation of habitats, increased likelihood of poaching, which could threaten the survival of local species, and pollution from oil spills, gas flaring and waste dumping," the report says.

The report also notes that oil exploration could also "worsen deep rooted conflict dynamics within DRC."

Last October, WWF filed a complaint against Soco under Organization for Economic Co-operation and Development's (OECD) guidelines for multinational enterprises.

Meanwhile the local political situation has slowly spiraled out of control with death threats against local activists and the assassination of the Chief Warden of the park.

Earlier this month, Soco came to an agreement with WWF to pull out. "Soco has agreed with WWF to commit not to undertake or commission any exploratory or other drilling within Virunga national park unless UNESCO and the DRC government agree that such activities are not compatible with its world heritage status," said Soco in a joint statement with WWF.

"Today is a victory for our planet," wrote David Nussbaum, chief executive of WWF UK in a press release. "Congolese people around Virunga were joined by scientists and lawyers, activists and artists, governments, investors and WWF supporters worldwide to remove the immediate threat of oil exploration."

"Hopefully we can all get back to activities focused on both people and the environment where it does the most good for a place that we think can have a better future," said Ed Story, Soco CEO told a news website Planet Experts.

However some question whether the company cut a deal with WWF in order to avoid a public relations fiasco. Responding to a question about his company's recent decision to stop exploratory work in Virunga Soco chairman, Rui de Sousa, told investors at the annual general meeting last week: "We have not pulled out - it's not the point."

Activists also point that Virunga's boundaries could be redrawn to accommodate Soco. "Soco has said Virunga's borders could be redrawn - something that would allow it to drill while keeping to the letter of its latest statement. Soco should tell the public if it is pulling the plug on its oil project or not," said Nat Dyer of Global Witness. "Whatever it decides, it must address serious allegations of attempted bribery and payments to rebels in the new documentary Virunga. It should also address concerns over the targeting of Soco's opponents by Congolese security forces," he added.

The Dalberg report notes that if oil exploration is canceled, the park has the potential to create 45,000 jobs and earn $1.1 billion in annual income.

AMP Section Name:
Environment