Soccer Fans Successfully Pressure Bayern Munich to End Qatar Airways Sponsorship
Image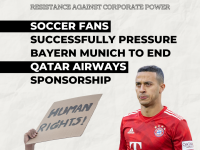 Bayern Munich, Germany's most famous soccer team, ended its 5-year sponsorship contract with Qatar Airways, after fans spoke out strongly about human and migrant worker abuses in Qatar. Human rights groups say the Qatari government (which owns the airline) turned a blind eye to abuses during the massive construction spree for the 2022 World Cup tournament.
"It shows that fans can have an impact when they know how to use the resources that they have. This is a wonderful sign for sport, FC Bayern and us fans." - Michael Ott, member of Bayern Munich, who organized fan protests.
World Cup 2022
Qatar won the right to host the World Cup soccer championship in 2010. Over the next 12 years, the country embarked on a massive spending spree to build hotels and stadiums, with the help of tens of thousands of migrant workers. During that time, Qatar Airways was brought under full government control.
Bayern Munich
Bayern Munich is Germany's most famous professional soccer team. Based in Munich, Bavaria, the club signed a 5-year "platinum" sponsorship deal with Qatar Airways, worth €20 million euros a year. In exchange, the soccer players were required to wear the airline's logo on their famous red shirts during the matches, and winter training camps were held in Qatar.
Human Rights Abuses
An estimated 6,500 migrant workers, mostly from South Asia, died from heat and other work-related injuries in the ten years leading up to the World Cup, according to numbers compiled by the Guardian newspaper. Many of these died while building the dozens of hotels and stadiums needed for the Cup.
"For nine months, we were made to work for more than 12 hours a day, without a day off. In order to keep our hours hidden, we were prevented from clocking in and clocking out. I was on the verge of going insane." - Indian worker at Holiday Villa Hotel and Residence.
Fans Protest
Bayern Munich fans invited migrant workers to speak out at a 2020 workshop highlighting human rights abuses in Qatar. Huge banners condemning the club were unfurled when the team competed in Bundesliga (German Federal League) games. Members booed the company directors at the club's 2021 annual meeting for taking the airline's money.
Renewal Canceled
After the fan protest at the annual meeting in 2021, Bayern Munich agreed to allow fans to pose questions to company management. When it was clear that the fans would not back down, Bayern Munich and Qatar Airways, decided not to renew the five-year deal when it ended in June 2023, releasing the team from wearing the company logo.
Company Response
"It has always been the goal of FC Bayern and Qatar Airways to connect people through football, including women's football. Trusting, open exchanges have created friendships that will continue." - Joint statement of Bayern Munich and Qatar Airways
This is #55 in our series of Instagram infographics on resistance against corporate power.
Click here to see the full post on Instagram.
📸
1/10 Thiago Alcântara (2019) by Steffen Prößdorf
2/10 Marchers call for labor rights (2012) by Omar Chatriwala
4/10 Protesting migrant rights (2012) by Omar Chatriwala
5/10 Thomas Müller (2019) by Sven Mandel
9/10 Qatar Airways (2021) by Md Shaifuzzaman Ayon