Rurelec Wins Compensation for Bolivia Nationalization, But Little Profit
Image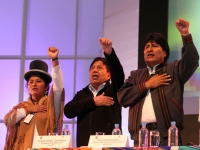 Bolivia has been ordered to pay $41 million to Rurelec, a UK energy company, in compensation for nationalizing the Guaracachi power plant in May 2010. The order represents a small profit for Rurelec which bought a 50.1 percent stake in 2006 but substantially less than what the company demanded.

Rurelec originally asked the Permanent Court of Arbitration in the Hague to award it over $142 million - a little over $108 million or 320 percent more than the $33.7 million that it spent for the shares - and twice the maximum value of the shares at the time. Instead the international court calculated the compensation based on a compounded interest rate of 5.6 percent a year, and added in declared but unpaid dividends.

"I am happy this is over," Peter Earl, CEO of Rurelec, told the Financial Times, but added that he was "disappointed." Rurelec claims that they invested $110 million into Bolivia, but the company numbers were labeled "abusive and high-handed" by the government.

The ruling is expected to affect a total of $1.87 billion in similar compensation claims against Bolivia, brought by a number of foreign companies that had snapped up assets in the country during a wave of privatizations in the 1990s, only to lose them after Evo Morales was elected president in January 2006.

Morales started the process of unraveling the privatization deals soon after he was elected, with a series of directives typically issued on May 1 of each year. (Morales was not the first to nationalize Bolivian utilities - a contract with Bechtel of the U.S. to manage the water supply in Cochabamba was canceled in 2000 after citizens took to the streets to protest rate hikes)

In the first wave of nationalization in 2006, Morales ordered 12 foreign oil companies including British Petroleum of the UK, Petrobras of Brazil, Repsol of Spain and Total of France to hand their drilling concessions over to Yacimientos Petrolíferos Fiscales Bolivianos (YPFB).

In 2007, Morales ordered the take over of Vinto plant, the country's only operating smelter, from Glencore in Switzerland, followed in 2008 by the nationalization of Entel, the Bolivian telecom company which was owned by Telecom Italia. In 2010, Morales took over Corani - owned by GDF Suez of France, Transportadora de Electricidad- owned by Red Electrica of Spain and Guaracachi.

Then in December 2012, Morales nationalized Empresa de Electricidad de La Paz (Electropaz) and Empresa de Luz y Fuerza de Oruro (Elfeo) - two power companies that had been operated by Iberdola of Spain. In February 2013, Morales order the army to take control of Servicios de Aeropuertos Bolivianos SA, jointly controlled by Abertis Infraestructuras and Aena of Spain, which operated the country's three largest airports in Cochabamba, La Paz and Santa Cruz.

Bolivia has always offered to pay companies for their investments, although like Rurelec, many want more than the state was willing to offer. "All of them have generated controversy over the amount of the compensations and retributions," Hugo Raúl Montero, Bolivia's prosecutor-general, said last year. "Our main duty is to find peaceful solutions, [but] the companies have their legitimate right to go to any instance [international courts] if we cannot agree."

To the surprise of many, Bolivia's economy and industries have performed reasonably well following the nationalizations, although not perfectly. "Economic growth has averaged nearly 5 percent for the past six years, during which time average incomes have more than doubled in dollar terms," writes a chagrined Economist magazine. Access to clean water has dramatically increased because the state has poured money into the sector, according to the World Bank, and access to electricity already looks likely to follow, with Bolivia now boasting the second fastest connection time for new customers in the continent.