One in Ten Amazon Workers In Ohio Uses Food Stamps To Survive
Image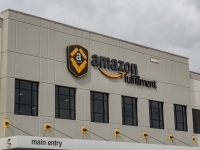 One in ten Amazon employees in Ohio needs government assistance to make ends meet, according to analysis conducted by Policy Matters Ohio, a Cleveland-based research group. This is despite the fact that, since 2014, the state has given Amazon over $125 million in subsidies to expand.
Amazon, a Seattle-based company that dominates the online retail industry selling everything from books to washing machines, is very profitable. It has posted profits as high as $857 million in a single quarter, and annual sales of $38 billion.
"Why is this giant, successful company offering such limited pay and hours of work that many of its workers need help buying food?" Zach Schiller, research director of Policy Matters, asked in a press release. "The state and local tax incentives Amazon receives doesn't include the tens of thousands of dollars its Ohio workers need each month in food benefits. When you consider that, the subsidies are even larger."
For most of its 23 year history, Amazon has operated at a loss, despite fast-climbing sales that doubled every few months. In recent years, the company has started opening warehouses all over the world in order to ship goods to customers quickly and win business from local competitors who rely on physical stores to sell good to customers.
These warehouses are often subsidized by local governments, eager to attract new jobs in low income communities. For example, the state of Ohio cut five special agreements in the last three years to provide the company with over $125 million in subsidies. In return the company agreed to turn a former car plant in Twinsburg and former shopping mall in Euclid into delivery warehouses, alongside deals to build multiple data warehouses around the state.
One of the deals was for a warehouse in Etna, close to the city of Columbus, for which the company was given a 15 year property tax holiday. Despite the fact that Amazon is not paying taxes, the state is still expected to provide services to the warehouse locations. For example every single day, the local fire station in Etna, Ohio, has to send emergency teams to assist workers at the local Amazon warehouse with routine medical issues like chest pains, shortness of breath and minor injuries, according to a October 2017 Bloomberg article.
The new Policy Matters report calculates that 1,430 Amazon employees or family members in Ohio were receiving government assistance under the Supplemental Nutrition Assistance Program (SNAP). (For example, a family of four that earns less that $31,260 a year is eligible for SNAP provided food stamps)
Some government officials have been very critical of the state subsidies for Amazon, if only because there is no data on how workers are benefiting. "$123 million is a lot of money, and you ought to get a lot for that," David Yost, Ohio's state auditor, told Bloomberg. "It's really hard to know how much the state of Ohio paid per job."
Amazon circulated a media statement in response to the Policy Matters report.
"Amazon full-time hourly employees in Ohio earn between $14.50 and $15 an hour as a starting wage with regular pay increases plus Amazon stock and performance based bonuses," a company spokesperson was quoted as saying. "We also provide comprehensive benefits which include health, vision, and dental insurance coverage starting on day one, generous maternity and family leave, tuition for career education, and a network of support to succeed."
The state of Ohio has come out in support of the company. "Amazon has created thousands of new jobs and generated millions of dollars in new payroll consistent with Ohio's requirements for economic incentives," the Ohio Development Services Agency said in a statement released last week. "These jobs provide economic opportunity to Ohioans that may not have had it before."
Yet the Policy Matters data might give pause to  other governments around the country, notably the 238 cities and states that are clamoring to host Amazon's second North American headquarters. The company claimed it would invest $5 billion and create 50,000 high paying jobs in the winning location.
"Amazon estimates its investments in Seattle from 2010 through 2016 resulted in an additional $38 billion to the city's economy – every dollar invested by Amazon in Seattle generated an additional $1.40 for the city's economy overall," the company claimed.
But the Policy Matters study shows that the living conditions of Amazon's new Ohio workers are more similar to the thousands of employees of Wal-mart, the brick-and-mortar retail giant, who routinely depend on U.S. government healthcare and food stamp programs to get by. The Policy Matters Ohio data shows that close to 12,000 Wal-mart employees rely on SNAP.