New York City Sues Purdue Pharmaceutical And Others Over Opioid Deaths
Image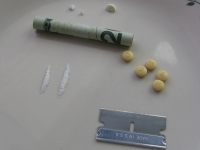 New York city is the latest U.S. city to bring a lawsuit against Purdue Pharmaceutical and other companies involved in manufacturing and distributing prescription painkillers, known as opioids. Some 250 such lawsuits have been filed alleging that deceptive industry marketing practices have caused opioid overdose deaths to skyrocket.
"More New Yorkers have died from opioid overdoses than car crashes and homicides combined in recent years. Big Pharma helped to fuel this epidemic by deceptively peddling these dangerous drugs and hooking millions of Americans in exchange for profit," Bill de Blasio, mayor of New York city, said in a statement. "It's time [to] hold the companies accountable for what they've done to our city, and help save more lives."
In 2016, 42,249 people died of opioid-caused overdoses in the U.S., according to the U.S. Centers for Disease Control and Prevention—more than deaths from breast cancer that same year.
De Blasio is by no means the first senior elected official to condemn the opioid business. "Purdue Pharma ignored the devastating consequences of its opioids and profited from its massive deception," Bob Ferguson, the Washington state attorney general, said in a statement last September. "On average, two people die each day from opioid overdoses in our state. Tens of thousands of others struggle with addiction."
Indeed Alaska has declared opioid deaths constitute a state disaster. "When earthquakes, fires or floods claim lives and property on a large scale, a declaration of disaster is issued to prioritize the state's response. This is no different," Bill Walker, the state governor said in a prepared statement last February. "We must stop this opioid epidemic."
Opioids, a class of drugs not unlike opium, have been marketed by the pharmaceutical industry for over 100 years, ever since Bayer invented heroin in 1874, but use has increased massively in the last three decades. In 1996, Purdue Pharmaceutical, owned by the Sackler brothers of New York, started to market a product called OxyContin. The company released a host of marketing materials including a video featuring Dr Alan Spanos, a pain specialist in North Carolina. "They don't wear out; they go on working; they do not have serious medical side effects,", Spanos said. "So, these drugs, which I repeat, are our best, strongest pain medications, should be used much more than they are for patients in pain."
The number of opioid prescriptions shot up from 2 million a year in the early 1990s to 11 million by the end of the decade. Over the next 20 years, the quantity of opioids prescribed by U.S. doctors tripled. By 2015, doctors were prescribing enough opioids to keep every person in the U.S. on pain medication for 10 hours a week.
"What happened was compassion became conflated with opioid prescribing, so a doctor who wasn't willing to prescribe opioids was seen as withholding and sadistic," Anna Lembke, a professor of psychiatry and behavioral sciences and author of "Drug Dealer MD: How Doctors Were Duped, Patients Got Hooked and Why It's So Hard to Stop" told the Daily Beast website.
Some lawsuits says that companies specifically marketed opioids to vulnerable communities. "I believe these companies target populations," Todd Hembree, the attorney general of the Cherokee Nation in Oklahoma, told the New York Times."They know Native Americans have higher rates of addiction."
The Cherokee tribe noted that as much as 80 percent of criminal convictions of tribal members were drug-related in a lawsuit filed in April 2017 against six drug distribution companies - AmerisourceBergen, Cardinal Health, CVS Health, McKesson, Walgreens and Walmart. (The lawsuit was dismissed earlier this month but the tribe plans to refile.)
Purdue says it not at fault. "We vigorously deny these allegations and look forward to the opportunity to present our defense," John Puskar, Purdue Pharma spokesperson, said in an official statement. "We are deeply troubled by the prescription and illicit opioid abuse crisis, and are dedicated to being part of the solution."
Many of the lawsuits have been consolidated under one judge - Dan Polster in Cleveland, Ohio - who has gone on record saying that he isn't really interested in prosecuting the companies or anyone else.
"In my humble opinion, everyone shares some of the responsibility, and no one has done enough to abate it. That includes the manufacturers, the distributors, the pharmacies, the doctors, the federal government and state government, local governments, hospitals, third-party payers and individuals," Polster told a gathering of lawyers earlier this month. "What I'm interested in doing is not just moving money around, because this is an ongoing crisis. What we've got to do is dramatically reduce the number of the pills that are out there and make sure that the pills that are out there are being used properly."