Nestle Recalls 400 Million Packets of Instant Noodles in India
Image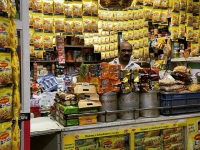 Nestle says that it will destroy 400 million packets of Maggi brand instant noodles in India worth some Rs 320 crores ($50.5 million). The company made the announcement after the Food Safety and Standards Authority of India found "hazardous" levels of lead in company products and ordered legal action.
The decision is a significant victory for the seven year old government agency which has brought over 10,000 cases for violations of food laws in the past year.
Maggi "two minute" noodles, named after Julius Maggi, a Swiss entrepreneur who is credited with inventing instant soups in 1863, were introduced to India in 1983, and quickly became the most popular instant food available in the country. The packets which retail for Rs 12 ($0.20) have long been ubiquitous at almost every roadside kiosk in the country and are considered a staple by most of the population from tired mothers to soldiers in remote Himalayan outposts.
With sales of over Rs 1,800 crores ($300 million) a year, Maggi now controls as much as 80 percent of the Indian instant noodle market although it has started to lose ground in recent years to rival products like Foodles, Knorr, Sunfeast Yippee and Top Ramen.
In April food inspectors in the state of Uttar Pradesh found dangerous levels of lead in some Maggi noodle packets and asked the company to recall a batch manufactured in February 2014. When the company refused and challenged the order, the local inspectors appealed to the national authorities.
In late May, the Uttar Pradesh food inspectors were given the go ahead to file a criminal complaint against the company. "The level of lead we found was shocking. In fact, it's life-threatening," Vijay Bahadur, the state assistant commissioner for food safety, told the Wall Street Journal, after the lawsuit was filed in local courts on May 29.
In a matter of days Maggi sales completely collapsed. Within a week of the case being filed, Paul Bulcke, Nestle CEO, arrived in New Delhi to try to salvage the situation. "All tests are way below limits - the product is safe. These tests are conclusive for us," Bulcke told a press conference. "We follow same quality standards everywhere."
But when protesters took to the streets to set fire to Maggi noodles and denounce Nestle, the company back pedaled on its decision. An estimated 27,420 tonnes of noodles were recalled for incineration in high temperature kilns at five cement factories around the country.
(While the company was willing to try to save its reputation, it was less worried about its employees - as many as 1,500 workers were laid off, according to NDTV news)
The company was quick to complain about the government inspections. "This is not the easiest place to do business," said Luca Fichera, Nestlé's India supply-chain head told the Wall Street Journal newspaper.
Financial analysts issued the usual dire warnings that India would suffer as a result. "Uncertain and unstable policies are only going to discourage foreign investors," Devendra Pant, chief economist at India Rating, added.
In reality, the government rules were only one part of the equation. "Maggi Noodles is now facing the biggest and fastest PR disaster in the social media age. Cooked in less than 2 minutes this time," tweeted Chetan Bhagat, India's most popular English language novelist.
Activists have welcomed the government action against Nestle as an important step to improving food quality in India. "An episode like this should contribute to better long-term outcomes on food safety regulations, monitoring and responsible food industry," Amit Khurana, program manager for the food safety team at the Centre for Science and Environment in New Delhi told the Deccan Chronicle. "In this case, the recall ordered by the government is a necessary step to ensure food safety and public health."
Khurana believes that more needs to be done. "The government should have a pan-India monitoring system across food categories, but it doesn't," he added. "We hear it every time in the field: The state doesn't have appropriate resources, there are a lot of vacancies, there's no manpower, the infrastructure and labs need to be upgraded. The system is still evolving."
 
AMP Section Name:
Food and Agriculture