Nestlé Found Guilty of Spying on Swiss Activists
Image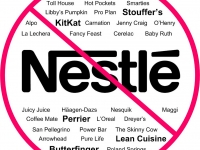 Nestlé, the world's largest food company, has been found guilty of spying on Swiss activists in 2003 with the help of Securitas, a private security company. Jean-Luc Genillard, president of the Lausanne civil court, told the two companies to pay 3,000 Swiss Francs ($3,267.55) to each of nine victims.
Vevey, Switzerland, based Nestlé sells $91 billion worth of products a year such as Nescafé coffee, KitKat chocolates and Maggi noodles. The company has frequently been criticized for marketing baby food in poor countries in violation of a 1981 World Health Organization code that regulates the advertising of breast milk substitutes. It has also come under fire from Greenpeace for using palm oil grown on deforested land in Borneo and buying cocoa beans from plantations that used child labor in Cote d'Ivoire in a film entitled "The Dark Side of Chocolate."
In 2003, a group of activists with the Association pour la Taxation des Transactions pour l'Aide aux Citoyens (ATTAC) in Vaud, Switzerland, started working on a book on the global policies of Nestlé. A Securitas employee infiltrated the group under a false name (Sara Meyland) in order to attend the ATTAC meetings about the planned book.
In June 2008, Temps Présent, a Swiss TV program, revealed that the Securitas agent had briefed Nestlé security personnel as well as corporate communications staff about the meetings that she attended including ones held in private homes. Securitas also provided this information to the local police.
ATTAC members sued Nestlé after the news report was aired. "We are revolted by this practice, which overturns the principles of freedom of expression and basic democratic rights," a press release from the group stated. "We condemn the role played by Securitas. This private security company, whose activities traditionally consist of guarding buildings and car parks, accepted a contract to spy on a group of people who in no way represented a threat or a danger, except for the fact that the results of their research activities could not be controlled by the transnational Nestlé."
In recent years Nestlé has started to respond directly to some complaints of activist groups like Greenpeace, according to the Financial Times. "For a company like ours to prosper over the long term we have to create value for the communities in which we operate," Janet Voûte, Nestlé's global head of public affairs, told the newspaper. "And we fundamentally believe we cannot create shared value - not just for shareholders but for society - alone."
Despite the new public relations strategy to contain activists, the company has been unable to quash the Vaud group. Although ATTAC dropped a criminal case against the two companies in 2009, it continued to press a civil claim in Lausanne courts which it dubbed "Nestlégate."
"We are very satisfied that the civil court has now condemned NESTLE's and SECURITAS AG's spying activities," ATTAC said in a press release issued after the judge ruled against the companies last week. "Nevertheless we'd like to point out that we are continuing to critically observe the worldwide activities of multinational corporations like NESTLE, especially concerning its hostile trade union policies and the excessive pumping of groundwater in different parts of the world."
Nestlé reacted to the court ruling "with disappointment" although it added that "incitement to infiltration is against Nestlé's corporate business principles."
AMP Section Name:
Food and Agriculture