Mura Indigenous People Win Sanctions Against Brazil Potash Over Mining Project
Image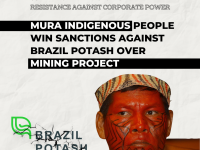 Potássio do Brasil is planning to mine for potash, a key fertilizer ingredient, on the land of Mura Indigenous people in Amazonas state, Brazil. Courts have imposed a US$20,000 fine on the company for attempting to claim land for the mine in Soares village despite the fact that the local Mura have yet to give permission for mining to go ahead. 
"I was born here and brought up here. My parents and grandparents too. So I won't be told by Potássio, that comes from outside, that this land isn't ours. It is our land and they are the invaders." – Aldinélson Moraes Pavão, chief of Urucurituba village
Potássio do Brasil 
Potássio do Brasil is a subsidiary of mining company Brazil Potash, based in Toronto, Canada, funded by the Forbes and Manhattan merchant bank. In 2010, Potássio do Brasil discovered major potash reserves in Autazes district of Amazonas and began planning a US$2.5 billion mine, port and processing facility to supply fertilizer to Brazilian agribusiness which is heavily dependent on imports.
Self-determination
In 2015 Potássio do Brasil was given permission to proceed by Instituto de Proteção Ambiental do Amazonas (IPAAM) but this decision was challenged by the Public Prosecutor's Office in 2017 after Mura communities become concerned about the environmental impacts of the mine. The prosecutor ordered Potássio do Brasil to conduct a "free, prior and informed consultation."
Land Grabbing
Despite starting consultations with the Mura, Potássio do Brasil has also continued exploratory drilling and started to put pressure on local villagers to sell their land. In addition, the company started to give away food baskets, seeds and construction materials as well as promise jobs. Over time the company also started to post signs that the land was now owned by Potássio do Brasil.
Indigenous Under Attack
The allegations of coercion have concerned officials from Funai, the Brazilian federal indigenous agency, who visited the region in March 2023 to discuss how to decide which land should be classified as Indigenous. The visit subsequently sparked rumours that the government would take away land from local farmers, together with new threats against the Indigenous leaders.
"Everything indicates that the indigenous people are being deceived, involved in a kind of internal colonialism that involves different spheres of power." - Fernanda Bragato, coordinator of the Human Rights Center of the University of Vale do Rio dos Sinos, in Rio Grande do Sul
Sanctions
In May, the Brazilian federal court fined Potássio do Brasil 100,000 reais (US$20,000) for planting illegal signs and imposed a further fine of 50,000 reals for every day that the signs stay up. The federal prosecutor's office also held a press conference to announce that the consultation would be halted until the land was demarcated. 
Company Response
"We are completely open to dialog with the local communities and with the indigenous peoples of the region. In fact, one of the commitments we want to make is to have around 80% of people from that region in our workforce." - Adriano Espeschit, CEO of Potássio do Brasil
This is #46 in our series of Instagram infographics on resistance against corporate power.
Click here to see the full post on Instagram.