Monsanto Refuses to Testify at Seed Hearing in Puerto Rico
Image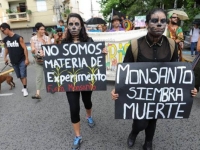 Editors Note: The headline on this story and intro were changed to better reflect the proposed legislation in Puerto Rico.

Monsanto has refused to testify at a major government hearing about the development and sale of seeds in Puerto Rico. At stake is the research that the company conducts into genetic engineering on the island that critics say threaten the environment and can cause serious human health problems.

The Puerto Rico Senate Agriculture Committee held a hearing last Monday on a bill (PS624) that would create a Seed Board and a certification and licensing system to regulate the development and sale of seeds in Puerto Rico.

"Monsanto does not produce, sell (or) offer... basic or certified seed with the purpose of planting in Puerto Rico", said company representative Eric Torres-Collazo in a letter to the committee explaining the decision not to testify.  He also claimed that the company's activities are not subject to regulation by the Puerto Rican legislature.

Technically Torres-Collazo is correct on at least one count - all the harvest produced by Monsanto and other transnational seed enterprises in the island is exported for use abroad as seed. A major market is the U.S. where most corn and soy is derived from genetically modified varieties.

But Puerto Rico has also been a major location for the development of genetically modified crops since 1987, conducting open air field tests on corn and soy, according to U.S. Department of Agriculture data. Crops developed on the island and other Monsanto research locations have a number of unusual properties - some are resistant to Monsanto's Roundup herbicide or any herbicide with glyphosate as active ingredient. Others secrete an insecticidal toxin called Bt and there are even combination strains that combine both these traits.

Committee chair senator Ramón Ruiz-Nieves of the Popular Democratic Party told the media that he intends to summon Monsanto again, insisting that the company should be regulated locally since it receives substantial local and U.S. government subsidies for its activities in Puerto Rico, and is registered with the local Agriculture Department as a bona fide farmer.

This is not the first time local officials have targeted Monsanto. On April 22, senators María de Lourdes Santiago of the Puerto Rico Independence Party, and Larry Seilhamer of the New Progressive Party, introduced Senate Bill 524, which would mandate the labeling of foods with genetically modified content sold on the island. The Senate Health Committee is expected to hold hearings on this bill later this year.

Monsanto has also been embroiled in a legal controversy over the fact it plants crops on 1,500 acres, despite the fact that Puerto Rico's 1952 constitution prohibits agricultural landholdings larger than 500 acres. http://www.80grados.net/tus-contribuciones-enriquecen-a-monsanto/ In May, Puerto Rico Agriculture Secretary Myrna Comas, a well known food security scholar, referred this matter to the Puerto Rico Justice Department, requesting a legal opinion.

"It is our duty to monitor the food health of our people. If we are given evidence regarding some effect on the island we'll take it into consideration," Comas said in a radio interview.

Local media reports have pointed out the irony that despite the fact that Monsanto is in apparent violation of the Puerto Rico constitution, it has received $4.9 million in subsidies from the local Agriculture Department to help it cover payroll expenses from 2006 to 2013.

The Puerto Rico Department of Agriculture and Juan Santiago-Cabán, operations manager of Monsanto in Puerto Rico, did not respond to CorpWatch's interview requests.

Meanwhile local farmers have publicly rallied to the cause. An April 24 event to induct Monsanto, the global leader in seed sales and biotechnology, into the Puerto Rico Agricultural Hall of Fame, became the target of protest by local farmers who are angry about the company's role in developing genetically modified crops on large plots of land on the island.

The Hall of Fame was set up by Acción y Reforma Agrícola (ARA), a farm lobby group founded by agribusinessman Pedro Vivoni, who owns Agro Servicios, a farm supply company. (Monsanto represents 18 percent of Agro Servicios' business, according to coverage by the local media). The Hall of Fame has been endorsed by the Agronomists Association (Colegio de Agrónomos) and the Agriculture Department of Puerto Rico, which gave ARA a $5,000 donation earlier this year.

"It is totally unacceptable on the part of an organization that represents agronomists and farmers to name Monsanto to the Puerto Rico Agriculture Hall of Fame, a company that sues farmers all over the world and has contributed to the destruction of the world's agricultural biodiversity," said the activists in a statement presented by various scientific, student and farming organizations, including the local chapter of the Latin American Scientific Society of Agroecology (SOCLA)

The statement also referred to laboratory studies on animals that linked foods derived from genetically modified crops to tumors and premature death.

Monsanto and the agricultural biotech industry also face a huge backlash in the U.S.

For example, the Vermont and Connecticut Houses of Representatives both recently voted for mandatory labeling of genetically modified foods, in spite of the industry's fierce opposition.

In late May, Monsanto faced a major public relations setback when its genetically modified wheat was found growing in an Oregon farm. (This is despite the fact that test plantings of genetically modified wheat ended in 2005, and it has never been approved for use in any country in the world)

However Monsanto does have major support in the U.S. Congress - 71 out of 100 senators recently voted against an amendment to the 2013 Farm Bill sponsored by Bernie Sanders, an independent senator from Vermont, which would have upheld the right of state governments to require labels on genetically modified foods.

Monsanto also scored big last March when a bill signed by U.S. President Barack Obama into law (in order to prevent a government shutdown) included a "farmer assurance provision" clause that allows farmers to plant genetically modified crops before they have been declared safe by the U.S. Department of Agriculture. This clause has been nicknamed the Monsanto Protection Act by activists and biotech critics.

"The Monsanto Protection Act is an outrageous example of a special interest loophole," said U.S, Senator Jeff Merkley , a Democrat from Oregon who is trying to get it repealed. "This provision nullifies the actions of a court that is enforcing the law to protect farmers, the environment and public health. That is unacceptable."

Monsanto also won two major legal victories in the last few weeks. In May, the U.S. Supreme Court ruled unanimously in favor of the company when it sued a farmer to force him to pay royalties to plant any seed descended from a patented original, and in June a district court dismissed a lawsuit by organic farmers and seed sellers, accepting Monsanto's assurances that it will not sue farmers whose seed was inadvertently contaminated by its patented varieties.


AMP Section Name:
Food and Agriculture