Mining Maverick Resigns from Rainmaking at JP Morgan
Image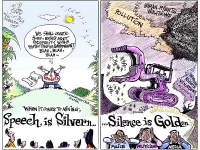 Ian Hannam, a senior JP Morgan banker and ex-soldier, who helped finance a number of flamboyant and controversial mineral extraction projects over the last couple of decades, has resigned, after being fined $720,000 for insider trading by the UK Financial Services Authority (FSA).

Among the projects Hannam helped bankroll were multinational comglomerates digging for gold in Afghanistan and Tanzania, drilling for oil in Kurdistan, digging for bauxite in India, copper in Kazakhstan, gold and silver in Mexico and iron in the Ukraine.

In India, Hannam financed Vedanta Resources, a UK company, that is threatening to despoil the Niyamgiri Hills in Orissa, home to the Dongria Kondh tribal people. In Tanzania, Hamman raised money for African Barrick Gold, where local police have killed local scavengers. In Kurdistan, Hannam helped Tony Buckingham, chairman of Heritage Oil and a former partner in Executive Outcomes, the now defunct South African mercenary operation.

Hannam raised tens of millions for each of these operations as JPMorgan's global chairman of equity capital markets, attracting fawning attention from the world's business elites. "In his wake, mountains are razed, villages electrified, schools built, and fortunes made," wrote Fortune magazine last May in a glowing tribute to his plans to dig for gold in northern Baghlan province, Afghanistan. "If anyone can wrest a fortune from Afghanistan's rubble, it is this man, Ian Hannam."  Others were a little more critical. "There are those who feel he's an unguided missile," a South African banker told the Financial Times last September. "But the thing about missiles is they can be very effective."

Hannam came unstuck when he fired off two emails to a business associate in Kurdistan in September 2008. The first suggest that Heritage Oil shares would soon be worth as much as £4 ($6.40) almost twice as much as the price at the time. The second email read: "PS - Tony has just found oil and it is looking good." (Hamman was referring to a Heritage project in Uganda which later proved to be correct)

This is classic insider trading, giving out information that is not known to the general public, which allows the recipient to cash in quickly. Although it is not illegal in many countries, the U.S. frowns heavily on this and the U.K is starting to crack down on such violations.

The person Hamman emailed did not cash in on Heritage but was sufficiently impressed to hire the JP Morgan banker to set up a Kurdish investment fund.

Hannam told the FSA that the emails were an "honest error or errors of judgment" that he made "at a time of extreme turbulence in the financial markets, when he was under extreme pressure at work."

The Financial Times has both praised and lamented the fines on Hamman. "City is right to crack whip on market abuse," writes John Gapper. "The curse of the rainmaker strikes. Ian Hannam is the investment banker who helped turn London into the go-to financial centre for mining companies," writes the Lex column. "(F)inancial centres such as London need to make sure that relationship banking continues to find a home."

We agree with Gapper. But we are not so sure that the Lex column's suggestion that "relationship banking" (read borderline insider trading) is such a good thing, especially when its purpose is to enrich a few at the expense of many, such as farmers and scavengers in Tanzania, as well as that of the sacred lands and environment of indigenous communities like the Dongria Kondh.


AMP Section Name:
Corruption
186 Financial Services, Insurance and Banking