Los Angeles Bans Oil & Gas Drilling After Years Of Health Complaints From Residents
Image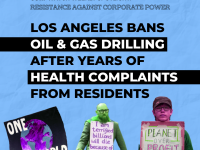 In the 1920s the city of Los Angeles produced a quarter of the world's oil supply. A century later, the city council voted 12-0 to ban new oil and gas extraction and shut down existing operations, dealing a major defeat to companies like Freeport McMoRan which still operate dozens of wells inside the city.
"This may be the most important step towards environmental justice that this council has taken in recent memory,"- Paul Krekorian, President of Los Angeles city council
Wild West of Oil Drilling
The first oil well was dug by hand in Los Angeles in 1892. Today over 5,000 oil and gas sites dot the city of which over 700 are still active. Nine out of ten of the people who live near these toxic sites are people of color. The biggest owners of these sites are companies like Freeport McMoRan, Southern California Gas and Warren E&P.
Environmental Injustice
For example, Wilmington, a working class/Latino immigrant community, is surrounded by 6 oil refineries and has the highest rates of asthma and cancer in California, while the residents suffer from chronic coughs and skin rashes.
"We're not disposable people. There is a huge disadvantage because many of us don't know what's happening." – Magali Sanchez-Hall, a resident of Wilmington
The Profiteers
One of the biggest oil drillers in Los Angeles used to be Freeport McMoRan, which used to operate over 1,300 wells in the city. After a fierce battle with community residents to block new exploration at the Jefferson Oil Field in South Los Angeles, Freeport sold off much of its assets to Sentinel Peak Resources California.
Complaints and lobbying
Over the last decade, NGOs like Communities for a Better Environment, EarthJustice and the Sierra Club banded together in a coalition named Stand Together Against Neighborhood Drilling (STAND) to demand that the Los Angeles city council take action.
City Council decision
Noting that close proximity to drilling sites has harmful effects on the health of communities, Los Angeles city council voted unanimously on December 2, 2022, to ban any new oil and gas drilling within the city and phase out existing wells over the next 20 years.
Industry response
"Oil producers must adhere to the state's greenhouse gas reduction program and account for all emissions. Foreign oil imports are totally exempt from those requirements."- Hector Barajas, spokesperson for the California Independent Petroleum Association.
This is #29 in our series of Instagram infographics on resistance against corporate power.
Click here to see the full post on Instagram.