Korian, Major Operator of European Nursing Homes, Has History of Complaints and Worker Strikes
Image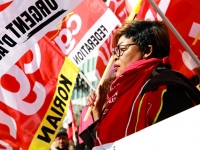 Hermine Bideaux died of COVID-19 in April 2020 after being rushed to a hospital near the Korian Bel Air eldercare home near Paris, France. Olivia Mokiejewski, her granddaughter, has since filed a manslaughter and endangerment lawsuit against Korian for Hermine's death, one of many lodged against the company.
Mokiejewski says that three days before Bideaux died, a family friend who had stopped by to visit her grandmother reported that she was 'barely conscious, feverish and severely dehydrated.' It was only after Mokiejewski personally requested medical attention that Korian sent Bideaux to the hospital.
"It was the conditions they died in, not that they died of Covid, that was the problem," Mokiejewski told the Financial Times. "These people were abandoned… Covid just unveiled the problems of lack of care and lack of resources."
Mokiejewski has launched a group to support the families of those who died at eldercare homes. The group is called the 9,471 Collective, based on the official number of care-home deaths in France on May 5, 2020.
The group is working with Fabien Arakelian, a French lawyer, to bring lawsuits over the deaths.
Korian says that the deaths are not the company's fault. "It's the virus that kills, it's not Korian," Jean-Marc Plantade, head of media relations at Korian, told the Financial Times. "There was no medicine, there was no vaccine."
But the numbers are stark: as early as April 2020, Libération newspaper estimated that 511 residents of Korian homes in France had died of COVID-19. Many more would die over the course of the pandemic – a mid-October 2020 estimate suggested that 10,856 of the country's 33,037 COVID-19 deaths occurred at care homes.
One of the most shocking reports revealed that 29 out of 110 residents, at the Korian eldercare home in Mougins, just north of Cannes, had died from the virus.
Indeed, Jean-Louis Touraine, vice-president of the French Hospital Federation, told the French Parliament that some 12,000 COVID-19-related deaths could have been avoided had private eldercare homes followed the same rules as public ones. "The mortality due to COVID- 19 was observed to be significantly higher in private facilities than in public facilities," he said.
Korian
Korian is the second largest operator of private eldercare homes in Europe with 73,599 beds in 708 facilities, according to Investigate Europe, an online journalism cooperative. It was founded in France by Charles Ruggieri, a steel and real estate tycoon, in 2003, and has since expanded to Belgium, Germany, Italy, the Netherlands and Spain.
Even before the COVID-19 pandemic, workers at Korian homes and family members of residents were complaining about the shortage of staff, poor working conditions and bad management.
For example, in early 2017, there was a flu outbreak at a Korian-owned nursing home in Lyon, France, that resulted in the deaths of 13 people and infected 70 percent of the residents.
Asked to respond to testimonies from relatives of residents denouncing dysfunctions and recurring poor hygiene conditions in the establishment, a Korian spokesperson told Le Progrès newspaper that "the concern of families is completely understandable." The spokesperson stated that Korian had worked with ARS (the Regional Health Agency) "in full transparency."
In April 2019, five residents of another Korian-owned nursing home in Haute-Garonne, France, died from food poisoning, and 20 were hospitalized. "The hygiene measures and the usual protocol in this kind of establishment were not respected," Nicolas Raynaud de Lage, the lawyer for families of the deceased, told 20 Minutes newspaper.
Korian says it responded as best it could. "As soon as these first signs appeared, the management immediately informed the emergency services and organized their transfer to the nearest hospitals for medical care. An internal investigation was also carried out. We send our condolences to the families of the deceased residents," a company spokesperson said in a press statement.
And in July 2019, relatives of residents at a Korian-owned nursing home in Augsburg, Germany, complained to Augsburger Allgemeine newspaper about poor hygiene, inadequate food and overworked nursing staff.
Earlier this year, a rash of new complaints were filed against Korian, immediately after a national scandal erupted over the publication of Les Fossoyeurs, a ground-breaking new book by journalist Victor Castanet, about Orpea, Korian's biggest competitor in eldercare home management.
For example, Nour-Eddine Aghanbou, a representative of the Confédération Générale du Travail (CGT) union in Lille, says that the company spends just €4.50 a day for all meals, including snacks, per resident, despite receiving €100 to €200 in fees per day. "It's the institution that pushes the caregivers, who are in no way abusive and do a remarkable job, to commit these acts," he told France Bleu radio.
The company denies these allegations. "There are no instructions given to ration the products, the equipment that the establishments and the teams need for the right support," Sophie Boissard, CEO of Korian, said when she testified before the French Social Affairs Commission.
Workers rise up
Over the years, Korian workers have staged multiple public protests against company management over low salaries and understaffing. The largest one was a France-wide strike at Korian facilities that took place on May 25th, 2020, organized by several French unions.
In October 2020, workers at two Korian-owned nursing homes in Indre-et-Loire, France, went on strike to protest their salaries being frozen and a reduction in the end-of-the-year bonus. As one employee told France Bleu: "During this period of the COVID-19 pandemic, we believe that we are not being heard nor supported by management."
The same month, employees went on strike to protest low wages and poor working conditions at two other nursing homes managed by Korian in Chartres, France.
An employee at the strike told L'Écho Republicain newspaper: "There are a lot of work stoppages. We have many colleagues who suffer from musculoskeletal disorders stemming from our work. When they are absent, they are not always replaced. Working conditions are becoming more and more difficult."
At the time, Stéphane Taddei, human resources director at Korian, dismissed the strikes as insignificant, claiming that just 40 employees out of 25,000 took part at the Chartres walkout. He also insisted that the company was offering staff raises worth as much as 12 percent of salaries (roughly €206) together with a profit-sharing agreement.
But worker strikes demanding better pay, working conditions and more staffing have not abated. So far this year, the media has reported walkouts at Korian-run facilities in Grainville-sur-Odon, Île de Migneaux and Vernaison.
Meanwhile, workers also say that, rather than addressing their demands, Korian has cracked down on employees who have dared to demand better working conditions.
For instance, Myriam, who worked at a Korian-owned nursing home for 21 years, was fired in September 2020. She received her dismissal via text message. She told L'Humanité newspaper that she was "criticized for being inert during the heatwave as I ran around to cool down residents."
In March 2021, Korian took union representative Albert Papadacci to court for agreeing to be interviewed in a documentary for France 3 television: "What's really going on in nursing homes?" showing the inside of nursing homes during the coronavirus pandemic. Papadacci was accused of "complicity in public defamation of an individual" following the broadcast on November 18, 2020.
Last year Korian also took Odette Wandji, an assistant at a Korian facility in Hauts-de-Seine, to court after she complained in a WhatsApp group about managerial abuse. (The Paris court acquitted Wandji in March 2022).
In response to such incidents, workers across Europe are trying to organize to challenge Korian - notably under the leadership of the European Federation of Public Service Unions (EPSU) which has spoken out against Korian for increasingly keeping wages low and keep staffing levels to a bare minimum in order to maximize profits.
"Inadequate staffing leads to poorer care for users in a sector that is becoming key in view of an ageing population," Guillaume Durivaux, EPSU's policy officer for multinational companies, said in a recent press release. "Workers need a seat at the decision-making table to reverse this trend and ensure good care for users and quality working conditions for employees."
Company response
Korian top management are beginning to acknowledge the problems - while claiming that they are doing their best to follow up on all allegations and complaints.
"In a large network, quality incidents can occur. These were not the result of lacking staff, but indeed of poor leadership. All cases were reacted on with zero-tolerance from our side," Remi Boyer, head of human resources at the Korian Group, told Investigate Europe. "I assure [you], each time we hear such complaints we engage with the people. We call them and talk to them to find out what happened and how. We really try to be open to any complaint and solve these problems each time."
"The most important question is always: How well do we respond?" Boyer added. "How fast can we be in sincerely listening to our residents and families and translating this feedback into sustainable consequences? For that, we have set up quality monitoring, improved our complaint management, and are about to establish a system of resident mediators to communicate directly with families."
France TV documentary: Ehpad : l'heure des comptes?
 
France 2, a national public television channel, aired a documentary in March 2022 about private eldercare homes in France. It included footage filmed undercover by journalist Maria Maurice who obtained a job as nursing assistant at a Korian facility, despite having no medical qualifications whatsoever.
The documentary alleged that the care home was rationing food to residents and that it was vastly understaffed. Maurice filmed workers telling an old lady to "pee in her adult diaper" because of a lack of staff to accompany her to the toilets.
Shortly after the documentary was released, Korian's stocks plunged 20 percent.
Korian denounced Maurice's subterfuge. "Korian condemns the use of such methods, which are particularly deceitful and disingenuous in the circumstances," the company said in a formal response. "Korian formally denies that rationing takes place in any form whatsoever. Personal hygiene is ensured daily and more often if necessary, in the same way oral hygiene is generally ensured every morning and evening. This care is carried out in line with the standards and best practices of care established for our facilities."