Johnson & Johnson Fined $1.2 Billion for Drug Labeling Failure
Image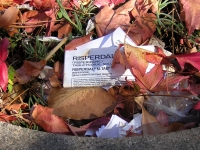 Johnson & Johnson has been fined $1.2 billion over sales of Risperdal, an antipsychotic drug. Tim Fox, a circuit judge in Arkansas, ruled that the company has to pay $5,000 for each of the 240,000 prescriptions that were paid for by the state's Medicaid program. (The program provides health care for low-income citizens, financed by the taxpayer)

Risperdal was introduced in 1994 by Janssen Pharmaceuticals Inc., a subsidiary of New Jersey-based Johnson & Johnson. It is prescribed for treatment of schizophrenia and short term episodes of bipolar disorder (manic depression) as well as irritability connected to autism in children.

In 2004 the U.S. Food and Drug Administration (FDA) forced the company to put labels on the drug to warn that Risperdal places elderly patients with dementia at an increased risk of strokes, seizures, major weight gain, possible diabetes and fatally high blood sugar, as well as potential death.

Fletch Trammell, a Houston lawyer acting on behalf of Arkansas, told jurors that the company had previously sent out a letter saying the drug did not increase the risk of developing diabetes. Tramell noted that some patients gained 60 to 100 pounds (27 to 45 kilos) in weight as a result of taking the medication, which in turn increased the risk of diabetes.

"The law is broken once they tell a lie," Trammell said. "You have to ring the bell. You have to tell the public." He noted that patients in rural Arkansas were not able to get up to date information from specialists.

Jurors in the Arkansas trial were also told that the company avoided such labels because of the potential impact on its share price, which could have reached $200 million.

But Johnson & Johnson says that Arkansas has no grounds to sue them because it did not pull the drug at the time. "They didn't run off and sound the alarm at the time this suit was filed," James Simpson, a lawyer for the companies, told the jury. He says Arkansas should have told patients: "Whoa, whoa, whoa, this stuff is dangerous."

Dozens of states have sued the company. Last year, Johnson & Johnson and Janssen was fined $327 million in South Carolina and in January, Texas settled a lawsuit against the company for $158 million.

The Arkansas fine is the biggest so far. "Johnson & Johnson and Janssen Pharmaceuticals lied to patients and doctors because they cared more about profits than people," said Arkansas attorney general Dustin McDaniel.

The company has said it will appeal. "Janssen firmly believes it did not violate the Arkansas Medicaid Fraud False Claims Act or the Arkansas consumer fraud statute. ... It is our position that an individual state should not penalize a pharmaceutical company for using an FDA-approved package insert or decide for itself whether a company complies with FDA rules," the company said in a statement.

Johnson & Johnson is also facing lawsuits over its hip-replacement technology. DePuy, a division of Johnson & Johnson, recalled 93,000 XL Acetabular metal-on-metal hips in August 2010 after experiencing a 13 percent failure rate. Some 5,000 product liability lawsuits have since been filed against the company. An FDA advisory panel of experts is to examine this issue in late June.

William Weldon, the company's outgoing CEO, was confident that the company's finances will recover from the string of lawsuits because of their target audience. "Populations in the developed world are ageing rapidly, and we consume more healthcare as we grow older," Weldon said. "Our investments continue to be aligned with these market opportunities."


AMP Section Name:
Pharmaceuticals