Inside the Unionization Movement Sweeping Across the U.S.
Image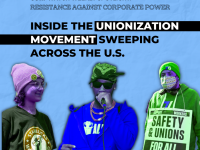 Workers have been organizing to form unions at:
- Amazon
- Apple
- Activision Blizzard
- CBN Holdings
- Delta Airlines
- Google
- NYT Tech
- Starbucks
- Verizon
"The pandemic and the labor market are related. Front-line workers realized that their bosses didn't care about their health and well-being… as their companies were making record profits." — Rebecca Givan, associate professor of labor studies and employment relations at Rutgers
Starbucks & Amazon
Ever since the first Starbucks store voted to unionize late last year, a wave of unionization has spread across the coffee giant's stores. So far, 17 others have voted, of which 16 voted in favor of unionization and 170 are set to vote in the coming weeks and months.
At the same time, Amazon workers made history on April 1st, when election results at the JFK8 warehouse in Staten Island, New York, showed the majority of workers were in favor of forming a union.
"I think what we did ... is a catalyst for a revolution with Amazon workers, just like the Starbucks unionizing effort. We want to have the same domino effect." — Chris Smalls, president and founder of the Amazon Labor Union
Domino effect
Apple retail workers are asking for $30/hour and benefits as part of their push to unionize the Grand Central Terminal store in New York City.
Workers at Activision Blizzard are set to hold a union vote on May 20, while the company is being accused of union-busting.
Workers at Google announced the founding of the Alphabet Workers Union.
Two Verizon stores in Washington state voted in favor of forming unions, becoming the first Verizon stores in the U.S. outside of New York to have unions.
Union-busting
Amazon has fired union leaders like Chris Smalls and other workers, allegedly in retaliation for their organizing efforts. It also posted anti-union messages in bathrooms and organized mandatory meetings, where workers were told they could lose their current wages if they unionize.
Starbucks has adopted similar tactics, allegedly firing pro-union workers, hiring a union avoidance law firm and announcing plans to expand benefits only to non-union members.
Labor trends
In the first six months of this fiscal year, workers have filed petitions to create unions at their job sites at a at a rate 57% higher than in 2021. This is in sharp contrast to the steady decline of unions across the U.S. over the last few decades: the share of workers who belong to a union has halved since 1983, from 20% to 10%.
The current pro-union trends could be explained by workers' increased frustration with inflation, the bad working conditions during the Covid-19 pandemic and the growing CEO-to-worker pay ratio.
"Part of what's changed is we're just in a different moment, [with] frontline workers feeling they were not rewarded or treated with respect during the pandemic. I think something has really changed in the consciousness of young workers." - John Logan, professor of labor and employment studies at San Francisco State University
This is #6 in our series of Instagram infographics on resistance against corporate power.
Click here to see the full post on Instagram.