Insensitive Email at Applebee's Leads to Mass Resignation & Widespread Boycott
Image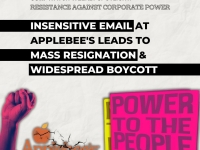 An email titled "Why gas increase is good for hiring", sent out by Wayne Pankratz, an executive director of operations for Applebee's franchise Apple Central LLC, detailed how inflation and soaring gas prices are a great opportunity for lowering employees' wages.
"Besides hiring employees at a lower wage to decrease our labor [cost], (when able) make sure you have a pulse on the morale of your employees... The labor market is  about to turn in our favor." — Wayne Pankratz
Applebee's
Applebee's is a restaurant chain, which as of 2020, had 1,642 restaurants worldwide, of which 1,531 were franchises and 69 restaurants were owned and operated by the company itself.
Broader context
Inflation and soaring gas prices, caused by the Covid-19 pandemic as well as the war in Ukraine are disproportionately impacting low-income families and working-class people.
Economists say it has been a while since prices for essentials have risen at this rate at once. This significantly reduces the purchase power of working-class citizens – meaning now they have to work more to pay their bills, rent, groceries, etc.
Mass resignation
After screenshots of the email were revealed on Reddit, the news of the email among employees at the Kansas Applebee's spread like wildfire. 
Upon reading the email, 4 out of 6 managers and at least 10 staff members either quit on the spot or handed in their resignations. 
Boycotts
News of the email sparked major backlash on social media. The hashtag #boycottapplebees began circulating on Twitter along with tweets such as "What a f****** scumbag!" and "#BoycottApplebees will be the easiest boycott in the history of time". 
"How can we continue working for a company that doesn't care about us?" —  Jenna Willis, manager at Applebee's
"This was kind of a straw that broke the camel's back situation where everyone was feeling unappreciated [and] we were understaffed. And then this email was so atrocious that it kind of just tipped everyone over the edge." — Adrian Kelly, bartender at Applebee's
Company response
As a result of the widespread backlash, it has been confirmed by Applebee's corporate office that Pankratz has been terminated. 
"Our team members are the lifeblood of our restaurants, and our franchisees are always looking to reward and incentivize team members, new and current, to remain within the Applebee's family," said Kevin Carroll, Applebee's chief operations officer. 
This is #2 in our series of Instagram infographics on resistance against corporate power.
Click here to see the full post on Instagram.