Injured Migrant Worker Successfully Sues Rigel Marine in Singapore
Image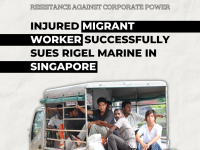 Ramalingam Murugan, a migrant worker from Tamil Nadu, India, was employed by ship repair company Rigel Marine Services in Singapore. In January 2021, he fell off a company lorry and fractured his leg. He sued the company for S$100,000 (US$73,500) and won his case, despite a lack of precedent for migrant workers to get compensation for work related injuries in Singapore.
"I hope that companies pay more attention to the safety of workers as we are often told to take on very risky work and sometimes have no choice but to follow." - Ramalingam Murugan.
Migrant Workers in Singapore
Migrant workers make up almost 40 percent of Singapore's labor force. They are employed to do low paid work that is dirty, dull or dangerous such as cleaning and construction. Migrant workers earn around US$480 a month, which is 4-6 times more than they would earn at home in countries like Bangladesh or India. By contrast, the average salary for Singapore citizens is S$5,070 (US$3,745) a month
Rigel Marine Services
Rigel Marine Services is a 10-year-old company based in Singapore that specializes in building and repairing ships, tankers and other vessels. Like many other companies that employ migrant workers, Murugan was housed in a company dormitory from where he was transported to work sites in lorries provided by the company.
The Accident
In January 2021, Murugan, who had 15 years of work experience in Singapore, was traveling to work in an overloaded company lorry. The workers were in a hurry to get off and Murugan tripped over the tailboard of the lorry and fell. After undergoing surgery at Ng Teng Fong General Hospital, he took a medical leave of five months.
Lawsuit
Murugan sued Rigel Marine Services seeking 100,000 Singapore dollars ($73,500 USD) for damages. In July 2023, two coalitions of approximately 50 groups and individuals in Singapore issued public statements condemning the system of transporting workers in lorries.
"Recent tragic incidents have highlighted the continued grave risks posed by transporting migrant workers on lorries. Each life lost or major traumatic injury sustained represents a devastating blow to a family and community." - Statement of groups on migrant workers and lorries.
Court Ruling
District Judge Tan May Tee ruled in favour of Murugan in August 2023. The amount of compensation to be paid will be determined at a later date.
"There was clearly a breach of duty on the part of the defendant in failing to put in place a system of safe access to and egress from the deck of the lorry which caused the accident leading to the plaintiff's injuries." - District Judge Tan May Tee
Company Response
"The plaintiff had given inconsistent evidence as to how he fell, the weather condition on the morning of the accident, and also varying accounts of how he had alighted from the lorry. The defendant had not breached its duty of care as its process of transporting workers and for alighting from the lorry was safe and adequate." - Rigel Marine Service submission to the court.
This is #56 in our series of Instagram infographics on resistance against corporate power.
Click here to see the full post on Instagram.
📸
1/10 G2 by Humans Aren't Cargo (2009)
5/10 Humans Aren't Cargo (2010)
6/10 G9 by Humans Aren't Cargo (2009)