Information Warfare or Yesterday's News?
Pentagon media contractor loses battle for Iraqi audiences
Image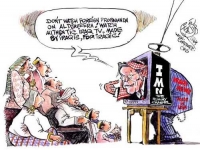 Zainab Abdul Hameed trudges back from her daily visit to the oil ministry in Baghdad. She is waiting for news on two fronts but has nothing to report today. Her assignment is to check on the electricity situation but she is also waiting to hear if she still has a job.
"No news today, but maybe tomorrow," she tells us cheerfully. Nine months after the ousting of Saddam Hussein, Iraq's basic infrastructure is a shambles despite billions of dollars spent to fix it: Baghdad continues to suffer through ten hours of power cuts a day.
"We are free to report whatever we want," says Hameed. "It's not like under Saddam Hussein when we had to report what the government told us to say."
To get back to work at the Iraqi Media Network's Al Iraqiya radio and television station, run by a California-based multinational named Science Applications International Corporation (SAIC), Hameed has to walk through a maze of barbed wire, concrete barricades and three body searches run by the Florida National Guard and ISI, a private Iraqi security company.
Her office is on the third floor of the Baghdad convention center where the United States military holds press conferences about the occupation of her country. The fact that the Al Iraqiya's main office is right above the military is no coincidence - the military is their only funder but the reporters say that the money is about to be cut off.
At the final checkpoint outside the entrance to the corridor of offices that houses Al Iraqiya's offices, she passes a television that is almost always tuned to either Al Jazeera or Al Arabiya, the popular Middle Eastern satellite channels that are their main rivals.
Surveillance for Sale
In the fiscal year that ended Jan. 31, 2002, San Diego-based Science Applications International Corporation generated $6.1 billion in revenue and ranked number 294 on the Fortune 500 list of the largest U.S. companies. Founded in 1969 by physicist J. Robert Beyster, formerly a nuclear scientist with the Los Alamos National Laboratory, it is an employee-owned, decentralized company.
The company made a fortune during the dot com boom by buying Network Solutions, the Web domain name keeper, for $4.5 million in 1996 and selling it for $3.1 billion before the bubble popped.
But SAIC's biggest source of income is surveillance especially for the United States spy agencies: it is reportedly the largest recipient of contracts from the National Security Agency (NSA) and one of the top five contractors to the Central Intelligence Agency (CIA). Some 5,000 employees (or one in eight employees) have security clearances. Beyster himself has one of the highest top-secret clearances of any civilian in the country.
"We are a stealth company," Keith Nightingale, a former Army special ops officer, told a magazine named Business 2.0. "We're everywhere, but almost never seen."
Today two of SAIC's most valuable products are: TeraText and Latent Semantic Indexing (LSI) data-mining programs that are used by intelligence agencies to sift the immense volumes of data they now collect by monitoring phone calls, faxes, e-mails, and other types of electronic communications.
TeraText can process two billion documents every four seconds by identifying patterns and connections between names, terms, and ideas. For example, a CIA analyst might type in a request for all documents mentioning the name "Paris" the word "sleeper," and the term "plane" a possible code for a suicide bombing attack, organize the search by language, by time of day, and instantly retrieve all places in which the terms appeared in, say, a single sentence. LSI uses artificial intelligence that allows it to make judgments for abstract relationships among intercepted texts and public documents, and can find even less distinct patterns.
SAIC became home to former United Nations weapons inspector David Kay who went to SAIC as a vice president from 1993 to 2002. Last year he was hired by the CIA to return to Iraq and head the search for weapons of mass destruction.
Critics note that the company has a revolving door with the spy agencies: NSA veteran William B. Black Jr. retired from the intelligence agency in 1997, went to SAIC for three years and returned to the NSA as deputy director in 2000. Two years later, SAIC won the $282 million job of overseeing the latest phase of Trailblazer, the most thorough revamping in the agency's history of its eavesdropping systems.
SAIC has dozens of other government contracts: it trains air marshals for the Federal Aviation Administration, works with Bechtel to run the proposed Yucca Mountain nuclear waste dump in Nevada on Western Shoshone traditional lands (despite major protests from the Native Americans), The Army hired the company to destroy old chemical weapons at Aberdeen Proving Ground, the National Cancer Institute uses SAIC to help run its research facility in Frederick, the Transportation Security Administration asked it to dispose of scissors and pocket knives confiscated from air travelers and SAIC's unmanned Vigilante helicopters, equipped with Raytheon's low-cost, precision-kill rockets, are to undergo testing by the Army.
Not all of its surveillance work is for the United States military The company has installed a location-based Global Positioning System tracking service for BellSouth's 14,000 installation and maintenance vehicles and today its latest contract is to run security for the upcoming Athens Olympics from a zeppelin that will hover over the city.
"Yesterday's Information"
In the streets of Basra and Baghdad we ask people if they watch Al Iraqiya and the answer is almost invariably no. What is most surprising is that we get the same answer from people who hate Saddam Hussein and support the Americans, almost everybody gets their news from Al Jazeera or Al Arabiya.
"Al Iraqiya has no news. Just yesterday's information," is the common refrain. Chagrined reporters at the Al Iraqiya agree because of strict rules that ban them from reporting material that might incite violence.
Management says that this is simply not true. We meet with Alaa Fa'ik, an Iraqi American from Ann Arbor, Michigan, who is the second in command at the Iraqi Media Network. He is dressed casually in a sweater, with short-cropped grey hair and glasses, with a military issued badge on a blue strap hanging round his neck that identifies him as a SAIC employee.
"I am not in competition with Al Jazeera, let them do whatever they want to do. In fact most Iraqis don't have satellite dishes. Those that do found the remote control to be a new toy. Now they are returning to us because they trust us to tell the truth. Freedom has to be exercised with responsibility and we will not allow Saddam Hussein to use this as a platform," he says.
However despite the fact that not everybody can afford a satellite dish, a recent government survey that shows that one in four Iraqis watch Al Jazeera and Al Arabiya compared to less than one in ten for Al Iraqiya.
Fa'ik also denies that the military has stifled their reporting.
"Yes, we are getting money from the Department of Defence. That is from you and me, the taxpayer. Are you reporting the fact that the ministry of education is funded by the United States government, the ministry of health is funded by the United States? I don't understand why when it comes to the media, you say, no, no, no. So who is going to fund it?"
"The United States government took the responsibility of helping Iraq put foundations for democracy and change. So for them to support an independent Iraqi television should be welcomed. Every penny spent on this project has been worthwhile, despite the fact that I work here, really we are going to put an independent television, not controlled by the state. In Iraq, in the Middle East, this is a new concept for a station to be sponsored by the government but independent of the state," he said.
New Territory
This "concept" was proposed to the Pentagon in January, two months before the war began. At the time the Pentagon had hired SAIC to run a secret "government in exile" of Iraqi Americans in Virginia to plan the running of the country if Saddam Hussein was ousted. SAIC quickly spun off a committee of five Iraqi-Americans to plan this new media outlet, including Fa'ik.
Critics today point out that SAIC had zero experience in operating either a radio or television station although perhaps the company convinced the government that it had experience in military media management. It's website offers a nine point program of "Information Dominance/Command and Control", starting with 'Battlefield Control' and ending with 'Information Warfare/Information Operations'.
Indeed intelligence experts say that it is the largest recipient of contracts from the National Security Agency and one of the top five contractors to the Central Intelligence Agency, two of the top spy agencies in the United States. (see sidebar)
Following fuzzy TV broadcasts from United States Air Force's EC-130E 'Commando Solo' psyops (psychological operations) planes and the radio broadcasts, IMN went on the air with radio April 10 and television May 13. Faik himself worked on the first radio broadcasts to Southern Iraq from Kuwait.
"For me as an Iraqi American, I am on the two sides of the coin, as an Iraqi, I want the American money. As an American I want to like to help build an independent media, this is a concept that is new to the whole Middle East. This is an experiment, if it succeeds, it is going to set new rules for the media in the Arab world," he told CorpWatch.
Internal Frustration
But others who worked for SAIC from the beginning say that the Coalition Provisional Authority (CPA, the United States-led occupation government) has caused the experiment to fail. Don North, a correspondent in Vietnam, Washington and the Middle East for ABC and NBC News, called Al Iraqiya "Project Frustration" when he quit in July.
"IMN has become an irrelevant mouthpiece for CPA propaganda, managed news and mediocre programs. I have trained journalists after the fall of tyrannies in Bosnia, Romania and Afghanistan. I don't blame the Iraqi journalists for the failure of IMN. Through a combination of incompetence and indifference, CPA has destroyed the fragile credibility of IMN," he wrote recently.
North says that a $500 request for a satellite dish to downlink the Reuters news feed was refused and a $200 request for printing a training manual that he put together in Arabic for reporters was turned down.
North was not the only senior staffer to quit. The first news director, Ahmad Al Rikaby, proudly told Baghdad Bulletin: "I opened my eyes to a family who were fighting Saddam Hussein and became part of this fight -- I always wanted to speak freely in Iraq but never had a chance to do so. The project of creating free media in Iraq is an honor, a dream." But he too resigned when the CPA re-hired staff troublemakers or Baathists (Saddam Hussein's political party) that he had fired.
Meanwhile those reporters who stayed on were ordered to cover daily CPA news conferences, interviews and photo opportunities while being paid the equivalent of $120 a month, leading to major strikes by the reporters.
Today even the Pentagon appears to have realized that the concept of a military funded independent radio and television station has failed or that SAIC has done a bad job because the rumors among the staff are that they will lose the contract by the end of the month. Military officials deny that they have made a final decision but admit that a major new effort is in the works.
Later this month, the Broadcasting Board of Governors (BBG), which oversees all United States non-military propoganda efforts such as the Voice of America, Radio Free Europe/Radio Liberty (RFE/RL), Radio Free Asia (RFA), Radio and TV Marti, is to launch a new Middle East Network (MEN), with more than $100 million in government funding, which promoters say will resemble CNN, MSNBC and the Discovery Channel.
"We will be on two fronts," Norman J. Pattiz, chairman of the BBG's Middle East committee, told TV Week recently. "We will be on satellite across the Middle East, but will also provide a targeted product that will be available terrestrially only within Iraq, which will focus on Iraq."
The new network, serving 22 countries, will be based in Springfield, Virginia, will initially broadcast 12 to 15 hours a day. It will have a broadcast center in Dubai and news bureaus in Amman, Jordan; Cairo, Egypt; Kuwait City, Kuwait; Baghdad, Iraq; and Jerusalem. It has an arrangement to use the resources and video footage of the Associated Press from the region and around the world.
SAIC has applied to run MEN but most observers think that they are unlikely to get the job given their poor track record after almost a year of planning and operations.
Pratap Chatterjee is Program Director/ Managing Editor of CorpWatch.
AMP Section Name:
War & Disaster Profiteering