How Obama Helped Authorize Shell's Drilling the Arctic
Image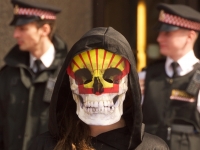 President Barack Obama personally helped Shell obtain authorization to drill for oil in Alaska, according to a 4,678 word front page article in the New York Times. This is a startling break from decades long U.S. policy which regarded the environment in the Arctic region too fragile to tamper with.
"(T)he president concluded that the reward was worth the risk, and created an unusual interagency group, overseen by a midlevel White House aide, to clear Shell's path through the often fractious federal regulatory bureaucracy," write John Broder and Clifford Krauss.
In November 2010, almost two years after he was elected, Obama told William K. Reilly and Carol M. Browner, two former heads of the Environmental Protection Agency, what he wanted them to do. "Where are you coming out on the offshore Arctic?" he asked. "What that told me," Reilly told the New York Times, "was that the president had already gotten deeply into this issue and was prepared to go forward."
The article describes the clash between two powerful men, Edward Itta, the former mayor of Inupiat North Slope Borough, and Pete Slaiby, Shell Alaska vice president. The story is already the basis of a new book, "The Eskimo and the Oil Man: The Battle at the Top of the World for America's Future," by Bob Reiss.
Shell spent over $35 million lobbying for the permission during the Obama adminstration. Marvin Odum, president of Shell North America, and Sara B. Glenn, a lobbyist, visited the White House 19 times to meet with Obama's staff.
Some environmental groups are astonished at Obama's role. "We never would have expected a Democratic president - let alone one seeking to be 'transformative' - to open up the Arctic Ocean for drilling," Michael Brune, executive director of the Sierra Club told the New York Times.
Protests against Shell's plan have been ongoing for years. On Wednesday, activists launched two reports at the company's annual meeting in the Hague. "Risking Ruin : Shell's dangerous developments in the Tar Sands, Arctic, and Nigeria report" by the Indigenous Environmental Network (IEN) and "Out in the Cold - Investor Risk in Shell's Arctic Exploration" from Platform, Greenpeace and FairPensions.
"Our village has been there 4000 years. Our biggest concern is spilled oil getting into the ocean and affecting the marine mammals that we depend upon. Your clean-up ability is not adequate," Robert Thompson, a village of Kaktovik on the edge of the Arctic Ocean in Alaska, told shareholders.
Others indigenous activists spoke out also about Shell's impact in other countries. "Shell has failed to address our concerns in Canada's tar sands, by not meeting environmental standards and past agreements, and refusing to address their impacts on our constitutionally-protected treaty rights, leaving us with no option but to sue them," said Eriel Deranger from Athabasca Chipewyan First Nation (ACFN). "Our Chief has said 'Enough is enough!' We fully intend to challenge all Shell's future projects until they can demonstrate a true willingness to implement our rights."
According to a report from the UK Tar Sand Network, five protestors wearing masks that combined Shell's logo with a skull stood silently throughout the meeting reminding the shareholders of the grave human rights and environmental injustices Shell has brought to communities in Nigeria, Rossport (Ireland), the Arctic and Canada.