How Eldercare Giant Orpea Profits Off Seniors in Europe
Image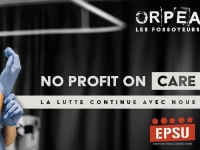 Orpea Group, the second largest operator of eldercare homes in Europe, has attempted to repair its image after a national scandal swept France over a book that alleged widespread abuse of its residents. The company published a positive external audit in June but scandals continue to emerge.
Founded in France by Dr. Jean-Claude Marian in 1989, Orpea now has operations in 22 countries including 15 in Europe as well as countries as far flung as China and Uruguay. Across the world, it owns 1,114 facilities and over 111,801 beds. In 2020, the company's revenue was €3.9 billion, despite the pandemic.
After allegations of abuse emerged in a new book titled "Les Fossoyeurs" ("The Gravediggers") by journalist Victor Castanet, the government raided the company headquarters in Puteux, just outside Paris in February of this year. To appease critics, the company commissioned an audit of the charges to be conducted by Grant Thornton and Alvarez & Marsal, two outside consultants.

In April, the government published a​​​ 524-page report on the findings from the raid that confirmed many of Castanet's findings.
But Orpea claims that their audit, which was also recently released, shows the opposite. "It notably refutes the notion of a rationing of protection as well as several allegations concerning meals and food," said Philippe Charrier, the outgoing CEO, in a statement. "However, it does report shortcomings and inadequacies in the handling of adverse events, in the managerial incentive system and in the management of human resources."
Yet just over a week after the company audit was complete, new scandals continued to leak out. In mid-April, Orpea was fined €65,510.79 for the 2017 death of 84-year-old woman at Le Clos des Meuniers in Bagneux from an unexplained double femur fracture.
And Investigate Europe published documents this past May that showed that Orpea has been using a secret Luxembourg company called Lipany to help cover up a €700,000 "commission" paid to open a care home in Vouziers, France; submit "erroneous" tax data in France; and evade taxes in Italy.
Nor do the conclusions of the external audit really justify why Orpea has been embroiled in many public scandals in France over the past decade.
For example, in 2015, 28 families wrote to the Minister of Health to complain that the quality of care provided to residents at an Orpea retirement home in Boissise-le-Roi had deteriorated because the company did not employ enough staff. Similar allegations were brought against Orpea at homes in Le Mans and Schiltigheim in 2016; in Niort and Échillais in 2017; and in Neuilly-sur-Seine in 2018. In Schiltigheim, Orpea was accused of changing the diapers of the elderly just once a day and changing bandages just once a week.
Union Spying Scandal
Going further back to 2010, Orpea was charged with paying Groupe Synergie Globale, a private intelligence company, to use actors (known as 'implants') to spy on union representatives and other employees at three of its establishments in France: Rhône, Val-de-Marne and Val-d'Oise.
According to Le Parisien newspaper, Orpea reportedly paid €12,500 monthly per actor who worked as an implant. Indeed, one was so good at their job that they even succeeded in being elected as a union delegate.
One of the largest French unions, the Confédération Générale du Travail (CGT or General Confederation of Labor), got its hands on 16 Global Synergie reports prepared for Orpea.
A large portion of the reports obtained by the CGT Union outline detailed observations of union members' movements and activism: "X was seen with a member of the CGT" and "The day of June 8 seems to have been fruitful for trade unions (...). About forty people mobilized and remained in front of the clinic. During this mobilization, four people from outside the company were present, wearing armbands. Their identity could not be determined."
But Global Synergie did not simply report on union activism. The reports also include extensive details about the employees' personal lives, such as the purchase of an apartment by one and an invitation to have an aperitif received by another. Sometimes the reports were oddly complimentary. "A great athlete, W [a union representative] seems enduring and motivated," read yet another description.
Orpea employees only found out about the plot in 2012, after an investigation by L'Expansion magazine revealed the operation.
The company quickly denied any claims of espionage and claimed that the information collected had "no other purpose than the improvement of working conditions" and that the operation was only intended "to enlighten the group's management on the nature and extent of the pyschosocial risks."
In December 2014, the CGT Union filed a complaint against Orpea for 1) "obstruction of the right to organize", 2) "invasion of privacy" and 3) "fraudulent collection of personal data." Barely three weeks later, in January 2015, the Paris prosecutor's office opened a preliminary investigation into Orpea's operations.
In February 2015, Orpea offered CGT elected officials a secret deal to withdraw the complaint. The company promised officials it would satisfy several of their past demands in a deal worth €4 million. CGT declined the offer.
"The obvious aim was to keep an eye on union activity, to gather information in order to hamper the actions of the most virulent union in the company," Sofiane Hakiki, CGT's lawyer, told France Inter public radio.
In a confidential letter sent to the CGT union at the end of 2012, Orpea's management justified these practices as part of "a study on psycho-social risks". In the same letter, Orpea also claimed that "[Groupe Synergie Globale] has set up an ethical charter strictly framing its interventions."
Pandemic Scandals in Spain
Last, but not least, Orpea has had many similar scandals outside France – notably in Madrid, Spain, during the COVID-19 pandemic. For example:
* After 17 residents at Orpea's Alcobendas facility in Madrid died from COVID-19 in the same month, 59 family members of the victims filed a complaint with the local police, according to El Mundo newspaper.
They laid out Orpea's "lack of PPE (individual protection equipment), isolation and hygiene measures" and "lack of necessary means" to deal with the health crisis. They also pointed to the failure of the management to seek help from the Military Emergencies Unit or the Ministry of Health, despite "repeated" requests.
One of the relatives also filed an individual complaint, alleging that his mother was suffered physical and mental abuse at the home. "They gave her pills that did not correspond to her; at night, no one comes when she calls; and she has spent nine hours with a diaper full of excrement," the son wrote. Just four days after the complaint was filed, a 76-year-old man jumped from his window in the same nursing home, committing suicide.
* Around the same time, as 16 residents of the Orpea's Loreto facility in Madrid succumbed to COVID-19, employees of the facility circulated a protest poster to the media that read: "The dead and infected at Orpea Loreto are many more. Help!" An anonymous whistleblower at the home also spoke out in a video released by the Comisiones Obreras union to accuse the company of cover-ups, blackmail and threats, according to El País newspaper.
* Info Libre, a Spanish investigative news site, for instance, revealed that 79 percent of residents that died between March and April 2020 at Orpea's Ibérica nursing home in Madrid had never been treated at a hospital.
By July 2020, 65ymás, an online magazine for the elderly, reported that almost 50 percent of all Orpea-owned nursing homes in Madrid were under investigation by the Spanish judiciary. Some of these nursing homes were even accused of "reckless homicide, omission of the duty to help and injuries."
Another Info Libre investigation found that 4.52 percent of coronavirus victims in Spanish nursing homes took place at Orpea's facilities, despite the fact that the group only manages 2.95 percent of nursing home spaces in the country.
At the time, Orpea claimed that the complaints were exaggerated.
At the Orpea Alcobendas facility, Orpea responded by saying: "Of 180 places, there are 59 who complained. That means that 120 are on the opposite side." The company insisted that it was under no obligation to give mortality data to anyone other than the Ministry of Social and Family Policies of the Community of Madrid. "Obviously, families want to be informed, but it is not to them that we must give it."
Also at the Orpea Alcobendas, the company claimed that it "scrupulously complies" with the protocols for surveillance, prevention and sanitary control and hygiene in accordance with national and international recommendations. The company denounced the families for "harassment, threats, humiliation and coercion" against the director of its Alcobendas center.
Union-busting
Residents of Orpea homes around Europe say that problem is that the staff are chronically overworked, understaffed and faced with limited resources, thus unable to provide better care. But rather than listen to their concerns, staff have been confronted by classic union-busting tactics.
"The staff are overloaded and we, the residents, suffer," one resident of an Orpea home in Brussels, told Radio Télévision Belge Francophone. "They are girls who are stressed, they have to run all the time, they are under constant pressure."
Orpea's German subsidiary has been accused by workers of engaging in anti-union activities such as intimidating worker representatives, sacking employees who went on strike, and threatening to outsource cleaning jobs. This led to a six-week protest in July and August 2018 by workers who demanded "respect for their union, better pay and conditions and a collective agreement."
In 2019, Orpea Poland fired union representative Anna Bacia, who had worked at Orpea for 16 years, allegedly for bullying another employee. UNI Global Union, however, argued that Bacia, a single mother of two children, was fired for trying to organize workers.
"Orpea relies on repression when employees defend themselves against poor conditions," Adrian Durtschi, the head of the social insurance and private health care sector of UNI Global Union, said in a press release. "But if colleagues are not intimidated and profits are threatened, this company too can be persuaded to make concessions. Ultimately, it's all about the money."