How Activists Brought Privatized City Buses Back Under Public Control in Manchester (UK)
Image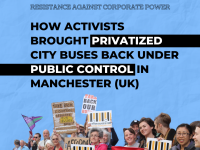 In the 1980s, the UK government deregulated and privatized bus systems all over the country under a belief that greater competition would introduce greater efficiency. However the opposite happened - prices rose and service quality declined. After a vigorous campaign by Better Buses for Greater Manchester, the local county brought back government regulation in September 2023. 
"The better buses movement has shown that when this is directed towards local action that wins real change for communities, demands grow and hope catches light." – Matthew Topham, Better Buses Campaigner at We Own It
Thatcherism
The 1985 Transport Act, a key component of Prime Minister Margaret Thatcher's free market reforms, resulted in most UK public bus companies being sold off to private operators. This led to higher fares across the UK, despite the fact that 40 percent of private bus company revenues comes from public coffers, and a decline of 134 million miles of coverage in one decade alone.
Manchester 
The city of Manchester in northeastern England now has over 30 different private operators – such as First Bus, Rotola and Stagecoach - all of whom set their own fares, with some charging as much as £4 for a single journey. Not surprisingly the number of bus trips taken in Greater Manchester has declined by almost half. (By contrast, the numbers of bus journeys in London doubled.) 
"The fat cats running the buses have retired on huge pensions while their inefficient, ineffective bus services and high fares have impoverished the bus-using public and put many people out of work as routes have been withdrawn. Nothing has been more exploitative to the people of Greater Manchester." – Graham Stringer, Blackley and Broughton Member of Parliament 
Better Buses Campaign
In 2018, We Own It, a UK NGO that fights privatization, began the Better Buses for Greater Manchester campaign with the support of anti-poverty campaigners, environmentalists and unions. They created a petition and conducted creative protests like queuing outside the mayor's office behind a fake bus stop. In 2021, more than 80 percent of respondents to a public consultation voted in favor of government control over buses.
Legal Challenges
Manchester's two largest bus companies – Rotala and Stagecoach – sued the local transport authority in March 2021, claiming that the consultation process was flawed and the transition to the new system would be a waste of public money. That lawsuit case was dismissed in March 2022 and the decision was upheld on appeal.
Public Alternatives
In September 2023 county officials established a public management system named the "Bee Network" - which integrates buses, cycling, rail, trams, rail, as well as walking – together with cheaper flat fees. (However the buses will still be owned and operated by private companies) Inspired by this success, similar demands have been launched in Sheffield and Yorkshire.
Company Response
"We are disappointed at the decision of the Court. This case was never about the principle of mayoral combined authorities being able to decide to introduce bus franchising. We absolutely respect that democratic right." – Stagecoach company statement
This is #62 in our series of Instagram infographics on resistance against corporate power.
Click here to see the full post on Instagram.
📸 We Own It
PM Thatcher in 1982 by Number 10
10050 MX12LWR STAGECOACH by EDDIE