Hospital Corporation of America Allegedly Profited From Questionable Cardiac Procedures
Image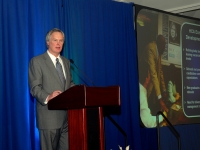 Hospital Corporation of America (HCA) - the world's largest operator of private clinics and hospitals - has come under the spotlight for performing unnecessary cardiac procedures, notably in Florida.

Based in Nashville, Tennessee, the company has 163 hospitals and 110 surgery centers, and an annual revenue of $ $29.682 billion in 2011 with profits of $2.465 billion. About a fifth of its income comes from Florida, which has a large retiree population.

HCA previously paid out $1.7 billion in fines and repayments to settle charges of defrauding the government in 2000. One of the key agreements was "to resolve lawsuits alleging that HCA hospitals and home health agencies unlawfully billed Medicare, Medicaid and TRICARE for claims generated by the payment of kickbacks and other illegal remuneration to physicians in exchange for referral of patients." (Medicaid, Medicare and TRICARE are U.S. government healthcare plans for poor people, elderly people and military personnel and their dependents respectively)

The company also signed a special eight year agreement from 2000 to 2008 with the U.S. Department of Justice that required them to promptly report fraud or face harsher penalties that other companies because of the previous fraud claims.

The new charges suggest "that a defendant, already caught once defrauding the government, has apparently not changed its corporate culture," Michael Hirst, a former assistant United States attorney in California, told the New York Times.

The procedures that are being questioned today are diagnostic catheterization (insertion of a tube into the heart) and cardiac stents (a tube inserted into cardiac arteries). Medicare normally pays the hospitals about $3,000 and $10,000 for each procedure respectively.

The newspaper revealed that internal investigations at HCA showed that between 2002 and 2010, company doctors were "unable to justify many of the procedures they were performing," write Reed Abelson and Julie Creswell. "Questions about the necessity of medical procedures - especially in the realm of cardiology - are not uncommon. But the documents suggest that the problems at HCA went beyond a rogue doctor or two."

A catheterization laboratory at the Lawnwood Regional Medical Center in Fort Pierce, Florida, accounted for 35 percent of the hospital's net profits. There Dr. Abdul Shadani and Dr. Prasad Chalasani at Lawnwood are named by the New York Times as being quick to perform catherizations. Some 1,200 procedures were found to be unnecessary in a 2010 review.

Also singled out was Dr. Sudhir Agarwal who practiced at the Regional Medical Center Bayonet Point in the town of Hudson, also in Florida. An internal review found that his "style of clinical practice leads to unnecessary procedures and unnecessary complications."

Dr. Agarwal and the other eight doctors have sued HCA for defamation in county court. Anthony Leon, a lawyer for the nine doctors, issued a statement that said: "There is absolutely no merit to any allegation that any of these doctors were performing unnecessary procedures or performing procedures that led to unnecessary complications as a style or pattern of practice."

HCA is hardly alone in being accused of defrauding the government. A quick scan of the official press release index of the Department of Justice suggests that it is a rare week when the authorities fail to catch someone who has milked the taxpayer for $10 million or more.

For example, in December 2010 three companies - Abbott Laboratories, B Braun Medical, and Roxane Laboratories - agreed to pay $421 million to settle allegations of overcharging. (The companies were billing the government up to 20 times more than the actual consumer costs for products like intravenous drugs and solutions.)

In 2009, Pfizer paid out $2.3 billion to settle allegations of criminal and civil liability arising from the illegal promotion of Bextra, an anti-inflammatory drug. And less than a month ago, GlaxoSmithKline to pay $3 billion in a civil and criminal settlement to settle allegations of illegal marketing of Paxil and Wellbutrin which was prescribed to treat depression as well as failure to report safety data for Avandia, a diabetes drug.

One of the problems in the U.S. is the staggering sums involved: the government is expected to spend a trillion dollars, or seven percent of GDP, on Medicare and Medicaid, which, in turn, have become a gold mine for the private companies that provide the care. (An interesting statistical note: the UK National Healthcare Services which covers all citizens costs roughly five percent of national income)

"If you are a hospital that wants to boost its bottom line though, performing more surgeries - even those that aren't necessary - is pretty much the way to go," writes Sarah Kliff at the Washington Post blog. "Right now, doctors get paid for each service they provide. The cardiologist that inserts more stents and performs more surgeries tends to net a higher salary."