Halliburton Makes a Killing on Iraq War
Cheney's Former Company Profits from Supporting Troops
Image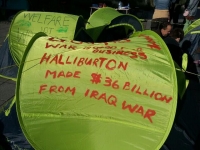 As the first bombs rain down on Baghdad, CorpWatch has learned that thousands of employees of Halliburton, Vice President Dick Cheney's former company, are working alongside US troops in Kuwait and Turkey under a package deal worth close to a billion dollars. According to US Army sources, they are building tent cities and providing logistical support for the war in Iraq in addition to other hot spots in the "war on terrorism."
While recent news coverage has speculated on the post-war reconstruction gravy train that corporations like Halliburton stand to gain from, this latest information indicates that Halliburton is already profiting from war time contracts worth hundreds of millions of dollars.
Cheney served as chief executive of Halliburton until he stepped down to become George W. Bush's running mate in the 2000 presidential race. Today he still draws compensation of up to a million dollars a year from the company, although his spokesperson denies that the White House helped the company win the contract.
In December 2001, Kellogg, Brown and Root, a subsidiary of Halliburton, secured a 10-year deal known as the Logistics Civil Augmentation Program (LOGCAP), from the Pentagon. The contract is a "cost-plus-award-fee, indefinite-delivery/indefinite-quantity service" which basically means that the federal government has an open-ended mandate and budget to send Brown and Root anywhere in the world to run military operations for a profit.
Linda Theis, a public affairs officer for the U.S. Army Field Support Command in Rock Island Arsenal, Illinois, confirmed for Corpwatch that Brown and Root is also supporting operations in Afghanistan, Djibouti, Georgia, Jordan and Uzbekistan.
"Specific locations along with military units, number of personnel assigned, and dates of duration are considered classified," she said. "The overall anticipated cost of task orders awarded since contract award in December 2001 is approximately $830 million."
Kuwait
The current contract in Kuwait began in September 2002 when Joyce Taylor of the U.S. Army Materiel Command's Program Management Office, arrived to supervise approximately 1,800 Brown and Root employees to set up tent cities that would provide accommodation for tens of thousands of soldiers and officials.
Army officials working with Brown and Root says the collaboration is helping cut costs by hiring local labor at a fraction of regular Army salaries. "We can quickly purchase building materials and hire third-country nationals to perform the work. This means a small number of combat-service-support soldiers are needed to support this logistic aspect of building up an area," says Lt. Col. Rod Cutright, the senior LOGCAP planner for all of Southwest Asia.
During the past few weeks, these Brown and Root employees have helped transform Kuwait into an armed camp, to support some 80,000 foreign troops, roughly the equivalent of 10% of Kuwait's native born population.
Most of these troops are now living in the tent cities in the rugged desert north of Kuwait City, poised to invade Iraq. Some of the encampments are named after the states associated with the attacks of Sept. 11, 2001 -- Camp New York, Camp Virginia and Camp Pennsylvania.
The headquarters for this effort is Camp Arifjan, where civilian and military employees have built a gravel terrace with plastic picnic tables and chairs, surrounded by a gymnasium in a tent, a PX and newly arrived fast food outlets such as Burger King, Subway and Baskin-Robbins, set up in trailers or shipping containers. Basketball hoops and volleyball nets are set up outside the mess hall.
Turkey
North of Iraq approximately 1,500 civilians are working for Brown and Root and the United States military near the city of Adana, about an hour's drive inland from the Mediterranean coast of central Turkey, where they support approximately 1,400 US soldiers staffing Operation Northern Watch's Air Force F-15 Strike Eagles and F-16 Fighting Falcons monitoring the no-fly zone above the 36th parallel in Iraq.
The jet pilots are catered and housed at the Incirlik military base seven miles outside the city by a company named Vinnell, Brown and Root (VBR), a joint venture between Brown and Root and Vinnell corporation of Fairfax, Virginia, under a contract that was signed on October 1, 1988, which also includes two more minor military sites in Turkey: Ankara and Izmir.
The joint venture's latest contract, which started July 1, 1999 and will expire in September 2003, was initially valued at $118 million. US Army officials confirm that Brown and Root has been awarded new and additional contracts in Turkey in the last year to support the "war on terrorism" although they refused to give any details.
"We provide support services for the United States Air Force in areas of civil engineering, motor vehicles transportation, in the services arena here - that includes food service operations, lodging, and maintenance of a golf course. We also do US customs inspection," explained VBR site manager Alex Daniels, who has worked at Incirlik for almost 15 years.
Cheap labor is also the primary reason for outsourcing services, says Major Toni Kemper, head of public affairs at the base. "The reason that the military goes to contracting is largely because it's more cost effective in certain areas. I mean there was a lot of studies years ago as to what services can be provided via contractor versus military personnel. Because when we go contract, we don't have to pay health care and all the another things for the employees, that's up to the employer."
Soon after the contract was signed Incirlik provided a major staging post for thousands of sorties flown against Iraq and occupied Kuwait during the Gulf war in January 1991 dropping over 3,000 tons of bombs on military and civilian targets.
Central Asian Contracts
Still ongoing is the first LOGCAP contract in the "war on terrorism" which began in June 2002, when Brown and Root was awarded a $22 million deal to run support services at Camp Stronghold Freedom, located at the Khanabad air base in central Uzbekistan. Khanabade is one of the main US bases in the Afghanistan war that houses some 1,000 US soldiers from the Green Berets and the 10th Mountain Division.
In November 2002 Brown and Root began a one-year contract, estimated at $42.5 million, to cover services for troops at bases in both Bagram and Khandahar. Brown and Root employees were first set to work running laundry services, showers, mess halls and installing heaters in soldiers' tents.
Future Contracts in Iraq
Halliburton is also one of five large US corporations invited to bid for contracts in what may turn out to be the biggest reconstruction project since the Second World War. The others are the Bechtel Group, Fluor Corp, Parsons Corp, and the Louis Berger Group.
The Iraq reconstruction plan will require contractors to fulfill various tasks, including reopening at least half of the "economically important roads and bridges" -- about 1,500 miles of roadway within 18 months, according to the Wall Street Journal.
The contractors will also be asked to repair 15% of high-voltage electricity grid, renovate several thousand schools and deliver 550 emergency generators within two months. The contract is estimated to be worth up to $900 million for the preliminary work alone.
The Pentagon has also awarded a contract to Brown and Root to control oil fires if Saddam Hussein sets the well heads ablaze. Iraq has oil reserves second only to those of Saudi Arabia. This makes Brown and Root a leading candidate to win the role of top contractor in any petroleum field rehabilitation effort in Iraq that industry analysts say could be as much as $1.5 billion in contracts to jump start Iraq's petroleum sector following a war.
Wartime Profiteering
Meanwhile Dick Cheney's 2001 financial disclosure statement, states that the Halliburton is paying him a "deferred compensation" of up to $1million a year following his resignation as chief executive in 2000. At the time Cheney opted not to receive his severance package in a lump sum, but instead to have it paid to him over five years, possibly for tax reasons.
The company would not say how much the payments are. The obligatory disclosure statement filled by all top government officials says only that they are in the range of $100,000 and $1million. Nor is it clear how they are calculated.
Critics say that the apparent conflict of interest is deplorable. "The Bush-Cheney team have turned the United States into a family business," says Harvey Wasserman, author of The Last Energy War (Seven Stories Press, 2000). "That's why we haven't seen Cheney - he's cutting deals with his old buddies who gave him a multimillion-dollar golden handshake. Have they no grace, no shame, no common sense? Why don't they just have Enron run America? Or have Zapata Petroleum (George W. Bush's failed oil-exploration venture) build a pipeline across Afghanistan?"
Army officials disagree. Major Bill Bigelow, public relations officer for the US Army in Western Europe, says: "If you're going to ask a specific question - like, do you think it's right that contractors profit in wartime - I would think that they might be better [asked] at a higher level, to people who set the policy. We don't set the policy, we work within the framework that's been established."
"Those questions have been asked forever, because they go back to World War Two when Chrysler and Ford and Chevy stopped making cars and started making guns and tanks. Obviously it's a question that's been around for quite some time. But it's true that nowadays there are very few defense contractors, but go back sixty years to the World War Two era almost everybody was manufacturing something that either directly or indirectly had something to do with defense," he added.
Sasha Lilley and Aaron Glantz helped conduct interviews for this article.
For further reading on Brown and Root's military contracts, see The War on Terrorism's Gravy Train by Pratap Chatterjee.
Pratap Chatterjee is an investigative journalist based in Berkeley, California. He traveled to Afghanistan and Uzbekistan in January 2002 and to Incirlik, Turkey, in January 2003 to research this article.
AMP Section Name:
War & Disaster Profiteering
15 Halliburton
21 Reconstruction