Goodbye Houston: An Alternative Annual Report on Halliburton
Image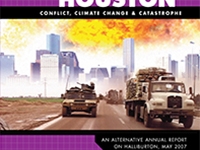 Download 2007 Alternative Annual Report
Houston, May 15, 2007: CorpWatch and its partners today released an alternative annual report on Halliburton titled: "Goodbye Houston" The new report was prepared in association with Halliburton Watch and the Oil & Gas Accountability Project.
The new report (the fourth in the series) is being issued on the eve of Halliburton's annual general meeting in Woodlands, Texas, on Wednesday, May 16th, 2007. An in-depth, hard-hitting report, "Goodbye Houston," provides a detailed look at Halliburton 's military and energy operations around the world as well as its political connections. It includes a series of recommendations for the company and its shareholders as well as for the United States policymakers.
Halliburton is one of the 10 largest contractors to the U.S. military. It has earned over $20 billion from the U.S.military in war-related contracts in Iraq since the March 2003 invasion. This cash bonanza may well be over because of the cancelation of its two most lucrative contracts: oil infrastructure reconstruction and military base support.
"With the loss of its two biggest taxpayer-funded contracts in Iraq, Halliburton has decided that its future lies outside the United States. The company decision to move its headquarters to Dubai could spell a major financial loss to the U.S. Treasury," says Pratap Chatterjee, co-director of CorpWatch.
"Given the multiple ongoing investigations into Halliburton's alleged wrongdoing, policymakers should closely scrutinize Halliburton's latest move, and whether it will allow the company to further elude accountability," said Charlie Cray, co-director of Halliburton Watch and director of the Center for Corporate Policy. "Moreover, this underscores the need for Congress to bar companies that have broken the law, or avoided paying taxes, from receiving federal contracts."
"Goodbye Houston" also documents
* how Halliburton may have broken the law by employing private security guards like Blackwater and Triple Canopy; the Triple Canopy guards have been alleged to have shot at unarmed Iraqis for sport
* Halliburton truck drivers allege the company failed to adequately protect them in Iraq
* new military audits which show deliberate concealment of high overheads
* new lawsuits allege that company management in Iraq and Kuwait knowingly wasted millions of dollars of taxpayers dollars
Today as the military slows its purchases of Halliburton services in Iraq, the company is diversifying into such profitable areas the provision of direct services to the oil and gas industry abroad.
* Halliburton has finally admitted that its executives may have been involved in bribery and political meddling Nigeria
* Halliburton's hydraulic fracturing operations in the United States have continued to have disastrous impacts on the environment, including community water supplies
* Halliburton has been accused of substandard work on offshore operations in Brazil, and is under investigation for no-bid contracts in Algeria
Download 2007 Alternative Annual Report
2006 Alternative Annual Report Press Release
Download 2006 Alternative Annual Report
2005 Alternative Annual Report Press Release
Download 2005 Alternative Annual Report
2004 Alternative Annual Report Press Release