Exxon Plan to Transport Crude on California Highway Defeated
Image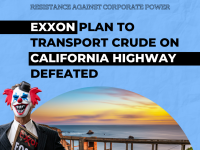 ExxonMobil wants to restart oil drilling off the coast of Santa Barbara, California. It plans to transport the crude oil to inland refineries in Santa Maria and Pentland by truck. Environmentalists fought the proposal citing the history of oil spills from trucks and pipelines in the region. Local government officials and courts recently ruled in their favor.
"Today, justice prevailed. Santa Barbara County courageously rejected Exxon's trucking plan and we're thrilled the judge concurred." – Jonathan Ullman, director of Sierra Club Santa Barbara-Ventura chapter. 
Exxon's Offshore Drilling
ExxonMobil has been drilling for oil off the coast of Santa Barbara since 1970. The crude oil was piped from Exxon's three Santa Ynez platforms via a subsea pipeline to a processing plant in Las Flores and then on to inland refineries via the Plains All American Pipeline.
Refugio Beach Oil Spill
In 2015, the Plains All American Pipeline ruptured dumping 140,000 gallons of oil into the ocean and contaminating some 9 miles (15 kilometres) of Santa Barbara's coastline including Refugio Beach. The cleanup cost over $100 million and the Plains All American Pipeline was ordered to shut down which in turn forced Exxon to stop drilling.
Repairing the Pipeline
In 2022, ExxonMobil purchased the pipeline from Plains All American in order to repair it and restart operations. In the interim, the company asked the Santa Barbara County Board of Supervisors for permission to have 70 trucks a day deliver crude oil from Las Flores to Pentland via Highway 101 and Route 166, for up to 7 years. 
Activist Opposition
Environmental groups like the Center for Biological Diversity, the Environmental Defense Center, the Sierra Club and the Surfrider Foundation – together with the Chumash Indigenous people – created a coalition to oppose the trucking proposal. They noted that eight oil tanker truck accidents along the route since 2007 had resulted in 6 deaths, as well as multiple fires and oil spills.
"Chumash culture itself is created from the relationship we have maintained with all beings in these ecosystems since time immemorial. We must reject Exxon's dangerous proposal which presents an unacceptable risk to these lands, waterways, and the ocean itself." – Alicia Cordero, First Nations program officer with the Wishtoyo Chumash Foundation.
County Vote
The Santa Barbara County Board rejected Exxon's proposal in March 2022. Exxon sued the board stating that its decision did not take into consideration a revised environmental impact report but Judge Dolly M. Gee upheld the board decision. The decision effectively prevents Exxon from restarting operations on its offshore platforms. 
Company Response
"Exxon is reviewing the court's ruling and its recognition that we have a right to operate our existing facilities and affiliated pipelines in the county and is evaluating next steps." – Michelle Gray, Exxon spokesperson
This is #63 in our series of Instagram infographics on resistance against corporate power.
Click here to see the full post on Instagram.
📸 Fossil Fools Rally (Just Stop It Action 6) by Matt Hrkac
Fossil Fools Rally (Just Stop It Action 6) by Matt Hrkac
Fossil Fools Rally (Just Stop It Action 6) by Matt Hrkac
Protester holding a banner with the message "Planet over profit" by Ivan Radic