EuroZone Profiteers: Commerzbank
Property Lending Can Be a Mug's Game
Image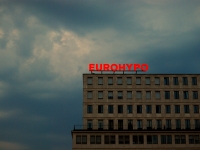 What: Eurohypo/Commerzbank. Founded in 1870, it had total assets worth €292 billion at its peak in 2008.


Where: Frankfurt, Germany.


Why: It merged its real estate division with those of Dresdner Bank and Deutsche Bank in 2001 into a new entity, Eurohypo, which loaned billions to real estate projects in Spain and elsewhere.


Outcome: Commerzbank was given a €18 billion bailout in March 2012. Three months later it began winding down Eurohypo by selling off assets.

---
When Ukranian billionaire Rinat Akhmetov paid £136 million (€170 million) in April 2011 for a penthouse at the One Hyde Park in London, it made headlines around the world as the most expensive apartment sale in history.[80]



The opening of the real estate development at One Hyde Park was a crowning moment for Eurohypo, the German property lender that had provided a £1.15 billion (€1.44 billion) loan in October 2007 to buy and refurbish the building opposite the Knightsbridge underground station.[81] Soon after the building opened for sale, Eurohypo's loan was repaid in full.[82]



Eurohypo was created in late 2001 when Commerzbank, Dresdner Bank, and Deutsche Bank-three of Germany's biggest private banks-merged their real estate portfolios. The move was meant to salvage ventures that had turned toxic because of reckless expansion into East Germany after the 1989 fall of the Berlin Wall.[83]



"[T]hey are creating this leaner, bigger bank not to attack the mortgage and public-sector lending market afresh, but to retreat from it. The spoils there are thin," wrote the Economist in November 2001 when the plan was first announced. "[P]roperty lending can be a mug's game."[84]


The new entity-which would eventually control a €292 billion portfolio-instantly would easily became the largest issuer of Pfandbriefe-bonds backed by mortgages and loans to the public sector.[85] Over the next few years, Eurohypo plunged into making mega-loans to the rest of Europe, as well as to the U.S.


"Eurohypo and other German mortgage banks are really playing at the top level," Eurohypo CEO Bernd Knobloch boasted to the Financial Times in 2005. "Everyone complains about the shrinking importance of Germany's big banks in the world. But in real estate ba­nking, the reverse is true. ... Actually we're the biggest in the world, because there are no other companies like us."[86]


In 2005, Commerzbank, confident it could make a killing, bought out the portfolios of Dresdner Bank and Deutsche Bank. "Now, it looks like a money-spinner," Allan Saunderson, editor of the newsletter Property Finance Europe, told the New York Times. The Times dubbed the move a "stunning turnaround" from the days of "catastrophic real estate businesses, including billions of euros in bad loans."[87]


"The comeback is remarkable," the Financial Times enthusedat the time, singling out three banks-Eurohypo, Hypo Real Estate, and Depfa. "These businesses were offloaded by their parent banks because they were seen as risky and burdensome. They threw money at customers in the 1990s and were left holding billions of euros of bad debts."[88]


Just a couple of years later, the touted remarkable and stunning revival of German real estate lenders turned out to be a mirage. In Spain, for example, Eurohypo had made multibillion-euro loans to Inmobiliaria Colonial, a property company with offices for rent in Barcelona, Madrid, and Paris.[89] In 2008, Inmobiliaria Colonial was forced to seek outside investment to stave off collapse.[90] Eurohypo also backed failed commercial developments such as the €400 million Project Copernicus, the €370 million Project Sol, and the €110 million Hilton Hotel in Valencia-all of which had to be put up for sale at deep discounts.[91]


In 2011, Commerzbank announced that it had some €17 billion at risk in banking and real estate ventures in Greece, Spain, and other southern European countries, as well as another €13 billion in sovereign debt from the same countries, mostly from Eurohypo.[92]

In March 2012, exactly a decade after Eurohypo was created, and a year after the One Hyde Park sale, Commerzbank asked the European Commission for permission to wind down all Eurohypo operations, and sell off whatever it could to avoid bringing down the rest of the bank.[93

"Against the background of the ongoing financial and sovereign debt crisis, an end to which is not foreseeable, and of the uncertain regulatory environment, we are subjecting all the business areas to a rigorous review," said Martin Blessing, chairman of Commerzbank in a June 2012 press release. "The Board of Managing Directors has today, therefore, decided to wind up the business areas Commercial Real Estate and Ship Finance in the course of time."[94]

---
[80] Alex Hawkes, "Rinat Akhmetov Pays Record 136.4m for Apartment at One Hyde Park," Guardian (UK), April 19, 2011. http://www.theguardian.com/uk/2011/apr/19/rinat-akhmetov-one-hyde-park and Anna Edwards, "Guess who Owns World's Most Expensive Apartments? Naomi Campbell's Boyfriend, Naturally! Multimillionaires of London's One Hyde Park Revealed for the First Time," Daily Mail (UK), March 2, 2013. http://www.dailymail.co.uk/news/article-2287275/One-Hyde-Park-Guess-owns-worlds-expensive-apartments-Naomi-Campbells-boyfriend-naturally- Multimillionaires-Londons-exclusive-apartments-revealed-time.html

[81] Alex Frew McMillan, "Candy Brothers Target Shanghai in Asia Push," Reuters, November 26, 2011. http://uk.reuters.com/article/2011/11/26/uk-property-candy-idUKTRE7AP0G320111126

[82] Ibid.

[83] Carter Dougherty, "Commerzbank Prefers to Stay Solo," New York Times, November 15, 2005. http://www.nytimes.com/2005/11/15/business/worldbusiness/15iht-commerz.html

[84] The Economist, "German Mortgage Banks: Portable Property," The Economist, November 8, 2001. http://www.economist.com/node/853575

[85] Ibid. and and John Waples, "Deutsche Sells Property Arm for 44m," Sunday Times (UK), January, 2003. http://www.thesundaytimes.co.uk/sto/business/article214320.ece

[86] Patrick Jenkins, "Banking Giant Waits in Shadows," Financial Times, August 8, 2005. http://www.ft.com/intl/cms/s/0/47d26086-07a8-11da-a742-00000e2511c8.html

[87] Carter Dougherty, "Commerzbank Prefers to Stay Solo," New York Times, November 15, 2005. http://www.nytimes.com/2005/11/15/business/worldbusiness/15iht-commerz.html

[88] Jenkins, Op. Cit.

[89] Mark Mulligan and Daniel Thomas, "Colonial Seeks to Resume Sale Talks with Dubai," Financial Times, March 5, 2008. http://www.ft.com/intl/cms/s/0/286c5762-ea57-11dc-b3c9-0000779fd2ac.html and New York Times, "Dubai Fund Makes Bid for Spanish Firm," New York Times, February 27, 2008. http://www.nytimes.com/2008/02/27/business/worldbusiness/27iht-dubai.4.10491710.html

[90] Ibid.

[91] Mike Philips, "US Hedge Fund to take on Eurohypo's Distress in Spain," Property Week, December 7, 2012. http://www.propertyweek.com/finance/banks-and-lending/us-hedge-fund-to-take-on-eurohypo's-distress-in-spain/5047152.article and "Hotel Hilton Valencia for Sale," Home Search Barcelona, June 19, 2012. http://www.homesearchbarcelona.com/fr/barcelona-real-estate-blog/hotel-hilton-valencia-for-sale

[92] Edward Taylor, "Commerzbank Turns off Money Tap After Q3 Greece Hit," Reuters, November 4, 2011. http://www.reuters.com/article/2011/11/04/us-commerzbank-idUSTRE7A310P20111104 and Wall Street Journal, "Greek Woes Hit Commerzbank," Wall Street Journal, November 7, 2011. http://online.wsj.com/article/SB10001424052970203804204577017162331427708.html

[93] European Commission, "State Aid: Commission Approves Amendment to Commerzbank Restructuring Plan," European Commission press release, March 30, 2012. http://europa.eu/rapid/press-release_IP-12-337_en.htm

[94] Commerzbank, "Commerzbank Accelerates Focus on Core Business," Commerzbank press release, June 26, 2012. https://www.commerzbank.de/en/hauptnavigation/presse/pressemitteilungen/archiv1/2012/quartal_12_02/presse_archiv_detail_12_02_9510.html
AMP Section Name:
Financial Services, Insurance and Banking