Energy Transition Minerals Demands US$11.15 Billion for Greenland Rare Earth Mine Cancelation
Image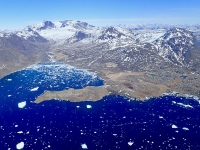 Energy Transition Minerals is demanding that Greenland fork over 76 billion Danish kroner (US$11.15 billion) after the government changed environmental laws that made uranium mining illegal – effectively shutting down a previously approved rare earth and uranium mining project in Kvanefjeld, southern Greenland.
The company (which was previously known as Greenland Minerals) is based in Perth, Australia. It was granted an exploration license for the Kuannersuit mine in Kvanefjeld in 2007. Energy Transition Minerals also plans to mine for heavy metals like dysprosium and terbium, which are now in high demand because they can be used to make electric cars, military aircraft and rockets.
"We will put an end to all future uranium mining, full stop," Mariane Paviasen, Greenland's minister for housing and infrastructure, who founded the Urani Naamik (No to Uranium) movement, told Green Left Weekly. "The mining companies know what we have. We are not safe in the future," she said to the New York Times.
In April 2021, Inuit Ataqatigiit, a democratic socialist political party in Greenland, won control of Inatsisartut, the parliament of Greenland, after campaigning on the platform to shut down uranium mining on the island. Paviasen was one of the successful candidates who ran for a seat in the parliament.
Seven months later Inatsisartut passed a law banning the exploration of deposits with a uranium concentration higher than 100 parts per million. This effectively made the Kvanefjeld site illegal because it has deposits of uranium at a concentration of 300 parts per million.
Although Energy Transition Minerals claims that it will focus on rare earths, its environmental impact assessment projects that the company will also produce 500 tonnes of uranium oxide a year.
The mine is deeply controversial in Greenland because of its potential environmental impact but also because the island territory has few sources of income other than fishing and an annual subsidy of some US$10,000 per head from Denmark (Greenland is an autonomous territory of Denmark).
If the Kuannersuit mine goes ahead Energy Transition Minerals has promised to provide Greenland with 1.5 billion Danish kroner (US$220 million) in income a year for the next 37 years, which works out at almost 10 percent of the island's current annual income. (The annual gross domestic product in 2021 was just US$3.24 billion, less than a third of what Energy Transition Minerals has demanded in compensation to stop the mine.)
But Kuannersuit is also expected to generate uranium-rich mining waste that it will dump behind a tailings dam in Lake Taseq, which is just five kilometers from the town of Narsaq, where Paviasen lives. A 2021 report by the United Nation Special Rapporteur on the Rights of Indigenous Peoples projected that the mine could contaminate the local water as well as impact the sheep farms that the local Inuit people depend on.
"What if the dam doesn't hold for the thousands of years it has to?" Minik Rosing, a Greenlandic geologist at the University of Copenhagen, told Al Jazeera. "It's difficult to conclude scientifically if the mine is a bad or good idea … But the worries are legitimate."
The mining company says that it has obtained all the necessary paperwork. "Our assessment is that we have the right to get an exploitation license, and that is the right we are trying to enforce," Miles Guy, the chief financial officer of Energy Transition Minerals, told Politiken newspaper. "They passed a law at the 11th hour to stop this project."
The current government is adamant. "The people have spoken and the people are right, the project will not happen," Múte Egede, prime minister of Greenland, who was previously minister for raw materials, told Politiken.
In May 2022, Energy Transition Minerals began proceedings against Greenland at the Court of Arbitration in Copenhagen, Denmark. Under the rules of arbitration, each side gets to pick a judge and they must mutually agree on a third judge. Poul Søgaard, former president of the Danish Supreme Court, was appointed by Greenland, while Energy Transition Minerals requested Veijo Heiskanen, a Finnish lawyer based in Switzerland.
Over the last year, the arbitration proceedings have been playing out at the court on the Langelinie promenade in Copenhagen.
Meanwhile analysts like Niels Henrik Hooge, a campaigner for Friends of the Earth in Denmark, say that the arbitration demand is merely a play for time because Energy Transition Minerals is hoping that Inuit Ataqatigiit will eventually lose power. (The opposition Siumut party favors the Kvanefjeld project)