Eli Lilly Bows to Health Activist Campaign and Slashes Insulin Prices in the U.S.
Image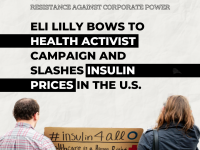 Eli Lilly charges U.S. customers up to $300 a dose for insulin despite the fact that its production costs are around $10. Unlike most other countries, the U.S. refuses to regulate Big Pharma's 'market' prices. Following a decade of protests, Eli Lilly bowed to pressure and capped U.S. prices at $35 a dose.
"Eli Lilly's overdue price cut is an acknowledgement that insulin prices are a deadly outrage, and is a direct result of #insulin4all activists raising their voices, organizing and fighting for their lives." – Peter Maybarduk, director of Public Citizen's Access to Medicines program
Patenting Insulin
Insulin is a hormone that is naturally produced in the human pancreas. Millions of people need extra insulin to prevent their blood sugar levels from spiking too high. In 1923, Eli Lilly of Indianapolis, Indiana, patented the first commercial insulin products. Since then,  insulin sales have made up over half of Eli Lilly's revenue.
Global Insulin Costs 
A 2018 study showed that an insulin dose that costs about $100 in the U.S. was available for $12 in Canada and just $7.50 in the UK, where government-led purchasing programs kept the prices competitive.
Big Pharma
Unlike in other countries, prices of drugs in the U.S. are set by the "market" - big pharmaceutical companies negotiate with big insurance companies on how much they are willing to pay and then set the highest prices that the market can handle. The trouble is that many people can't afford expensive insurance plans.
Insulin4All Campaign 
Over 37 million people in the U.S. have diabetes and another 96 million are considered at risk of getting it. Some 1.3 million individuals say that they ration their insulin use to save money, and some have even died for lack of access. Recognizing the critical need to bring prices down, T1 International, a campaign group for diabetics, launched the Insulin4All project in 2014.
People Power
Public pressure from activists around the U.S. has caused other major insulin makers to cut insulin prices. Almost two dozen U.S. states have limited how much they will pay and finally, this year, the Biden administration capped insulin prices covered by the publicly funded Medicare program at $35. 
Victory for Diabetics
In early March this year, Eli Lilly announced it would slash prices of Humalog and Humalin (two of its most commonly prescribed insulins) by as much as 70 percent and set a price ceiling of $35 a dose. Lispro, the company's generic version, will sell at $25 a dose.
Company Statement 
"We expect to get a good reward but that reward should not last forever. We're taking steps, we're learning, we're improving, and no one should have to ration their insulin." – David Ricks, CEO of Eli Lilly
This is #38 in our series of Instagram infographics on resistance against corporate power.
Click here to see the full post on Instagram.