Ecuadorians Vote to Stop Petroecuador's Oil Drilling in Yasuni National Park
Image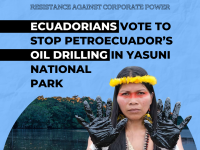 Yasuni National Park in the Amazon rainforest of Ecuador, one of the most biodiverse areas of the planet, is home to the Huaorani, Tagaeri and Taromenane Indigenous peoples. It has been exploited for oil by companies like Shell and Petroecuador for over 50 years. In September 2023, after 10 years of activism, the people of Ecuador voted to halt oil drilling forever.
"Finally, we are going to kick oil companies out of our territory! This is a major victory for all Indigenous peoples, for the animals, the plants, the spirits of the forest and our climate!" – Nemonte Nenquimo, Indigenous Waorani leader
Oil Extraction
Oil extraction first began in Ecuador's Amazon in 1972. Drilling concessions were granted to oil companies such as Shell and Texaco (now Chevron). In 2010 Ecuador began the process of nationalization of the petroleum industry and handed oil concessions to state-owned Petroecuador. Today Petroecuador extracts 57,000 of oil barrels a day from the Yasuni National Park. 
Yasuni ITT Initiative 
In 2007, president Rafael Correa launched the "Yasuni ITT" initiative seeking to keep over a billion barrels of oil in the ground in the Ishpingo, Tiputini and Tambococha (ITT) oil fields of Yasuni National Park, if the international community was willing to pay US$3.6 billion. Unfortunately, six years later, with just $336 million pledged, the plan was shelved.
Resistance
In 2013, YASunidos – a group of youth activists in Ecuador – together with the Confederation of Indigenous Nationalities of Ecuador (CONAIE) and other organizations started collecting signatures for a national referendum to keep oil in the ground in Yasuni. They gathered 757,623 signatures in the span of 5 months, more than the 580,000 required by law.
Court Battle 
Unfortunately, the National Electoral Council arbitrarily annulled over 60 percent of the signatures gathered. After a decade of court battles by YASunidos, the Constitutional Court of Ecuador ruled that the Ecuadorian state violated the rights of participation of its citizens, on May 10, 2023, allowing the referendum to go ahead.
"There should never have been oil exploitation in Yasuní. Oil exploitation in Yasuní should always have been prohibited, not only because the people there live in isolation but because it's a protected area." – Pedro Bermeo, YASunidos spokesperson
Victory
On August 20, 2023, Ecuador's citizens went to the polls to vote on the initiative. Over 5.2 million people voted in favor (58 percent of those who voted), giving Petroecuador 12 months to stop operations in the ITT zone and banning the government from signing any new oil exploration contracts.
Company Response
"Petroecuador will coordinate all pertinent actions, together with the other State institutions involved, to fully comply with the sovereign decision of the Ecuadorian people in Block 43 ITT." – Petroecuador press release
This is #61 in our series of Instagram infographics on resistance against corporate power.
Click here to see the full post on Instagram.
📸 1/10 Nemonte Nenquimo at oil spill near Shushufindi, Ecuador. Photo: Sophie Pinchetti/Amazon Frontlines ©
2/10 Omanka Enquiri, Waorani traditional leader ("Pikenani") speaks during a press conference outside the headquarters of the Ministry of Energy and Non-Renewable Resources in the city of Quito. Photo: Amazon Frontlines ©
4/10 Petroecuador petrol station on the Pan-American Highway, Ecuador. Photo: Bernard Gagnon
5/10 Jaime Vargas, President of national indigenous organization CONAIE, marches alongside Waorani women including Waorani leader and lead plaintiff Nemonte Nenquimo and Omanka Enquiri, Waorani traditional leader ("Pikenani"). Photo: Amazon Frontlines ©
6/10 Young Kichwa leaders join in the Waorani people's mobilization in the city of Quito. Photo: Amazon Frontlines ©
7/10 The Waorani people spearhead a mass mobilization in the city of Quito to demand the government to respect the court's decision and indigenous rights. Photo: Amazon Frontlines ©
9/10 Kofan leaders from the small community of Sinangoe, which won a landmark ruling against gold mining last year, join in the Waorani people's mobilization. Photo: Amazon Frontlines ©