Del Monte Plantation Workers Win Settlement in Global Horizons Case
Image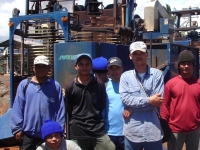 Some 150 Thai workers on a Del Monte pineapple plantation in Hawaii will get $1.2 million to settle allegations of sub-standard working conditions. The lawsuit was filed by the U.S. Equal Employment Opportunity Commision against seven companies including Global Horizons, a labor recruiter from Los Angeles.

The Del Monte settlement is just the latest episode in a long running saga of an effort by the U.S. government to crack down on Global Horizons' alleged exploitation of foreign labor working on U.S. farms. Back in 2010, the U.S. Department of Justice (DOJ) declared that the arrest of Mordechai Orian, president and chief operating officer of the company, represented a victory in the largest trafficking case in history.

At the time Susan Cushman, assistant U.S. Attorney for Hawaii, accused Orian of "engaging in a conspiracy to commit forced labor and document servitude." She filed documents with the court stating that Orian - an immigrant from Israel -was a flight risk, noting that he had used 26 different aliases and four different Social Security numbers in the past. "The Pretrial Services' report found the defendant posed a risk of danger to the community because of the nature of the offense and similar allegations in Israel and Canada," she wrote.

Cushman also provided the court with a copy of a 2003 report, "Migrant Workers in Israel -- A Contemporary Form of Slavery," published the Euro-Mediterranean Human Rights Network and the International Federation for Human Rights. It states that Orian took $3,000 from each of 19 Chinese workers for the "privilege" of working in Israel for two years.

"By the end of February Mr. Orian owed each of the workers between 2-3 months wages," the report concluded. "Instead of paying the workers, he sent ten armed guards to surprise the workers in their sleep, beat them and drive them to the airport, where they were forcibly deported."

In another document filed by Cushman, U.S. Department of Labor Judge William Dorsey concluded on November 30, 2006, that Global Horizons Manpower, Inc. had "willfully and fraudulently represented it had contracts with Taft Farms" [in Bakersfield, California] to obtain H-2A visas for more than 200 workers between August 1, 2003 and April 30, 2004. (These non-immigrant visas, granted to more than 50,000 temporary farm laborers in 2007, are a mainstay -- along with undocumented labor -- of the U.S. agricultural system.)

Dorsey found that the company had neither a contract nor jobs for the 200 workers. Unable to find them paid employment, Global Horizons fired the workers "for poor performance, when in fact, they were terminated for lack of work," Dorsey wrote in his final decision. He ordered that Orian be barred for three years from bringing guest workers into the U.S.

Orian has also drawn legal scrutiny in other states and nations. On July 2, 2008, Judge James Hutton in the Eastern District Court, ordered Orian to appear before his court in Spokane, Washington to explain why Global Horizons had failed to pay multiple court fines running into thousands of dollars. At the hearing Orian testified that the company was insolvent, although the court found that seven employees, including Orian, were still being paid salaries.

And on July 29, 2009, immigration judge Christine Bither ordered Orian deported from the U.S. for falsely claiming five times to be a U.S. citizen when signing documents to hire farm workers under the H-2A visa program.

Finally, Cushman provided the court with a March 26, 2010 ruling by Judge John Madden IV in Denver, Colorado, ordering Global Horizons to pay a Nepali man named Rajan Gurung $108,257 to settle a dispute over the hiring of 24 workers from Nepal. In 2008, Gurung said he paid Global Horizons Canada $72,000 to arrange work visas for the 24 people in Canada, but that the company was unable to produce any evidence that it had actually applied for the visas.

Instead, Orian appeared before the court and claimed that he had not applied for the visas because all the workers had the same last name, Gurung, which indicated a potential violation of Canadian immigration law that does not allow family members to be employed in temporary jobs. (Gurung is one of the most common family names in Nepal.) Madden found Orian's claim to be without merit and ordered him to repay Gurung with interest as well as pay his court costs.

On September 7, 2007, Philipda Modrakee, a U.S. Department of Labor investigator, filed a report on 156 Global Horizons workers employed at the Maui Pineapple Farm in Hawaii. Modrakee estimated that Global Horizons owed $459,256 in fines for failure to pay wages at the minimum rate and on time, for illegally deducting money from the workers' pay checks for housing, and for failing to provide them with transportation to their work sites.

Last July, the federal government mysteriously dropped the case against Orian. "Based on this further investigation, the government has determined that dismissal of this matter is in the interest of justice, because the government is unable to prove the elements of the charged offenses beyond a reasonable doubt," the order said.

"To dismiss a case with no intention of bringing it back as a new indictment is very unusual," Michael Green, a lawyer for Global Horizons in Honolulu, said. "You never see the government just walk away from a case that they spent millions of dollars on."

The Del Monte settlement - however - allows some of the alleged victims to finally get compensation for their troubles.

AMP Section Name:
Food and Agriculture